Quechee Gorge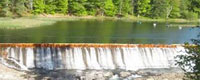 764 Dewey Mills Road, Quechee, VT 05001 • Ph: 802-295-2990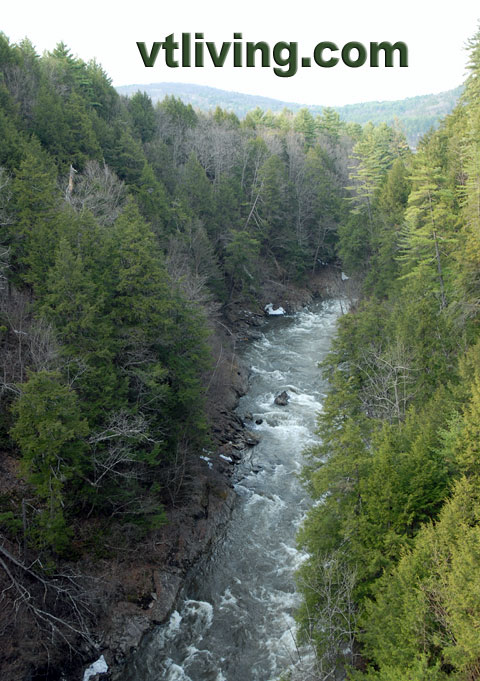 The mile-long Quechee Gorge attracts hundreds of thousands of visitors to Vermont each year. Most enjoy the view during the summer and fall months. Quechee Gorge is easy to find – located directly on US Route 4.
The village of Quechee is one of five unincorporated villages in the Vermont town of Hartford. Quechee is also home to Quechee Lakes – a residential / vacation community. Quechee State Park offers overnight camping.
There is an excellent selection of inns, hotels, and restaurants nearby. Quechee State Park contains more than 40 tent/trailer sites and some lean-to sites. Most sites can accommodate a large RV. There are no hookups. Located next to Quechee Gorge you will find a picnic area with a pit toilet and a hiking trail that winds along the Ottaquechee River.
Category: State Park, Hiking, Camping


Vermont Illustrating LLC. | 802-298-7325
Vermont Illustrating, LLC is a family owned business which has been distributing postcards and souvenirs throughout Vermont & the Adirondack New York regions since 2003. Vermont Illustrating produces the annual Vermont Living Calendar and related products. We offer the best variety of Vermont Souvenirs, Cookbooks, and best selling Vermont Calendar Products. Visit our website to order online.
Order Vermont Living Calendars Online
---
inns | hotels | resorts | rentals | dining | real estate
SHOP QUECHEE VT GIFTS

| Photo | Title | Price | Buy |
| --- | --- | --- | --- |
| | Quechee Gorge Vermont USA Christmas Ornament Travel Souvenir Personalized Christmas Tree Pendant Hanging Decoration | $12.88 | On Sale Now |
| | Quechee Gorge Vermont VT Winter Snow Snowflake Souvenir T-Shirt | $18.95 | On Sale Now |
| | Womens Quechee Gorge Vermont VT Winter Snow Snowflake Souvenir V-Neck T-Shirt | $21.95 | On Sale Now |
| | Quechee Gorge Vermont VT Winter Snow Snowflake Souvenir Sweatshirt | $34.95 | On Sale Now |
| | Quechee Gorge Vermont VT Winter Snow Snowflake Souvenir Raglan Baseball Tee | $25.00 | On Sale Now |
| | Vintage Quechee Vermont VT Mountains Hike Hiking Souvenir T-Shirt | $16.99 | On Sale Now |
| | Vintage Quechee, Vermont Mountain Hiking Souvenir Print Sweatshirt | $34.99 | On Sale Now |
| | Vintage Quechee, Vermont Mountain Hiking Souvenir Print T-Shirt | $19.99 | On Sale Now |
| | Vintage Quechee, Vermont Mountain Hiking Souvenir Print Sweatshirt | $39.99 | On Sale Now |
| | Vintage Quechee, Vermont Mountain Hiking Souvenir Print Long Sleeve T-Shirt | $26.99 | On Sale Now |
| | Quechee Vermont VT Gift Retro Style Vintage 70s 80s 90s Home Raglan Baseball Tee | $18.77 | On Sale Now |
| | Womens Quechee Vermont VT Gift Retro Style Vintage 70s 80s 90s Home V-Neck T-Shirt | $15.18 | On Sale Now |
| | American Flag Mug Quechee Vermont Coffee Cup It's Where My Story Begins 4th of July Coffee Mug Patriotic Gift Independence Day Memorial Day Tea Cup 11oz Black | $17.99 | On Sale Now |
| | Quechee Vermont VT Gift Retro Style Vintage 70s 80s 90s Home Long Sleeve T-Shirt | $17.68 | On Sale Now |
| | Simon Pearce Bristol Double Chiller | | On Sale Now |

Vermont Products | Visit VT Towns | FWM 24/7 Shopping

Country Weddings | New England Recipes
VT Inns | Red Sox Gifts | Travel Destinations
Free World Mall

Country Weddings | New England Recipes
VT Inns | Red Sox Gifts | Travel Destinations