Quechee, Vermont 05059
Quechee VT Inn Hotel Lodging, Real Estate, Vacation Rentals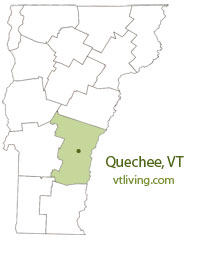 This small, picturesque Vermont village in the Town of Hartford is home to two of Vermont's major tourist attractions – The Quechee Gorge, also known as the "Grand Canyon of the East," and Quechee Gorge Village – a popular antique, craft, and gift shopping area. Quechee Gorge was formed after the ice age and demonstrates nature's power as the Ottauquechee River carved a swath through the Vermont hillsides.
Quechee is a popular Vermont vacation destination. The scenic countryside and abundance of excellent lodging accommodations attract vacationers year-round to this Vermont village.


Vermont Illustrating LLC. | 802-298-7325
Vermont Illustrating, LLC is a family owned business which has been distributing postcards and souvenirs throughout Vermont & the Adirondack New York regions since 2003. Vermont Illustrating produces the annual Vermont Living Calendar and related products. We offer the best variety of Vermont Souvenirs, Cookbooks, and best selling Vermont Calendar Products. Visit our website to order online.
Order Vermont Living Calendars Online
---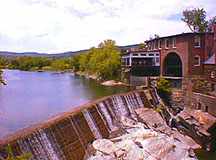 Inns, Bed and Breakfast inns, and conference facilities (Quality Inn, Quechee) are all available in Quechee. The town also has several superb restaurants and inns with fine dining. (Quechee Inn at Marshland Farms). Quechee is where you will find the Quechee Club and Quechee Lakes – a four-season community. Quechee, like many other Northern New England villages, was once a thriving mill town. Quechee was settled in the 1760's when homesteaders built mills along the Ottauquechee River. These mills provided everything from lumber to cider and spurred economic growth. To accommodate this growth, a bridge was built over the Ottauquechee River at the current site of the Quechee Covered Bridge. In 1875, the Woodstock Railroad Company built a bridge (an engineering feat of its day) to span the Quechee Gorge.
For over 50 years, the train crossed the Quechee Gorge as it made its run from White River Junction and Woodstock, Vermont. The old railroad bridge was converted to highway use and is presently Rt. 4, Vermont's major East-West roadway. Quechee is also home to the annual Quechee Chamber of Commerce-sponsored, Quechee Balloon Festival. This Vermont attraction is held every Father's Day weekend and features colorful hot air balloons and a festival.
To share Quechee, VT information, contact us. Learn more about advertising in VTLiving.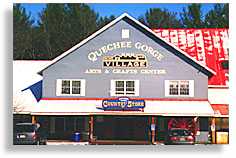 Chartered: 1761
County: Windsor
Quechee, VT Population:
2010: 656
GPS Coordinates:
Latitude: 43.3844
Longitude: -72.256
Quechee, VT Local Information
Quechee Town Offices: 802-295-9353
inns | hotels | resorts | rentals | dining | real estate
QUECHEE VT GIFTS

CABOT VT CHEESE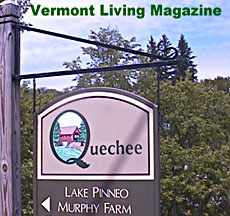 Vermont Products | Visit VT Towns | FWM 24/7 Shopping

Country Weddings | New England Recipes
VT Inns | Red Sox Gifts | Travel Destinations
New England Living Magazine
Free World Mall

Country Weddings | New England Recipes
VT Inns | Red Sox Gifts | Travel Destinations