Shelburne Museum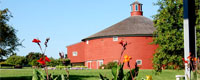 5555 Shelburne Road, Shelburne, VT 05482 • Ph: 802-985-3344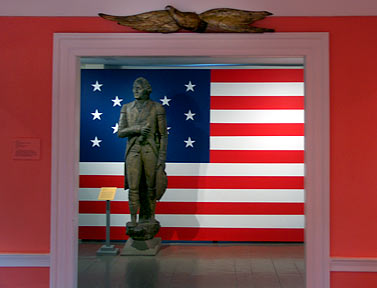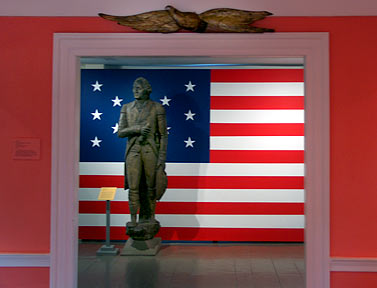 The Shelburne Museum is one of the nation's finest, most diverse, and unconventional museums of art, design, and Americana. Over 150,000 works are exhibited in a remarkable setting of 39 exhibition buildings, 25 of which are historic and were relocated to the Museum grounds.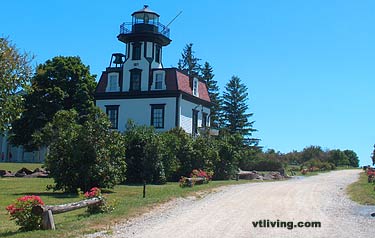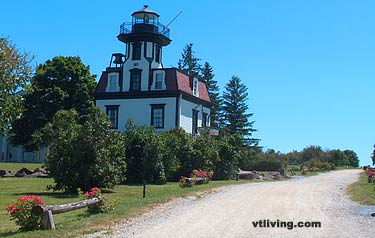 The Shelburne Museum's collection includes works by the great impressionist painters Monet, Manet, and Degas as well as a prized collection of Americana, and folk art including trade signs, decoys, weather vanes, and quilts.
In addition, there are daily demonstrations at the blacksmith and print shops, tours of the historic steamship Ticonderoga along with rides on a genuine 1920s carousel.
The Shelburne Museum is handicapped accessible. Admission is charged. The Shelburne Museum is one of several unique and always interesting Vermont Museums. Contact Shelburne Museum in advance of your visit to confirm hours and rates.
Category: Historical Site, Farm, Museum
inns | hotels | resorts | rentals | attractions | dining | real estate


Coldwell Banker Hickok & Boardman Realty, 346 Shelburne Rd, Burlington, VT 05401 | 802-863-1500
Helping Vermont home buyers and sellers with their real estate needs for more than 40 years. The #1 Coldwell Banker Office in Vermont, specializing in the Greater Burlington area and surrounding towns from Middlebury to St. Albans. We also offer rental assistance to landlords and tenants.
Visit Hickok and Boardman Realty
---
The Shelburne Museum: Preserving Vermont's Rich Cultural Heritage
Nestled in the picturesque town of Shelburne, Vermont, the Shelburne Museum stands as a testament to the preservation of history and the celebration of art and Americana. Founded in 1947 by Electra Havemeyer Webb, the museum's sprawling campus showcases an extensive collection of artifacts and artworks that provide a window into the diverse cultural heritage of Vermont and the United States. Let's explore the fascinating history of the Shelburne Museum, its origins, notable collections, and its enduring impact on the local community and beyond.
The Visionary Founder:
Electra Havemeyer Webb, a passionate collector, and philanthropist, envisioned the creation of a museum that would celebrate the artistic expressions and everyday objects of everyday Americans. Electra, along with her husband James Watson Webb, acquired an 18th-century farmhouse in Shelburne, which would serve as the museum's first exhibition space. Fuelled by her love for folk art, she began amassing a vast collection of diverse artifacts, setting the foundation for the Shelburne Museum.
A Living Museum:
One of the unique aspects of the Shelburne Museum is its innovative approach to presenting exhibits. Instead of a traditional gallery setting, the museum boasts over 39 buildings spread across 45 acres, each housing a different collection. These structures, including historic homes, a lighthouse, a schoolhouse, and a covered bridge, were carefully relocated from various locations across Vermont to create a comprehensive museum experience.
Captivating Collections:
The Shelburne Museum houses an extraordinary range of collections, offering visitors a glimpse into American history, art, and culture. The American folk art collection features whimsical weather vanes, intricate quilts, and remarkable woodcarvings, capturing the creativity and spirit of early American artisans. The museum's extensive collection of American paintings showcases works by renowned artists such as Winslow Homer, Grandma Moses, and John Singleton Copley, highlighting the evolution of American art over the centuries.
Beyond art, the Shelburne Museum also boasts an impressive array of historic artifacts, including a collection of horse-drawn carriages, vintage circus posters, and an assortment of antique firearms. These artifacts provide insight into the daily lives and interests of past generations, preserving a rich tapestry of Vermont's cultural heritage.
Community Engagement and Education:
In addition to its remarkable collections, the Shelburne Museum actively engages with the local community and visitors through various educational programs and events. The museum offers workshops, lectures, and hands-on activities that promote a deeper understanding of art and history. Families can explore the educational farmyard, where they can interact with farm animals and learn about traditional farming practices. The museum also hosts seasonal events, such as craft fairs and music festivals, creating a vibrant hub of cultural exchange.
Preserving History for Future Generations:
As the Shelburne Museum enters its eighth decade, it continues to evolve and expand. New acquisitions, curated exhibitions, and ongoing restoration efforts ensure that future generations can continue to experience and appreciate the rich heritage of Vermont and America. The museum remains committed to preserving, interpreting, and sharing the stories embedded in its collections, acting as a bridge between the past, present, and future.
The Shelburne Museum is truly Vermont and stands as a testament to the power of one individual's vision and passion for preserving cultural heritage. Through its diverse collections, innovative presentation methods, and community engagement initiatives, the museum creates an immersive experience that captivates visitors and fosters a deep appreciation for the art and history of Vermont and the United States. As it continues to grow and inspire, the Shelburne Museum ensures that the stories and creativity of generations past remain alive for generations to come.
SHOP SHELBURNE GIFTS

| Photo | Title | Price | Buy |
| --- | --- | --- | --- |
| | Art of the Needle : 100 Masterpiece Quilts from the Shelburne Museum | $17.48 | On Sale Now |
| | Birds of a Feather: Wildfowl Decoys At Shelburne Museum | $45.13 | On Sale Now |
| | Horse-Drawn Vehicles at the Shelburne Museum | $13.96 | On Sale Now |
| | Photo - Structures at The Shelburne Museum in Shelburne, Vermont- Fine Art Photo Reporduction 36in x 24in | $59.99 | On Sale Now |
| | Historic Pictoric Photo - Long Covered Bridge at The Shelburne Museum in Shelburne, Vermont- Fine Art Photo Reporduction 36in x 24in | $59.99 | On Sale Now |
| | Historic Pictoric Photo - Lighthouse on The Grounds of The Shelburne Museum in Shelburne, Vermont- Fine Art Photo Reporduction 30in x 24in | $59.99 | On Sale Now |
| | Historic Pictoric Photo - Large barn on The Grounds of The Shelburne Museum in Shelburne, Vermont- Fine Art Photo Reporduction 36in x 24in | $59.99 | On Sale Now |
| | ArtDirect David Johnson 20x24 Black Modern Frame and Double Matted Museum Art Print Titled - Near Shelburne, Vermont (1865) | $104.99 | On Sale Now |
| | Shelburne Vermont Shelburne VT Retro Vintage Text Zip Hoodie | $41.99 | On Sale Now |
| | Shelburne Vermont Shelburne VT Retro Vintage Text Pullover Hoodie | $39.99 | On Sale Now |
| | Historic Pictoric Photo- Winding Road at Shelburne Farms, a nonprofit Education Center and Working Farm,on The Shores of Lake Champlain in Shelburne, Vermont 1 Fine Art Photo Reproduction 30in x 44in | $99.99 | On Sale Now |
| | Historic Pictoric Photo- Winding Road at Shelburne Farms, a nonprofit Education Center and Working Farm,on The Shores of Lake Champlain in Shelburne, Vermont 2 Fine Art Photo Reproduction 36in x 24in | $59.99 | On Sale Now |

Vermont Products | Visit VT Towns | FWM 24/7 Shopping

Country Weddings | New England Recipes
VT Inns | Red Sox Gifts | Travel Destinations
Free World Mall

Country Weddings | New England Recipes
VT Inns | Red Sox Gifts | Travel Destinations