Electra Havemeyer Webb – Vermont's Good Fortune
Shelburne Museum Houses Unique Collection

Visit the Champlain Valley's Shelburne Museum and the Electra Webb collection. Vermont is fortunate to have some of the most interesting museums in the United States. Rich in history and full of surprises is how we can best describe the amazing selection of Vermont Museums you have to consider. This small New England state is big on history, culture and individuality. Some of the special people that have lived here (Alexander Webb) and live here today have the foresight to share ideas and creations for all generations to enjoy. Ask us about VT Museums or share comments. To feature your business, contact us.
Shelburne Museum Vermont's Havenmeyer Webb
A Passion for Collecting Electra's Legacy, By Deborah Straw
Electra Havemeyer Webb, one of New England's foremost collectors, had unorthodox and impeccable taste and the money to acquire just what she wanted. Fortunately for Vermont (and it's visitors) , she also had the generosity to establish a museum of her collections in Shelburne.
Growing up in a family which valued beautiful objects, she collected what spoke to her. She also had the generosity to establish a museum of her collections in Shelburne, Vermont. The Shelburne Museum, celebrating its fifty-first anniversary this year, is the legacy of Webb's passion for collecting, her appreciation for craftsmanship, and her love of Vermont. But it represents more than just her legacy. Thirty-seven buildings now house more than 80, 000 objects, all illuminating life in the nineteenth and early twentieth centuries. One of my first stops is The Webb Gallery of American paintings. I am especially drawn to "Tinkle", a large white cat wearing a red collar with two bells, resting on a red cushion, staring directly at her admirers. The cat was painted in 1883; her painter remains anonymous. "Tinkle" hangs prominently on a wall with impressive neighbors: Andrew Wyeth, Grandma Moses, Albert Bierstadt, Winslow Homer. But few of these works affect me as much as this stalwart white cat. Like many felines, she seems to own the place.
The Museum's collection of more than seven hundred quilts is considered one of the largest and finest collections in the country. Patchwork quilts, appliquéd quilts, floral-patterned textiles, jacquard coverlets, and wood block textiles are among them. They are located primarily in Hat and Fragrance Textile Gallery, along with hooked rugs, dolls, hand-made lace and lots more.
Who can resist The Circus Building? The horse-shoe shaped structure showcases the Roy Arnold miniature circus parade: l, 050 people and creatures like yaks and camel howdahs ( the seat on the camel's back where people ride) are carved on a scale of one inch to one foot. The parade stretches for five hundred feet. Another amazing exhibit is the three thousand five hundred -piece Kirk Brothers Miniature Circus made in Harrisburg, Pa., by Edgar Decker Kirk, a brakeman on the Pennsylvania Railroad. The project took nearly fifty years to fabricate. Electra Havemeyer Webb often reflected on her mother's advice: "Remember how blessed you are. And if opportunity ever offers, equalize the sum of human happiness and share the sunshine that you have inherited."In Vermont, we're lucky this is exactly what she did.
inns | hotels | resorts | rentals | attractions | dining | real estate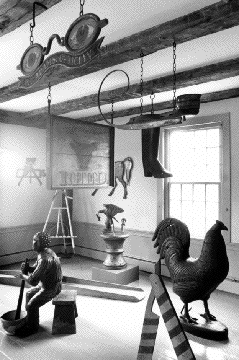 The interior of the Shelburne Museum, Rt. 7, Shelburne, Vermont
(photo courtesy of the Shelburne Museum)
Champlain Valley VT Museums
Burlington, Middlebury, St. Albans, the Islands of NW Vermont
North Central VT Museums
Montpelier, Barre, Randolph, Waterbury, Stowe, Mad River Valley
Northeast Kingdom VT Museums
St. Johnsbury, Newport, Barton, Lyndonville, Burke, Jay, Island Pond
South Central VT Museums
Rutland, White River Jct., Woodstock, Quechee, Brandon, Killington, Ludlow, Weston, Chester
Southern VT Museums
Bennington, Brattleboro, Manchester, Arlington, Newfane, Mt. Snow area

Vermont Products | Visit VT Towns | FWM 24/7 Shopping

Country Weddings | New England Recipes
VT Inns | Red Sox Gifts | Travel Destinations
Free World Mall

Country Weddings | New England Recipes
VT Inns | Red Sox Gifts | Travel Destinations