Cabot Creamery Vermont Cheddar
Makers of Vermont Cabot Cheddar Cheese

Over the past 10 years, Cabot Cheese has been awarded every national and international award for its outstanding cheddar cheese.
At the 22nd Biennial World Championship Cheese Contest in Green Bay Wisconsin, Cabot was recognized for the "World's Best Cheddar," and their Five Peppercorn Cheese was voted the "Best Flavored Cheese." If you have not tasted Cabot Cheese, you should. Cabot Seriously Sharp Cheddar Cheese
is one our favorite Vermont products here at Vermont Living. Thank you for visiting. Ask us about Cabot Vermont, share product reviews, or feature your business, contact VTLiving.
Cabot Creamery "World's Best Cheddar Cheese"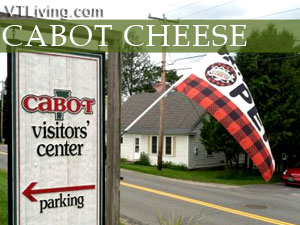 Cabot's story starts 80 years ago when it was founded by the farmers of Cabot, Vermont. At the turn-of-the-century, the United States supported a multitude of dairy farmers, and milk was inexpensive to produce. Most farmers produced far more milk than they could market and in 1919, farmers around Cabot got together to develop a new market for their surplus. These 94 innovative farmers discovered that by turning their milk into butter it could be easily transported to eager consumers in all regions of New England.
Soon the farmers realized a need for a manufacturing plant and again joined forces to purchase the first Cabot Creamery. Surely, these industrious farmers did not expect that 80 years later they would be competing in international cheese contests – they simply wanted a means by which to support their families. They paid a total of $3,700 and a cord of wood each to fuel the boiler and claim their place in Vermont history.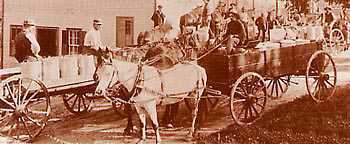 Shortly thereafter, the country's demographics changed drastically with millions flocking to the cities for their piece of the bustling 'business and industry' pie. With this exodus came the need to ship large quantities of dairy products throughout New England. In addition to butter production came the need to supply milk to consumers in southern regions, and soon Cabot was supplying milk to bottling companies, as well as making cheddar and cottage cheeses.
Most of us can remember the 'milkman' with his morning delivery of glass milk bottles and other dairy products. Those days have long since vanished with the emergence of packaging plants, and by 1990 Cabot Creamery's 400 farmer-owners from the North Country were supplying the Creamery with 330 million pounds of milk per year. Cabot was now producing the sought-after high-quality butter, cheeses, and yogurts seen in supermarkets today.

In 1992, Cabot Creamery merged with Agri-Mark, Inc. combining to a total of 1,500 farmer-owners and four milk processing facilities. Bolstered by these expanded production facilities, the Cabot brand of dairy products has become extensive. Cabot's traditional cheddar cheese has won every major cheese-making prize awarded in the United States. All Cabot products are sold throughout New England, New York, the Mid-Atlantic states, parts of Florida and California, and in specialty food stores nationwide.
As it was 80 years ago, Cabot, Vermont is still a sleepy little farm community tucked into the rocky soil of Vermont's rolling green hills. And, Cabot Creamery continues to bring pleasure to the people who buy their products, and value to the farmer-owners who supply their milk.
The Cabot Visitor's Center, located on Route 215 in Cabot Village, is open for factory cheese-making tours and tastings. The summer hours begin on Memorial Day. Phone 800-837-4261. Vermont Living Magazine suggests you telephone in advance of your visit to confirm hours of operation.
CABOT VERMNOT CHEESE

Try some Cabot Creamery Recipes!
inns | hotels | resorts | rentals | attractions | dining | real estate

Vermont Products | Visit VT Towns | FWM 24/7 Shopping

Country Weddings | New England Recipes
VT Inns | Red Sox Gifts | Travel Destinations
Free World Mall

Country Weddings | New England Recipes
VT Inns | Red Sox Gifts | Travel Destinations