Camp Gokemo
Vermont's Okemo Mt Resort Summer Camp

Vermont's newest summer camp is a go! It's Camp Gokemo at Okemo Mountain Resort, and this summer camp offers daily visit, week long or seasonal participation. The flexibility is fantastic and the camp is available for kids ages 6 months through 15 years of age. Ask us about Camp Gokemo at Okemo Mountain Resort or share comments. Feature your business, contact VTLiving.
Okemo Vermont Camp Gokemo Area Summer Camps


Night Eagle Wilderness Adventures, PO Box 479, Wallingford, VT 05773 | 802-885-8661
A unique primitive summer camp for boys, ages 10 -14. Boys develop an authentic sense of personal accomplishment and learn to rely on their own ingenuity as they live in tipis, learn wilderness skills, canoe, hike, throw tomahawks and atlatls, cook over an open fire and so much more! Through community living and group decision making, campers learn to work and play together in a spirit of cooperation rather than competition. Accredited by the American Camp Association.
Visit Night Eagle Wilderness Adventures - Wallingford, VT
---


American Dance Training Camps ("ADTC"), One World Cup Circle, Stratton, VT 05155
Girls Ages 8 - 17 - You're invited to spend an action-packed week (or two or more!) with us this summer at American Dance Training Camp's ULTIMATE Green Mountains dance camp in Stratton, Vermont. Come make new friends and have a blast learning the latest contemporary, jazz and hip hop dance moves from America's greatest dance choreographers. Dancers of all levels - absolute beginners through experienced performers - are welcome at ADTC. Join us for a fun-filled week you'll never forget. We hope to see you this summer!
Visit The Ultimate Overnight Dance Camp Website
---


Windridge Tennis & Sports Camps, 1215 Roxbury Road, Roxbury, VT 05669 | 802-860-2005
The Windridge Experience is unique among children's summer camps. We incorporate highly specialized tennis, soccer and horseback riding programs within the traditional framework of a rural New England camp setting. Windridge also offers many elective programs such as swimming, golf, mountain biking, archery, ropes course, basketball, volleyball, arts & crafts and more.
Visit Windridge Tennis & Sports Camps
---


Summer Mountain Adventure Training (Sum.M.A.T.) Camp, 105 Briggs Street, Burlington, VT 05401
SumMAT Camp offers adventure, challenges, and fun for ages 6-16. Offering day camps and overnight expeditions, we make our headquarters at PetraCliffs and explore local caves, cliffs, rivers, lakes, and anyplace where summer adventure, challenge, and fun might be found! For more information
Visit Petra Mountain Adventure Website
---


Thaddeus Stevens School, 39 Luther Circle, Lyndon Center, VT 05850 | 802-626-0370
Rosie's Girls® was created by Vermont Works for Women in Winooski, VT. This unique summer program is for middle school girls in grades 6th through 8th grades. The camp builds strong, confident girls through exploration of STEM and Trades-related activities as vehicles for teaching self-efficacy, confidence and strength.
Visit Rosie's Girls Website
---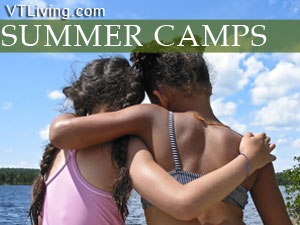 The day care portion of Camp Gokemo offers an interactive, Vermont state-licensed facility full of fun and things to do. Children participate in arts, crafts, painting, outdoors, singing and more.
Days at Camp Gokemo are busy. Themed activities, organized games, sports, swimming and crafts are just part of the experience. If your family is spending a month, a week, or just a weekend in Vermont – Camp Gokemo is for you. The camp is open seven days a week.
Some of the daily themes at Camp Gokemo include; Okemo Area History, Okemo Geology, Winter in July, Local Wildlife, Outdoor Adventure, Green-up Day, Jackson Gore Olympics, Muddy and Messy and much more.
Advance registration is recommended for the daily program and is required for week long and seasonal campers. Why not give it a go? The kids will love you for it. Camp Gokemo is operated by Okemo Mountain Resort.
Camps and Vermont go together like butter and toast – try a recommended Vermont Summer Camp and please tell them you found them online, in Vermont Living Magazine.

Vermont Products | Visit VT Towns | FWM 24/7 Shopping

Country Weddings | New England Recipes
VT Inns | Red Sox Gifts | Travel Destinations
Free World Mall

Country Weddings | New England Recipes
VT Inns | Red Sox Gifts | Travel Destinations