Northeast Kingdom VT Covered Bridges
Lyndon Burke NEK VT Guide To Covered Bridges

The Northeast region of Vermont is called "The Northeast Kingdom" and includes many of the state's most unique covered bridge designs. The "Kingdom" town of Lyndon, home of Lyndon Institute and Northern Vermont University – formerly known as Lyndon State College, is called the "Covered Bridge Capitol of Vermont" with five covered bridges within town borders. To feature your business, contact us.
Northeast Vermont Covered Bridges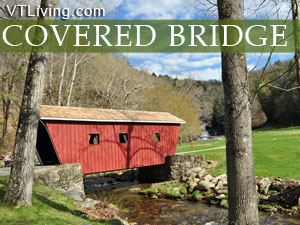 Schoolhouse Bridge
Off South Wheelock Road
Lyndon, VT
Built in 1879 and located in Lyndon, Vt. the Schoolhouse bridge replaced a much-criticized uncovered bridge.  It has a 42 ft Queenpost bridge, now off-road.
The Chamberlain Mill Bridge
Off South Wheelock Road
Lyndon, VT
Another Queenpost bridge in Lyndon, it has distinctive gables, allowing for better driver visibility.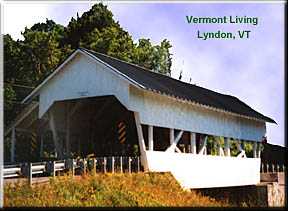 The Miller's Run Bridge
Off Route 122
Lyndon, VT
Totally reconstructed in 1995 using the 1878 Queenpost trusses, this Lyndon Covered Bridge is a great example of this type of construction.
The Randall Bridge
Off Route 114
Lyndon, VT
Built in 1867, this 68 ft Queenpost bridge has an unusually open construction, making it easy to observe the truss structure.
The Sanborn Bridge
Junction of Routes 5, 122 & 114 (behind the motel building)
Lyndon, VT
Built in 1867, this 117 ft long privately-owned covered bridge uses Paddleford trusses with their X design.
Greenbanks Hollow Bridge
Danville, VT
Built in 1886, this 74 ft long Queenpost covered bridge crossed Joe's Brook.
A. M. Foster Bridge
Cabot Plains Road & Bailey-Hazen Military Road
Cabot, VT
A reproduction of the Martin Bridge, built in 1988, road located in a field near the intersection of the Cabot Plains Road and the historic Bailey-Hazen Road.
Fisher Bridge
Off Route 15
Wolcott, VT
This 1908 covered bridge carried trains across the Lamoille River using doubled town lattice trusses. The full-length cupola is the only one of its kind still surviving.
River Road Bridge
Off Route 101
Troy, VT
This 1910 town lattice-covered bridge spans 92 ft over the Missisquoi River.
Lord's Creek Bridge
Route 58
Irasburg, VT
This 1881 Paddleford truss bridge was moved from Lord's Creek in 1958 to a local farmer's field on Rte. 58.
Mount Orne Bridge
Off Route 2
Lunenburg, VT
This 266 ft bridge, built in 1911 spans the Connecticut River.  It is a two-span bridge using William Howe's wood and steel design.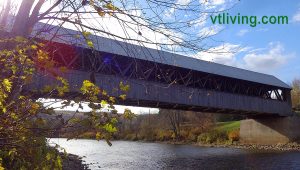 Columbia Bridge
Off Route 102
Lemington, VT
Built in 1911 to replace another bridge destroyed by fire, this 146 Howe truss bridge spans the Connecticut River and connects Vermont Route 102 with US Route 3 just south of Colebrook, NH.
inns | hotels | resorts | rentals | attractions | dining | real estate
SHOP 24/7 at FREE WORLD MALL

| Photo | Title | Price | Buy |
| --- | --- | --- | --- |
| | Vermont's Covered Bridges | $15.24 | On Sale Now |
| | Vermont Covered Bridges (VT) (Images of America) | $24.24 | On Sale Now |
| | Vermont Covered Bridge Shot Glass | $9.45 | On Sale Now |
| | Covered Bridges of Vermont | $22.64 | On Sale Now |
| | Timeless Crossings: Vermont's Covered Bridges | $28.85 | On Sale Now |
| | Fisher Railroad Covered Bridge Wolcott, Vermont T-Shirt | $19.99 | On Sale Now |
| | Danforth Pewter Covered Bridge Ornament – Handcrafted Pewter Vintage Style Christmas Ornaments – Satin Ribbon, 2", Made in USA | $24.99 | On Sale Now |
| | Hand Painted Glass Christmas Ornament - Covered Bridge Vermont | $22.99 | On Sale Now |
| | Arlington (Vermont) Covered Bridge - 12 inches - Made in USA | $69.99 | On Sale Now |
| | Umsufa Northfield Covered Bridges Vermont USA Christmas Tree Ornament Travel Gift Souvenir 3 Inch Porcelain Double Side | $12.49 | On Sale Now |
| | CafePress White Covered Bridge Colorful Autumn Vermont Mugs 11 oz (325 ml) Ceramic Coffee Mug | $17.99 | On Sale Now |
| | America's Covered Bridges: Practical Crossings - Nostalgic Icons | $8.95 | On Sale Now |
| | White Mountain Puzzles America - 1000 Piece Jigsaw Puzzle | $19.99 | On Sale Now |
Champlain Valley VT Covered Bridges
Burlington, Middlebury, St. Albans, the Islands of NW Vermont
North Central VT Covered Bridges
Montpelier, Barre, Randolph, Waterbury, Stowe, Mad River Valley
Northeast Kingdom VT Covered Bridges
St. Johnsbury, Newport, Barton, Lyndonville, Burke, Jay, Island Pond
South Central VT Covered Bridges
Rutland, White River Jct., Woodstock, Quechee, Brandon, Killington, Ludlow, Weston, Chester
Southern VT Covered Bridges
Bennington, Brattleboro, Manchester, Arlington, Newfane, Mt. Snow area

Vermont Products | Visit VT Towns | FWM 24/7 Shopping

Country Weddings | New England Recipes
VT Inns | Red Sox Gifts | Travel Destinations
New England Living Magazine
Fitness and Sports Products On Sale Now
Free World Mall

Country Weddings | New England Recipes
VT Inns | Red Sox Gifts | Travel Destinations