VT Farmers Markets
Vermont Farm Markets & Community Shopping

Find the freshest local produce from the farm at a Vermont Farmers Market. Your local farmer's market brings the farm to you. Many small local growers and mid-sized Vermont farmers bring their vegetables, honey, maple syrup, fruits, and berries to the Vermont Farmer's Market. There are many of these "homegrown shopping centers" all over Vermont.
A Vermont Farmers' Market is a great place to meet people and find home-baked goods, seasonal fruits and berries, local produce, and Vermont maple syrup. Vermont makes it special, as the saying goes, and many Vermont farmers and backyard growers, and craftspeople, make it to a Vermont Farmer's Market. Some Vermont Farm Markets offer live music. Ask us about VT Farm Markets or share your Vermont farm market updates and comments.
To feature your Vermont products, contact us. Thank you for visiting Vermont Living Magazine.


Allen Brothers Farms, 6023 US Route 5, Westminster, VT 05158 | 802-722-3395
We are a uniquely Vermont combination of practical and beautiful. We have an inhouse bakery featuring cider donuts, pie, cakes and cookies , a deli with signature Mac & Cheese, pizza and other warm options as well as made to order sandwiches, a country store filled with local Vermont products, locally grown seasonal produce with our own apples, corn, strawberries, and squash and pumpkins, a gas station, a nursery and garden center. Come and see what we have for you at exit 5 off I-91, easy off and on
Visit Allen Bros. Farms Website
---


The Dutton Berry Farmstands and Greenhouse, Route 30, Newfane, VT, Routes 11 & 30 in Manchester, VT, and Route 9 in West Brattleboro, VT | 802-365-4168
Dutton Berry Farmstands are well known for their Vermont grown produce and other unique local products. Fresh picked apples straight from our orchard are available throughout apple season. Stop in and pick up a jug of Dutton Berry Farm's fresh made apple cider, made from our home grown apples. Whether it is fresh farmer-grown fruits and vegetables, cider, Vermont maple syrup or plants, you'll enjoy visiting a true Vermont farm experience.
Visit Dutton Berry Farmstands- VT
---


Yates Family Orchard, 1074 Davis Road, Hinesburg, VT 05461 | 802-373-7437
Come pick 23+ different apple varieties, pears and plums! Visit the orchard stand for delicious, hot, out of the fryer, cider donuts, and baked goods. Try all-natural Vermont made creemee ice cream, raw pressed cider, and other yummy orchard treats. Shop for Vermont local raw honey, maple syrup, orchard made jams, Mt Mansfield Creamery cheeses, Eden Specialty ciders, locally grown mums, pumpkins, and veggies. Discover other Vermont products and artwork for sale. Bring a picnic, stay the afternoon and relax in the scenic beauty of the orchard. Open September through November everyday.
Visit Yates Family Orchard - Hinesburg
---
Burlington Farmers' Market
College Street and City Hall Park
Burlington, VT
Ph: 888-889-8188
Early May – late Oct. , Saturdays; 8:30 – 2:30
Winooski Farmers Market
Downtown
Winooski, VT
Contact: winooskimarket@gmail.com
June 1 – Oct. 12; Sundays 10am – 2pm
Five Corners Farmer's Market
2 Lincoln Place, off Railroad Avenue
Essex Jct., VT
Web: http://5cornersfarmersmarket.com
Fridays, 3:30pm – 7:30pm
Montpelier – Capital City Farmers Market
County Courthouse
Montpelier, VT
Ph: 802-479-9701
Early May – late October, Saturday, 9 – 1pm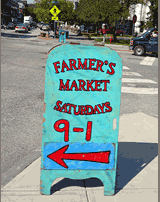 St. Johnsbury – Caledonia Farmers' Market
Western Avenue
St. Johnsbury, VT
Ph: 802-626-8396
Mid May – October, Wednesday and Saturday; 9 – 1pm.
Lyndon Farmers' Market
Bandstand Park Green
Lyndonville, VT
Ph: 802-751-5178
Mid-May – October, Friday; 3 – 6pm.
Just across from White's Market, this VT Farm Market features live entertainment, local farm produce, baked goods, arts, crafts, and gifts.
Hardwick Farmers' Market
Atkins Field
Hardwick, VT
Ph: 802-755-6349
Mid May – October, Friday; 3 – 6pm.
Peacham Farmers' Market
Academy Hill Green
Peacham, VT
Email: peachamfarmersmarket@gmail.com
Mid May – October, Thursday; 3 – 6pm.
Woodstock Vermont Market On The Green
Route 4 (across from the Woodstock Inn)
Woodstock, VT
Ph: 802-457-3555
June – October 5, Wednesdays 3pm – 6pm.
Across from the Woodstock Inn on the Green in Woodstock – this is a long-running and well-represented Farm Market – always some surprises.
Manchester – West River Farmers' Market
At Dana Thompson Recreational Center, Route 30
Manchester Center, VT
Ph: 802-824-4492
May 25th – October 12th. Thursdays 3:00 – 6:00pm.
Brattleboro Farmers' Market
Route 9 near the Covered Bridge
Ph: 802-254-8885
May – October; Saturday 9am-2pm, Route 9 near the Covered Bridge. Wednesday 10am-2pm; Whetstone Pathway -lower Main Street, Brattleboro
The Brattleboro Area Farmers' Market is Southern Vermont's premier farmers' market featuring over 50 vendors with agricultural products, crafts, live music and animals and ethnic foods from around the world. The Market has a No Dogs Policy. There is usually live music.
Craftsbury Farmers' Market
Craftsbury Common
Craftsbury, VT
Late May-October. Saturdays, 10am-1pm, On the Common. Family-friendly events every Saturday. Local vendors offer fresh & prepared foods, maple syrup, award-winning cheeses, natural skin-care products, gluten-free baked goods, artwork, and artisan crafts.
Champlain Islands Farmers' Market – Grand Isle
St. Joseph Church
185 US Route 2,
Grand Isle, VT 05458
Ph: 617-652-2304
Late May – Early October,Saturday; 10am – 2pm.
Champlain Islands Farmers' Market – South Hero
St. Rose of Lima Church
501 US Route 2,
South Hero, VT 05486
Ph: 617-652-2304
Late May – Early October,Wednesday; 3pm – 6pm.

Vermont Products | Visit VT Towns | FWM 24/7 Shopping

Country Weddings | New England Recipes
VT Inns | Red Sox Gifts | Travel Destinations
Fitness and Sports Products On Sale Now
Free World Mall

Country Weddings | New England Recipes
VT Inns | Red Sox Gifts | Travel Destinations