Green Mountain Creamery
A Vermont Business Profile from "Try Vermont First"

Vermont Living Magazine presents a series of Vermont product reviews and commentary from native Vermonter Honi Bean Barrett. Ask us about Green Mountain Creamery or share reviews and comments. To feature your Vermont products, contact us.
Vermont Products: Green Mountain Creamery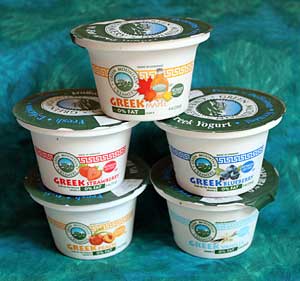 I am a little obsessed with Greek yogurt. Greek yogurt, by definition, has been further strained than traditional yogurt. This makes Greek yogurt thicker and gives it a higher protein content.
A friend who knew my plans for this blog emailed me to say "You should try Green Mountain Creamery's Greek yogurt. It's great and it costs less than Chobani." YUM! My whole family enjoyed Green Mountain Creamery's maple Greek yogurt. I would describe it as delicately sweet (ie: not overly sweet). It was thick and smooth. I think that I would eat it as not only a breakfast or snack item but as a dessert. Maybe with mini chocolate chips on top. The possibilities are endless!
Everyone in the family has tried Green Mountain Creamery's strawberry Greek yogurt as well. It's perfect. It really is! The strawberries are sweet, the yogurt is a bit tart, and mixed together they make a wonderfully delightful yogurt. I can officially say that I have made the change, and will now only buy Green Mountain Creamery's Greek yogurt. I am happy to support this local company, and therefore local farms.
They make a high-quality product with high-quality ingredients. They leave out unnecessary sweeteners and preservatives. I am glad they can feed my obsession for Greek yogurt! I found Green Mountain Creamery yogurt at my local VT grocery store.
– Honi Bean Barrett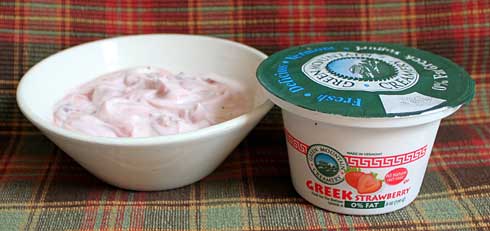 Greek Yogurt from Green Mountain Creamery
Honi Bean Barrett grew up in Vermont. After college and traveling afar, she knew that Vermont is where she and her family should and would settle down and plant roots. Her blog came to life after her son asked her to buy local products at a Vermont Farmer's Market. Honi set out to try, test, sample, and review these homegrown products for friends and family. In the process, she found products that she loves, and she loves supporting the Vermont economy!
Vermont Lodging Specials | VT Dining

Vermont Products | Visit VT Towns | FWM 24/7 Shopping

Country Weddings | New England Recipes
VT Inns | Red Sox Gifts | Travel Destinations
Free World Mall

Country Weddings | New England Recipes
VT Inns | Red Sox Gifts | Travel Destinations