Vermont Dragons & Legends
Memphre – Serpent of Lake Memphremagog Newport VT

Vermont has more than its share of Mysteries and Legends – Champ, the serpent of Lake Champlain, the infamous Catamount Mountain Lion, and the focus of this article, which involves an international lake and a serpent named "Memphre". The legend of "Memphre" dates back to the days of Vikings and Indians, long before White Man settled the regions now known as Northeastern Vermont (The Northeast Kingdom) and the Eastern Townships of Quebec. Ask us about Vermont Legends or share strange happenings. To feature your Vermont business, contact us.
Vermont Legends & Dragons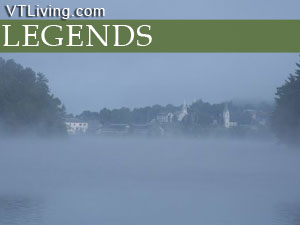 When the early settlers arrived to the area now known as Lake Memphremagog, the Native Americans told them that they would not bathe or swim in the lake because it was inhabited by a sea serpent. The serpent sightings continue even today with more than 200 documented sightings of Memphre – the Lake Memphremagog sea monster.
Most witnesses describe a long, black or dark green reptilian creature swimming near or on the surface of the water. In 1961 two fishermen saw a black creature about 40 feet (13 meters) long swimming, partially submerged, past their boat. In 1994 four persons in two separate boats reported a 30-foot long, black, three-humped creature. Sightings have been reported from Magog, Quebec, Canada and Newport, Vermont.
Newspapers on both sides of the international border (Quebec, Canada, and Newport, Vermont, USA) have been reporting the sightings for a number of years. January 21, 1847, Stanstead Journal reported: "I am not aware whether it is generally known that a strange animal something of a sea serpent….exists in lake Memphremagog…".
Research and study of this mystery have spawned an organization. The International Dracontology Society was founded on June 19, 1986, by Jacques Boisvert – the world's first, and leading, dracontologist, with the objective to study the phenomenon at length. Dracontology, a branch of cryptozoology, only studies unidentified lake-dwelling creatures such as sea serpents. This name was officially recognized by Dr. Bernard Heuvelmans, founder of cryptozoology. The Dracontology Society has collected in their archives 50 sightings of "Memphre" involving 124 persons. The Dracontology Society only keeps signed declarations and declarations recorded on radio cassettes.
Monster Hunting
Viewing the Lake Serpent of Memphremagog takes time, and luck. Choose a comfortable location from shore or slowly navigate the waters of Lake Memphremagog in a boat with a camera loaded and ready to capture the moment on film. Please contact Vermont Living if you photograph or view a glimpse of this elusive creature.
Lake Memphremagog is a 27-mile long, deep, finger-like lake that extends from Newport, Vermont, north to Magog, Quebec. Travelers will enjoy a visit to the lake. Several excellent restaurants are located on or near the shore of the lake in Newport and in the Canadian city of Magog. Magog offers sightseeing boat rides, numerous shops, and boat rental facilities. Magog is about a 20-minute drive from the Northern Vermont town of Derby. A trip to Lake Memphremagog will reward you with superb photo opportunities, even if Memphre is not sighted!
inns | hotels | resorts | rentals | attractions | dining | real estate
SHOP VT FOLK LORE & LEGENDS
| Photo | Title | Price | Buy |
| --- | --- | --- | --- |
| | Do Not Meddle In The Affairs Of Dragons For You Are Crunchy T-Shirt | $19.99 | On Sale Now |
| | George S. Chen Imports SS-G-71581 Blue Medieval Baby Dragon with Crystal Egg Nest Decorative Figurine, 7871581 | $15.98 | On Sale Now |
| | JTIISICY Blue Wing Dragon Moon Necklace Dragon Pendant Necklace or Dragon Keyring Dragon Jewelry Dragon Pendant Dragon Necklace | $8.99 | On Sale Now |
| | Monsters of the Green Mountain State: Cryptids & Legends of Vermont (Monsters of America) | $19.95 | On Sale Now |
| | Lake Monster Mysteries: Investigating the World's Most Elusive Creatures | $18.01 | On Sale Now |
| | New England Myths and Legends: The True Stories behind History's Mysteries (Myths and Mysteries Series) | $18.95 | On Sale Now |
| | Silver State Monsters: Cryptids & Legends of Nevada (Monsters of America) | $19.95 | On Sale Now |
| | Around Lake Memphremagog (VT) (Images of America) | $14.88 | On Sale Now |
| | Lake Memphremagog Vermont Long Sleeve T-Shirt | $22.99 | On Sale Now |
| | Lake Floats for Adults with Pool Hammock, JHUNSWEN 114'' x 72'' Giant Inflatable Floating Mat for Lake Pool Boating Beach, Floating Island for Water Relaxing Party, for Family Couple Friends | $67.46 | On Sale Now |
| | Forgotten Tales of Vermont | $12.99 | On Sale Now |
| | Monsters of the Green Mountain State: Cryptids & Legends of Vermont (Monsters of America) | $19.95 | On Sale Now |
| | North American Lake Monsters: Stories | $17.99 | On Sale Now |
| | The Field Guide to Lake Monsters, Sea Serpents and Other Mystery Denizens of the Deep | $16.95 | On Sale Now |
SHOP 24/7 At FREE WORLD MALL

Vermont Products | Visit VT Towns | FWM 24/7 Shopping

Country Weddings | New England Recipes
VT Inns | Red Sox Gifts | Travel Destinations
Fitness and Sports Products On Sale Now
Free World Mall

Country Weddings | New England Recipes
VT Inns | Red Sox Gifts | Travel Destinations