Vermont Maple Sugaring Events
Experience The Maple Sugaring Season at Vermont Maple Festival

It's just plain sweeter here in Vermont! And that is especially true during maple sugaring season – just ask any Vermont Maple Sugar Maker. Vermont's maple trees herald the sounds of a sugaring new season, drip by drip. The maple trees are responding to nature and the sap begins to flow – when it does a wise Vermont Maple Producer knows to have his buckets ready and his lines all drawn and closed. Ask us about VT Events or share reviews and comments. To feature your Vermont Event, contact us.
Vermont Maple Sugaring Events


Robb Family Farm, 827 Ames Hill Road, Brattleboro, VT 05301 | 802-257-0163
Home of fine Vermont crafts. We produce the purest maple syrup you can find as well as a large assortment of fine hand-crafted treasures. Enjoy the scenic Vermont landscape and views from our shop. The Robb Family Country Shop is a family run business, consisting of a charming gift shop, farm events, mail order and baked goods by order. The shop is open throughout the year selling our own Vermont Maple Syrup, Vermont Maple Candy, Maple Syrup Party Favors, Gift Boxes, and Family Raised Beef. Sugarhouse Tours are offered year round.
Visit Robb Family Farm Website
---


Green Mountain Sugar House, Rte 100N, Box 820, Ludlow, Vermont 05149
Our award winning maple candy is still being made and shipped daily along with our 100 % pure maple syrup. When you see the steam roll from the Green Mountain Sugar House, stop in and have a taste of the sweetest stuff on earth. Our red roofed sugar house, just steps away from the water's edge, is where we make everything from maple syrup to mouth-watering maple fudge. It's also a Vermont country gift shop. Make the Green Mountain Sugar House a planned stop whenever you're in the area... you'll be glad you did! Order online
Visit Green Mountain Sugar House Website
---


Sugarbush Farm, 591 Sugarbush Farm Road, Woodstock, VT 05091 | 800-281-1757
Sugarbush Farm is located on a 550 acre hilltop outside of Woodstock Village. Visitors watch cheese production, year round maple tours, sample Sugarbush Farm cheeses, Vermont Maple Products, local Honey, and other products. You can walk the nature trail, see farm animals, and best of all free admission. The farm is located 3 miles off US Route 4 on Hillside Road, across from the Taftsville Bridge, 3 miles east of Woodstock, VT. Sugarbush Farm Store is open daily from 9:00am to 5:00pm.
Visit Sugarbush Farm - Woodstock
---


Yates Family Orchard, 1074 Davis Road, Hinesburg, VT 05461 | 802-373-7437
Come pick 23+ different apple varieties, pears and plums! Visit the orchard stand for delicious, hot, out of the fryer, cider donuts, and baked goods. Try all-natural Vermont made creemee ice cream, raw pressed cider, and other yummy orchard treats. Shop for Vermont local raw honey, maple syrup, orchard made jams, Mt Mansfield Creamery cheeses, Eden Specialty ciders, locally grown mums, pumpkins, and veggies. Discover other Vermont products and artwork for sale. Bring a picnic, stay the afternoon and relax in the scenic beauty of the orchard. Open September through November everyday.
Visit Yates Family Orchard - Hinesburg
---


The Dutton Berry Farmstands and Greenhouse, Route 30, Newfane, VT, Routes 11 & 30 in Manchester, VT, and Route 9 in West Brattleboro, VT | 802-365-4168
Dutton Berry Farmstands are well known for their Vermont grown produce and other unique local products. Fresh picked apples straight from our orchard are available throughout apple season. Stop in and pick up a jug of Dutton Berry Farm's fresh made apple cider, made from our home grown apples. Whether it is fresh farmer-grown fruits and vegetables, cider, Vermont maple syrup or plants, you'll enjoy visiting a true Vermont farm experience.
Visit Dutton Berry Farmstands- VT
---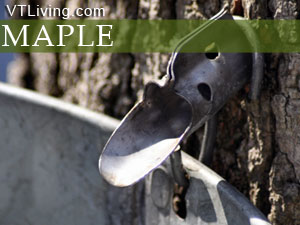 True Vermont maple syrup is more than a sweet treat– it's an experience. And the best time to celebrate the wonders of maple syrup is in early spring, the only time when the real thing can be made. To learn more about how maple syrup is produced and enjoyed, plan on attending one of the Green Mountain State's annual maple events.
The maple sugaring season is usually from late February to early April. As with fall foliage, it is impossible to predict exactly when the maple sugaring season will start or peak. Maple production usually begins in the southern part of the state, where it is warmer, and ends in the north. To see maple produced firsthand, visit a Vermont sugarhouse during Vermont Maple Open House Weekend, which is held all over Vermont the first weekend of spring. Right before your eyes, maple farmers will harvest the maple sap and boil it down to make sweet maple syrup! Call the sugarhouse you are planning to visit before you go since weather and local events can have an impact on small sugarhouses.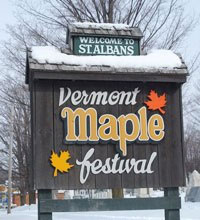 For people who just can't get enough maple syrup, there's the Vermont Maple Festival. St. Albans hosts this maple extravaganza every year at the end of April. There's something here for everyone: a pancake breakfast, a gourmet food sale, a craft exhibit, an antique show, musical performances, and various concessions and carnival rides. Kids and adults alike will love the big parade, which features the Maple King and Queen! Awards are given to the best maple products in many categories. More than 50,000 people go to the Maple Festival every year, making it the biggest annual event in the area.
Vermont Maple Festival visitors will love watching prominent Vermont chefs demonstrate how to cook with maple syrup. Yes, it's true– maple syrup isn't just for breakfast foods. It's also a versatile, all-natural sweetener. Maple syrup or maple sugar can be found in recipes for all kinds of things, including ice cream, apple pie, muffins, fudge, frosting, salad dressing, squash, baked beans, barbecue sauce, and chili. So don't just bring back maple syrup for your friends and family– add a maple cookbook, or even a maple masterpiece for your own kitchen!
~Jenn for vtliving.com
Vermont Products | Vermont Maple Sugar Producers | Events

Vermont Products | Visit VT Towns | FWM 24/7 Shopping

Country Weddings | New England Recipes
VT Inns | Red Sox Gifts | Travel Destinations
Fitness and Sports Products On Sale Now
Free World Mall

Country Weddings | New England Recipes
VT Inns | Red Sox Gifts | Travel Destinations