Saint Albans, Vermont 05478
Saint Albans VT Lodging, Real Estate, Travel & Visitor Information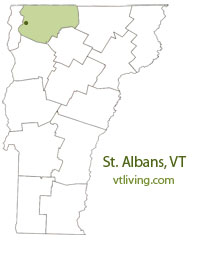 Welcome to St. Albans, Vermont. The city of Saint Albans, Vermont is located near Lake Champlain and was settled in 1774. Saint Albans was incorporated as a city in 1897. It is a popular resort area surrounded by agricultural communities and is home to The St. Albans Messenger – a Vermont newspaper.


Hampton Inn Saint Albans, 43 Lake Street, St Albans, Vermont, 05478
This modern boutique hotel offers an excellent location, 30 minutes from Burlington International Airport and walking distance to the Amtrak Train Station. Enjoy complimentary covered parking in the adjacent parking garage. Soak up the atmosphere of New England architecture in local parks and discover the historic train heritage of the area. Hampton Inn & Suites is located just minutes from many downtown businesses, shopping and dining options. Take the family on a day trip to Montreal, only 1.5 hours away.
---
The Saint Albans Historical Museum attracts thousands of visitors annually. Saint Albans was the scene of the northernmost engagement of the American Civil War when, in 1864, the Saint Albans Raid occurred. Confederate soldiers entered the town from Canada and robbed several banks.  St. Albans is often visited by Canadians today, many visitors from Quebec do their shopping in the US in St. Albans. Saint Albans is the site of the annual Vermont Maple Festival – a popular Vermont event that attracts thousands of visitors to the state.
Share your  Saint Albans, VT business, contact us.
Chartered: 1896
County: Franklin
Saint Albans, VT Population:
2010: 7,650
GPS Coordinates:
Latitude: 44.4835
Longitude: -73.514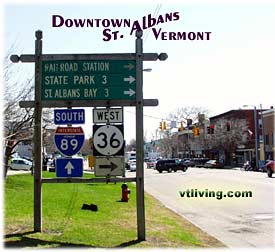 Saint Albans, VT Local Information
Saint Albans Town Offices: 802-524-2415
Saint Albans is a city located in northwestern Vermont, United States, and is the county seat of Franklin County. The city has a rich history, beautiful attractions, diverse neighborhoods, and a variety of activities to offer visitors. Here are some highlights:
History: Saint Albans has a fascinating history as a railroad hub and the site of the northernmost Confederate invasion during the American Civil War. In 1864, Confederate soldiers led by Captain Bennett H. Young robbed three banks in the city in an attempt to fund their rebellion. The event is now known as the St. Albans Raid and is considered the northernmost land action of the Civil War.
Saint Albans Museum: This museum showcases the history of Saint Albans and the surrounding area. It features exhibits on the St. Albans Raid, the railroad era, and the city's agricultural heritage.
St. Albans Bay Park: This park is located on the shore of Lake Champlain and offers beautiful views of the lake and Adirondack Mountains. It has picnic areas, a beach, a playground, and a boat launch.
Taylor Park: This historic park in the center of town has a fountain, gazebo, and plenty of benches for relaxing. It hosts events throughout the year, including concerts and festivals.
Vermont Maple Festival: Held annually in April, this festival celebrates Vermont's famous maple syrup. It features a parade, maple syrup tastings, live music, and more.
St. Albans Vermont Neighborhoods:
Downtown: Saint Albans' downtown area is home to many historic buildings, shops, and restaurants. It is also the location of the city's farmer's market, held on Saturdays from May to October.
Upper and Lower Newton: These neighborhoods are located on the north side of town and offer views of Lake Champlain and the Adirondack Mountains.
Fairfax Road: This area on the south side of town is a popular residential neighborhood with easy access to downtown.
Things to Do:
Visit the local breweries: Saint Albans is home to several craft breweries, including 14th Star Brewing Company and Saint Albans Brewery.
Explore the Rail Trail: This 26-mile trail follows the path of the former St. Albans to Swanton railroad and offers great views of the surrounding countryside.
Go skiing: Saint Albans is close to several ski resorts, including Jay Peak and Smugglers' Notch.
Attend a concert or show: The city has several venues for live music and theater, including the Saint Albans Opera House and Welden Theatre.
Overall, Saint Albans is a charming city with a rich history, beautiful natural surroundings, and plenty of things to see and do.
inns | hotels | resorts | rentals | attractions | dining | real estate
SAINT ALBANS GIFTS

| Photo | Title | Price | Buy |
| --- | --- | --- | --- |
| | Saint Albans Vermont Souvenir College Style Red Text Long Sleeve T-Shirt | $21.85 | On Sale Now |
| | 2012 Saint Albans, VT - Vermont - USGS Historical Topographic Map : 44in x 59in | $239.99 | On Sale Now |
| | Historical discourse on the rise and progress of the First Congregational Church, of St. Albans, Vermont 1860 [Leather Bound] | | On Sale Now |
| | Saint Albans Vermont Souvenir College Style Red Text Tank Top | $19.95 | On Sale Now |
| | SAINT ALBANS VERMONT VT USA Patriotic Vintage Sports Zip Hoodie | $33.99 | On Sale Now |
| | American Flag Mug Saint Albans Vermont Coffee Cup It's Where My Story Begins 4th of July Coffee Mug Patriotic Gift Independence Day Memorial Day Tea Cup 11oz Black | $17.99 | On Sale Now |
| | Girl Out Of SAINT ALBANS VT VERMONT Gift Funny Home Roots Zip Hoodie | $33.99 | On Sale Now |
| | SAINT ALBANS VT VERMONT Varsity Style USA Vintage Sports Zip Hoodie | $33.99 | On Sale Now |
| | SAINT ALBANS VERMONT VT USA Patriotic Vintage Sports Pullover Hoodie | $31.99 | On Sale Now |
| | SAINT ALBANS VT VERMONT Varsity Style USA Vintage Sports Sweatshirt | $32.97 | On Sale Now |
| | Vermont Mountains Pick Your Mountain Compatible/Replacement for Saint Albans Hill United States Mountain Aluminum Metal Tin Street Sign Style Home Decor For Man Cave Poker Tavern Game Room | $19.95 | On Sale Now |
| | BLUDUG Historical Saint Albans Vermont In The Square Facing Main Street Poster 1941 by Jack Delano Canvas Painting Wall Art Poster for Bedroom Living Room Decor24x36inch(60x90cm) | | On Sale Now |
| | VERMONT | I'D RATHER BE IN SAINT ALBANS VERMONT T-Shirt | $18.00 | On Sale Now |
| | Annual report of the City of St. Albans, Vermont, for the fiscal year ended ... [Leather Bound] | | On Sale Now |
| | Snack Sticks by Vermont Smoke & Cure – Uncured Pepperoni – Turkey – Healthy Meat Protein – 1oz Jerky Sticks – 24 count carton | $39.82 ($1.66 / Count) | On Sale Now |
| | 1964 St. Albans Bay, VT - Vermont - USGS Historical Topographic Map : 44in x 55in | $229.99 | On Sale Now |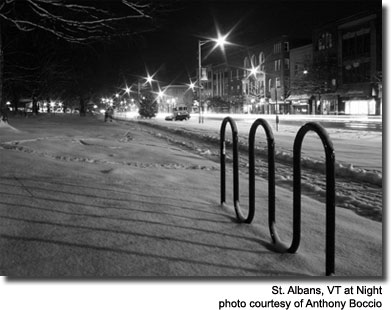 Vermont Products | Visit VT Towns | FWM 24/7 Shopping

Country Weddings | New England Recipes
VT Inns | Red Sox Gifts | Travel Destinations
New England Living Magazine
Fitness and Sports Products On Sale Now
Free World Mall

Country Weddings | New England Recipes
VT Inns | Red Sox Gifts | Travel Destinations