Vermont Mountain Biking Guide
VT Mountain Biking Extreme Sports & Outdoor Adventure Sports
One of Vermont fastest growing outdoor extreme sports is Mountain Biking. Mountain biking entails the sport of riding bicycles off-road – often over rugged terrain. This form of bike riding is usually done with specifically equipped bikes – called mountain bikes. Mountain bikes or retrofitted street bikes are fitted with wide, knobby tires, large frame tubing, dual suspension shock absorbers, etc. Ask us about Vermont bike trail centers or share Vermont biking comments. To feature your Vermont business, contact us.
Vermont Mountain & Trail Centers


The Wildflower Inn, 2059 Darling Hill Road, Lyndonville, VT 05851 | 802-626-8310
Trailside Lodging in the Northeast Kingdom of Vermont. Your next great adventure awaits at The Wildflower. A four-season destination property for the best in outdoor recreation and Vermont experiences. With our 25-room Inn, full-service restaurant, pub, Village Sport bike shop (with rentals) and KCE guide company right on the property, you will have everything you need to make the most of your Vermont visit.
Visit The Wildflower Inn - Lyndonville, VT
---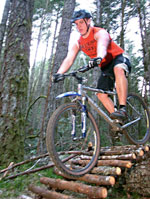 Kingdom Trails
Rt 114 E Burke
East Burke, VT
Ph: 802-626-0737
Kingdom Trails is located in Vermont's beautiful and rural Northeast Kingdom. This network of trails has been voted as the BEST TRAIL NETWORK in North America by Bike Magazine and has been featured in dozens of newspapers, magazines, and videos. Kingdom Trails is a multi-use trail system but mountain bikers will be impressed with the trail conditions and views. The Inn at Mountain View Farm and The Wildflower Inn are both located on the trail system. There are more than 150 miles of Vermont dirt roads, farm paths, and trails here. Scenic Vermont in all it's glory.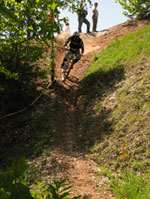 Millstone Hill Touring Center
422 Websterville Rd
Barre, VT
Ph: 802-479-1000
Millstone Touring Center is quickly gaining popularity as a Mountain Biking destination. This network of trails now is in excess of 70 miles. Barre Vermont is famous for granite and stone quarries and that is exactly what much of the land in Millstone was at one time. There are miles of dirt roads and paths on what is called Millstone Hill. One hundred years ago this was Vermont quarry land, now it is an outdoor adventure land and mountain biking, cross-country skiing, and hiking are enjoyed here.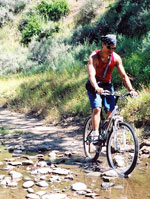 Grafton Ponds Ski Center
Attn. Bill Salmon
PO Box 9
Grafton, VT 05146
Grafton Ponds in Grafton (Southern Vermont) has an extensive trail system that winds through heavily forested hillsides. The trails at Grafton Ponds offer nice views of historic Grafton village. The area now has a new terrain park. Grafton Park has several large jumps and switchbacks. Bike over wooden bridges but use caution as this trail system can be quite challenging.
SHOP MOUNTAIN BIKES AT FREE WORLD MALL


Vermont Products | Visit VT Towns | FWM 24/7 Shopping

Country Weddings | New England Recipes
VT Inns | Red Sox Gifts | Travel Destinations
Free World Mall

Country Weddings | New England Recipes
VT Inns | Red Sox Gifts | Travel Destinations