Farewell Phish
Vermont's Favorite "Jam Band" says Good-Bye and a tiny Vermont town braces for visitors
The Vermont band "Phish" has sold more recordings and concert tickets than other Vermont recording artists. Ask us about Vermont Phish or share Vermont questions or comments. To feature your Vermont business, contact us.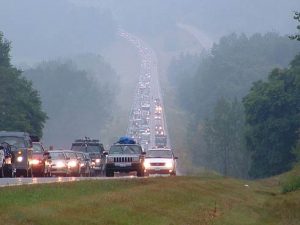 The Vermont band "Phish" is calling it quits with a huge Farewell Concert in Vermont's Northeast Kingdom. The band debuted in 1988 and within a few years became an institution on college campuses and in America's subculture. Phish albums are still selling, not only in the US but also in Japan, and Europe. Phish fans travel for hundreds of miles to hear the band jam live – Phish concerts are gatherings. Live outdoor Phish concerts often attract upwards of 20,000 people.
The Vermont town of Coventry (located in the rural Northeastern section of the state, about 20 miles from the Canadian border) was chosen for the location of the Phish Farewell Concert. This small town (population around 1,000) is expected to become one of Vermont's largest cities for a few days in August. With that kind of influx of visitors comes some anxiety and anticipation.
The PHISH promoters and Vermont Living Magazine encourage the use of carpooling to the Coventry Show.
What To Expect
If you are heading for the show, expect to Exit I-91 North at exit 26 in Orleans. The Vermont State Police will be routing traffic off the Interstate to Rt. 5, then right on Airport Road.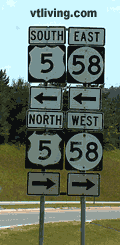 There is a large dairy farm near the corner, your nose will notice it if your eyes fail to. As a suggestion; take secondary routes from Central or Southern Vermont. Rt. 5 runs the length of the state from Brattleboro to Coventry and it is a splendid and scenic drive along the Connecticut River Valley.
Rt. 15 is another excellent route. If you are planning on getting some last-minute supplies, take a left off the exit ramp (Exit 26, off I-91N) to the village of Orleans. There are a couple of convenience stores and a small market in the village. Towns in the Northeast Kingdom (as northeastern Vermont is known) are small and have a limited number of large discount stores – so you may want to bring some needed items with you.
The region has two hospitals, North Country Hospital is located in Newport, the other is located in St. Johnsbury (about 35 miles south of the concert site.)
Exploring Vermont's Northeast Kingdom Region
If this is your first visit to this area consider extending your visit to include some exploring of this remarkable region of northern New England. The Northeast Kingdom offers fantastic scenery, pristine lakes, small country shops, and great hiking, fishing, and canoeing. The nearby Crystal Lake State Park in Barton is a good place to swim or beach for a while. St. Johnsbury offers some unique shopping opportunities downtown, and the Fairbanks Museum and Planetarium. Newport has the magnificent Lake Memphremagog, live entertainment in downtown clubs, and the international border to Quebec is just minutes away. Alternative art fans will enjoy a visit to the Bread and Puppet Museum in nearby Glover. Find Bread and Puppet on Rt. 114. Take I-91 to Exit 25, travel South on Rt. 14, then take a left on Rt. 114 south. Bread and Puppet is on your left about a mile from Rt. 14.
Crossing the US-Canada Border
Just north of Newport, on the northern shore of Lake Memphremagog, is the bustling Canadian city of Magog, Quebec. Magog is only about a half-hour drive from Coventry and makes for an extremely interesting trip. Quebec is bilingual so English is not a problem. The town also has some nice restaurants, a wonderful beach, a large marina, and nightlife. A word of caution: Do not enter Canada with drugs of any kind unless you have all your required paperwork. Getting across the border may not be a problem, but returning to the US through US Customs can be a major inconvenience or worse. Know before you go and bring your birth certificate and required paperwork. (a passport is useful but not required to enter Canada). US Customs conducts vehicle searches and may even conduct strip searches of individuals entering the US from Canada.
Respecting the Laws and the Land
The local residents appreciate the beauty of this rural region. Please do not litter or leave traces of your presence. Vermont speed limits are strictly enforced. Slow down when entering small towns and villages – speed limits are usually 30 miles per hour in towns.
More Phish Info | Coventry Vermont | Newport Vermont Info
Shop for Phish Books from Amazon.com
SHOP PHISH MUSIC

| Photo | Title | Price | Buy |
| --- | --- | --- | --- |
| | PHISH Collection | Poster Prints | 11x14 | Set of 4 | Home Decor | Wall Art | $49.99 | On Sale Now |
| | Phish - Billy Breathes | $24.99 | On Sale Now |
| | Phish Plastic Auto Emblem - [Silver][5'' x 3 3/4''] | $9.99 | On Sale Now |
| | The Baker's Dozen Live At Madison Square Garden (3xCD) | $40.00 | On Sale Now |
| | The Phish Companion: A Guide to the Band & Their Music | $297.00 | On Sale Now |
| | Joy - Phish Rock Typographic Distressed Wall Art, Ready to Frame Wall Decor Music Poster, Great Print For Home Decor, Bedroom Decor, Office Decor, or Man Cave Room Decor Aesthetic, Unframed - 8x10 | $11.88 | On Sale Now |
| | The Totally Awesome Phish Trivia Book: Uncover The History & Facts Every Phish Head Should Know! | $10.99 | On Sale Now |
| | musical notes Music Dad T-shirt text in treble clef t-shirt | $14.99 | On Sale Now |
| | Live Phish: 10/30/10, Boardwalk Hall, Atlantic City, NJ | $14.49 | On Sale Now |
| | I May Be Old But I Got To See All The Cool Bands T-Shirt | $21.99 | On Sale Now |
| | Ripple Junction Grateful Dead Men's Short Sleeve T-Shirt Steal Your Face Stealie Sun Cotton Crew Neck Heather Brown Large | $24.99 | On Sale Now |

Vermont Products | Visit VT Towns | FWM 24/7 Shopping

Country Weddings | New England Recipes
VT Inns | Red Sox Gifts | Travel Destinations
Free World Mall

Country Weddings | New England Recipes
VT Inns | Red Sox Gifts | Travel Destinations