Okemo Mountain Resort
Okemo Ludlow VT Vacation Lodging Dining & Rentals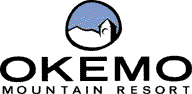 Welcome to Okemo, pronounced (OH-KEY-MO). This South Central Vermont Ski Resort just keeps getting better. Okemo was once a small community-run ski hill. Tim and Diane Mueller purchased the ski area in 1982 and transformed it into a popular four-season resort. Okemo was recently sold to  Vail Resorts, Inc.
Recent snowmaking improvements and new construction have made Okemo a four-season destination. Jackson Lodge at Okemo offers luxury accommodations right on the mountain and several other Inns and Resorts are located nearby. Okemo Mountain operates The Zipper Mountain Slide – part of the resort's summer activities. Okemo Mountain Resort began with a formation of local businessmen in 1955 and began operation in 1956.
Okemo Mountain is located in Ludlow, nearby is Cavendish and about 25 miles northwest is Rutland.
The base of Okemo Mountain stands at 1,144 feet (346 m) above sea level, and the Okemo summit is 3,344 feet (1,019 m), with a vertical drop of more than 2,200 feet – the largest vertical drop in southern Vermont!  Share your Okemo Vermont area business with Vermont Living, contact us.


Castle Hill Resort and Spa, Junction of Rt. 103 & 131, Ludlow, VT 05149 | 888-764-6836
Castle Inn at Castle Hill Resort and Spa is a member of the prestigious Small Luxury Hotels Of The World, Historic Hotels Of America, and is also listed on the National Register of Historic Places. Luxury reigns supreme here at our elegant, full-service Vermont Inn which features a unique collection of 10 individually decorated guest rooms. Ski and play at Okemo, stay at Castle Hill Resort and Spa.
Visit Castle Hill Resort & Spa Ludlow
---


The Pointe at Castle Hill Resort, Rt. 103, Ludlow, VT 05149 | 888-764-6836
A truly accommodating country hotel with 96 spacious rooms and suites, enhanced guest services, and a new look. An exceptional lodging value with all the comforts of a first class hotel. Indoor pool, hot tub, restaurant, lounge, game room and views of Okemo Mountain.
Visit The Pointe at Castle Hill Resort
---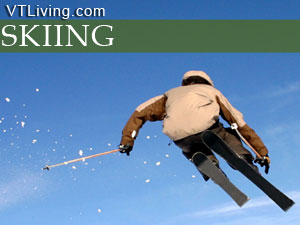 Okemo Mountain Resort Ski Area
77 Okemo Ridge Rd.
Ludlow, VT 05149
Okemo Mountain features over 121 trails, 20 lifts (5 high speed detachable quads, 4 quad chairs, 3 triple chairs, 6 surface lifts), and over 667 total acres of skiing terrain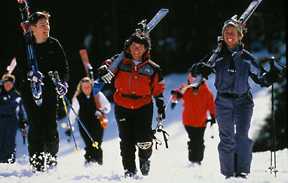 Snowboarders report:
Okemo offers two super pipes – the "Super Pipe" measuring 500 feet in length, with walls extending 18 and 1/2 feet high and Pipe Dream Super Pipe, located on Bull Run, measures 400 feet in length, is 18 and 1/2 feet in height.
Getting There: Okemo ski resort is located directly above the town of Ludlow, 25 miles from Rutland, Vermont. Take I-91 to Vermont Exit 6, then Route 103 north to Ludlow.
An award-winning resort, Okemo is conveniently located in the South Central Vermont Village of Ludlow on Route 103 near Route 100 North.
Providing the finest quality snow experience possible is a top priority. To ensure consistently good snow conditions all season long, Okemo has increased its snowmaking firepower yet again. Various pipe replacements and system enhancements will result in more energy-efficient and dependable snowmaking. A brand-new Bombardier BR grooming machine has been added to the fleet.
Okemo Mountain has a summit elevation of 3,344′ and a vertical drop of 2,200′ – the highest in southern Vermont, with 33% novice terrain, 42% more difficult terrain, 25% most difficult terrain.  Gladed trails at Jackson Gore include the 3,200-foot long "Supernova" and 1,500-foot long "Black Hole." Steep, undulating, and loaded with excitement, these new glades will provide nearly 10 acres of "au natural" tree skiing to challenge any expert. The new glades are located off Tuckered Out and Upper Limelight.
inns | hotels | resorts | rentals | dining | real estate
SHOP SKI SALE

| Photo | Title | Price | Buy |
| --- | --- | --- | --- |
| | K2 Disruption 76 Mens Skis 156 W/M2 10 Quikclik Bindings | $424.96 | On Sale Now |
| | K2 244 Mens Skis 173cm | $449.95 | On Sale Now |
| | K2 Method Mens Ski Boots Beige/Brown 9.5 (27.5) | | On Sale Now |
| | Salomon S/Force 5 Womens Skis W/L 10 GW Bindings Sz 160cm | | On Sale Now |
| | Burton Instigator Flat Top Snowboard 160cm | | On Sale Now |
| | Burton 2022 Cartographer Mens 162cm Snowboard | | On Sale Now |
| | Burton Custom Flying V Mens Snowboard 156cm | | On Sale Now |
| | Burton Skeleton Key Mens Snowboard 158cm | $710.00 | On Sale Now |
| | Burton Good Company Mens Snowboard 152cm | | On Sale Now |
| | Burton Ripcord Snowboard Sz 145cm | | On Sale Now |
| | Burton Feelgood Flying V Womens Snowboard 146cm | | On Sale Now |
| | Burton Flight Attendant Mens Snowboard 162cm | | On Sale Now |
| | Burton Boys Dugout Jacket, Bog Heather, X-Large | | On Sale Now |
| | Burton Mint Boa Snowboard Boot Womens Black 7 | $259.95 | On Sale Now |
| | Burton Women's Standard Gore-TEX Treeline Jacket, Martini Olive/Crème Brûlée, Small | $340.80 | On Sale Now |
| | Postropaky Womens Outdoor Snow Ski Pants Waterproof Hiking Insulated Softshell Pants Snowboard Zipper Bottom Leg(Grey6S) | $43.99 | On Sale Now |
| | Nike Pro Combat Hyperwarm Hydropull Hood (Black, OSFM) | $44.15 | On Sale Now |
| | Arctix Kids Insulated Snow Bib Overalls, Black, Medium | $49.06 | On Sale Now |
| | Thermajane Long Johns Thermal Underwear for Women Fleece Lined Base Layer Pajama Set Cold Weather (Medium, Black) | $27.99 | On Sale Now |
| | MOERDENG Women's Waterproof Ski Jacket Warm Winter Snow Coat Mountain Windbreaker Hooded Raincoat Jacket | $69.99 | On Sale Now |
| | findway Ski Goggles OTG - Over Glasses Snow/Snowboard Goggles for Men, Women & Youth - 100% UV Protection | $27.99 | On Sale Now |
| | FTIMILD Men's Waterproof Ski Jacket Warm Winter Snow Coat With Detachable Hood | $59.99 | On Sale Now |
| | GEMYSE Women's Mountain Waterproof Ski Snow Jacket Winter Windproof Rain Jacket (White, XX-Large) | $68.98 | On Sale Now |
| | Yousify Womens Winter Onesies Ski Jumpsuits Outdoor Sports Waterproof Snowsuit Removable Fur Collar Coat Jumpsuit | $141.09 | On Sale Now |
| | Columbia Women's Whirlibird Iv Interchange Jacket, Black Crossdye, 2X | $230.00 | On Sale Now |
| Photo | Title | Price | Buy |
| --- | --- | --- | --- |
| | Whitewoods Adult NNN Cross Country Ski Package, 207cm - Skis, Bindings, Boots, Poles (48, 180 lbs. & Up) | $359.99 | On Sale Now |
| | Whitewoods Adult NNN Cross Country Ski Package, 177cm - Skis, Bindings, Boots, Poles (38, 121-150 lbs.) | $359.99 | On Sale Now |
| | Whitewoods Outlander 139cm Cross Country Ski Set - Snowshoe Grip, Nordic Glide, Brown | $329.20 | On Sale Now |
| | Whitewoods Adult 75mm 3-Pin Cross Country Ski Package, 207cm - Skis, Boots, Bindings, Poles (45, 180 lbs. & Up) | $299.99 | On Sale Now |
| | Rossignol Evo XT 55 Positrack Mens XC Skis 195 W/Tour Step in Bindings | $129.97 | On Sale Now |
| | Whitewoods Adult NNN Cross Country Ski Package, 197cm - Skis, Bindings, Boots, Poles (39, 151-180 lbs.) | $359.99 | On Sale Now |
| | Whitewoods Adult 75mm 3-Pin Cross Country Ski Package, 197cm - Skis, Boots, Bindings, Poles (39, 151-180 lbs.) | $289.99 | On Sale Now |
| | Rossignol EVO OT 65 IFP Positrack Mens XC Skis 175 W/Control Step in Bindings | $350.00 | On Sale Now |
| | Rossignol Evo XT 55 Positrack Mens XC Skis 185 W/Tour Step in Bindings | $129.97 | On Sale Now |
| | Thule Chariot Cross-Country Skiing Kit, White | | On Sale Now |
| | CXC Touring Ski Set - Beginner Waxless Cross Country Skis NO Boots Required Step-In Bindings for ANY Snow Boot Adjustable Poles Versatile Equipment Skiers – Adults, Multicolor | | On Sale Now |
| | Hestra Comfort Tracker - 5 Finger Glove - Black/Ivory - 10 | | On Sale Now |
| | BALEAF Women's Hiking Pants Waterproof Fleece Lined Cold Weather Insulated Ski Snow Pant Warm Winter Soft Shell Grey XL | $47.99 | On Sale Now |
| | Rdruko Women's Ski Pants Waterproof Insulated Outdoor Hiking Winter Softshell Cold Weather(Purple, US M) | $42.99 | On Sale Now |
| | Rossignol XC-5 Mens XC Ski Boots Sz 45 | $139.99 | On Sale Now |
| | Yogipace, Side Pockets, Women's Water Resistant Thick Thermal Fleece Lined Leggings High Waisted Warm Winter Tights Hiking Running Cycling Skiing Snow Pants, 28", Black, M | $40.99 | On Sale Now |
| | B DÆHLIE Daehlie Women's Ridge Ski Jacket - Softshell Training Full Zip Coat, Cashmere Blue, Small | | On Sale Now |
| | Rossignol EVO XC Action 55 Jr AR IFP Kids XC Skis 150 W/Tour Jr Si Bindings | $107.22 | On Sale Now |
| | Whitewoods Adult NNN Cross Country Ski Package, 157cm - Skis, Bindings, Boots, Poles (45, 90-120 lbs.) | $359.99 | On Sale Now |
| | Lucky Bums Kids Beginner Ski and Pole set with Bindings, Digital Blue | | On Sale Now |
Champlain Valley VT Ski Areas
Burlington, Middlebury, St. Albans, the Islands of NW Vermont
North Central VT Ski Areas
Montpelier, Barre, Randolph, Waterbury, Stowe, Mad River Valley
Northeast Kingdom VT Ski Areas
St. Johnsbury, Newport, Barton, Lyndonville, Burke, Jay, Island Pond
South Central VT Ski Areas
Rutland, White River Jct., Woodstock, Quechee, Brandon, Killington, Ludlow, Weston, Chester
Southern VT Ski Areas
Bennington, Brattleboro, Manchester, Arlington, Newfane, Mt. Snow area
New England Living Magazine

Vermont Products | Visit VT Towns | FWM 24/7 Shopping

Country Weddings | New England Recipes
VT Inns | Red Sox Gifts | Travel Destinations
Visit New England Living Magazine
Free World Mall

Country Weddings | New England Recipes
VT Inns | Red Sox Gifts | Travel Destinations