Ludlow, Vermont 05149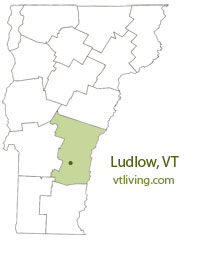 The Village of Ludlow, Vermont is in Windsor County. Ludlow is located in south central Vermont and was chartered in 1761 as part of the New Hampshire grants. The village of Ludlow sits at the base of what was once called "Ludlow Mountain" (now Okemo Mountain Resort) and is surrounded by farmland and granite quarries.
Ludlow has grown and prospered in recent years due to the growth of the Okemo Mountain Ski Area. Ludlow Mountain is now called Okemo Mountain home of the Okemo Mountain Resort. This four-season Vermont resort attracts skiers and snowboarders to the Ludlow area. The historic New England architectural styles are still prevalent around Ludlow. The town was heavily damaged by flooding that occurred in July of 2023.
Ludlow, Vermont: A Captivating Blend of History, Adventure, and Serenity
Ludlow, Vermont is a charming town nestled in the heart of Windsor County. Surrounded by picturesque landscapes and steeped in history, Ludlow offers a unique blend of outdoor recreational opportunities, cultural attractions, and a warm community spirit. Home to the renowned Okemo Mountain Resort, Ludlow is a popular destination for winter sports enthusiasts and nature lovers alike.  Let's explore the fascinating history of Ludlow, and Ludlow's districts and neighborhoods, city parks, recreation areas, hikes, historic sites, places of interest, real estate opportunities, employment prospects, and the exceptional quality of life the town offers its residents.


The Pointe at Castle Hill Resort, Rt. 103, Ludlow, VT 05149 | 888-764-6836
A truly accommodating country hotel with 96 spacious rooms and suites, enhanced guest services, and a new look. An exceptional lodging value with all the comforts of a first class hotel. Indoor pool, hot tub, restaurant, lounge, game room and views of Okemo Mountain.
Visit The Pointe at Castle Hill Resort
---


Castle Hill Resort & Spa, Rt. 103, P.O. Box 525, Ludlow, VT 05149 | 802-226-7361
Castle Hill Resort and Spa is nestled in the Green Mountains of Ludlow Vermont, offering unparalleled service and the finest lodging for the perfect Vermont getaway. Select from the historic Castle Inn, an English Cotswold style mansion featuring 10 unique rooms; The Pointe Hotel offering 96 beautiful rooms and suites or stay in our fully equipped spacious Resort Home Condominiums.
Visit Castle Hill Resort & Spa Website
---


Okemo Valley Regional Chamber of Commerce, 57 Pond Street, Ludlow, VT 05149
The Okemo Valley Regional Chamber of Commerce is located in South Central Vermont. We serve the Towns of Andover, Cavendish, known for trophy trout fishing; Chester, known for Arts & Antiques; Ludlow, home of Okemo Mountain Resort, Mount Holly famous for Cider Days; Plymouth, home to President Calvin Coolidge State historic site and Weston, home to the originalVermont Country Store. Call 802-228-5830 and let us help plan your Vermont vacation.
Visit Okemo Valley Website
---
History of Ludlow:
Ludlow's history dates back to its chartering in 1761. The town was named after Ludlow, Massachusetts, and was settled by pioneers seeking fertile lands for farming. Over the years, Ludlow thrived as a farming and milling community. With the arrival of the railroad in the 19th century, Ludlow experienced economic growth and became a hub for timber and marble industries. The town's rich heritage can still be seen today in its well-preserved historic buildings and landmarks.
Okemo Mountain Resort:
One of Ludlow's most iconic attractions is the Okemo Mountain Resort. With its world-class skiing and snowboarding facilities, Okemo draws winter sports enthusiasts from near and far. The resort features impeccably groomed slopes, state-of-the-art lifts, and a range of amenities for visitors of all skill levels. In addition to winter sports, Okemo offers exciting activities year-round, including hiking, mountain biking, golfing, and zip-lining, making it a popular destination for adventure seekers throughout the seasons.
Ludlow VT Area Lodging:
Ludlow boasts a diverse range of lodging options to cater to every visitor's needs. From cozy bed and breakfasts to luxurious resorts, there is something to suit every taste and budget. Whether you prefer the rustic charm of a mountain lodge or the modern comforts of a boutique hotel, Ludlow's lodging establishments ensure a memorable stay for all.
The Castle Hill Resort & Spa:
For those seeking a unique and indulgent experience, The Castle Spa & Resort in Ludlow offers a touch of elegance and relaxation. Set within a stunning castle-like structure, this luxurious resort provides exceptional spa treatments, fine dining experiences, and breathtaking views of the surrounding mountains. Whether you're looking to unwind after a day on the slopes or simply pamper yourself, The Castle Spa & Resort offers a truly enchanting getaway.
Cavendish Pointe Hotel:
Situated just outside Ludlow, the Cavendish Pointe Hotel offers a serene retreat surrounded by Vermont's natural beauty. This charming hotel boasts comfortable accommodations, friendly service, and convenient access to outdoor activities, including hiking trails, fishing spots, and wildlife observation. Cavendish Pointe Hotel provides a peaceful escape from the bustling town while still being within close proximity to Ludlow's amenities.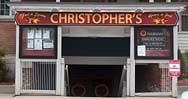 Ludlow Villages, Districts, and Neighborhoods:
Ludlow is composed of several distinct villages, each with its own character and charm. The main village of Ludlow is home to a variety of shops, restaurants, and historical landmarks. South Hill, located on the southern outskirts, offers breathtaking views of Okemo Mountain and features upscale residences. Other neighborhoods, such as North Hill and the Lake Rescue area, provide a mix of residential properties and access to outdoor recreational activities.
Ludlow City Parks, Recreation Areas, and Hikes:
Ludlow boasts an abundance of natural beauty, with numerous parks and recreation areas that offer residents and visitors opportunities for outdoor recreation and relaxation. Jackson Gore Village is home to a beautiful public park, complete with picnic areas, a playground, and scenic trails. The Healdville Trail, Buttermilk Falls, and Lake Rescue are just a few examples of Ludlow's hiking destinations, offering breathtaking vistas and serene surroundings.
Historic Sites and Places of Interest:
Ludlow is steeped in history, and many historic sites and places of interest are worth exploring. The Black River Academy Museum, housed in a preserved 19th-century school building, showcases the town's educational heritage. The Fletcher Farm School for the Arts and Crafts offers workshops and exhibits celebrating traditional Vermont crafts. The Dorsey Park and Ludlow Community Center also serve as gathering places for community events and celebrations.
Ludlow VT Real Estate Opportunities:
Ludlow presents real estate opportunities that range from charming historic homes to modern mountain retreats. Whether you are looking for a vacation property or a permanent residence, Ludlow's real estate market offers a variety of options to suit different preferences and budgets. The town's proximity to Okemo Resort and its natural beauty make it an attractive destination for those seeking a tranquil mountain lifestyle.
Employment:
Ludlow provides diverse employment opportunities, mainly centered around the tourism industry. Okemo Mountain Resort is a significant employer, offering jobs in various areas, including hospitality, ski operations, and retail. Additionally, Ludlow's vibrant local economy supports a range of small businesses, restaurants, and services, creating employment prospects for residents and those looking to relocate.
Quality of Life and Ludlow VT Living:
Ludlow offers a high quality of life, combining the beauty of Vermont's landscapes with a close-knit community atmosphere. Residents enjoy access to exceptional outdoor recreational activities year-round, from skiing and snowboarding in the winter to hiking, biking, and golfing during the warmer months. The town's commitment to preserving its historic charm, promoting the arts, and supporting local businesses contributes to the overall livability and sense of community in Ludlow.
Ludlow, Vermont, is a captivating town that seamlessly blends its rich history with a vibrant present. From the world-class slopes of Okemo Resort to the tranquil escapes of Castle Spa & Resort and Cavendish Pointe Hotel, Ludlow offers a diverse range of attractions and amenities for visitors and residents alike. With its scenic landscapes, charming neighborhoods, and a strong sense of community, Ludlow is an ideal destination for those seeking adventure, relaxation, and a high-quality mountain lifestyle.
To share your Ludlow, VT information, contact us about advertising in VTLiving.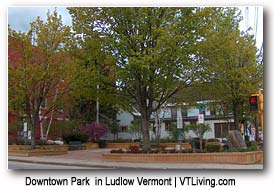 Chartered: 1761
County: Windsor
Ludlow, VT Population:
2010: 1,963
GPS Coordinates:
Latitude: 43.2345
Longitude: -72.422
Ludlow, VT Local Information
Ludlow Town Offices: 802-228-3232
inns | hotels | resorts | rentals | dining | real estate
SHOP LUDLOW OKEMO GIFTS

| Photo | Title | Price | Buy |
| --- | --- | --- | --- |
| | Ludlow Vermont VT Vintage Sports Established Navy Design Zip Hoodie | $33.99 | On Sale Now |
| | Ludlow Vermont Ludlow VT Retro Vintage Text Pullover Hoodie | $39.99 | On Sale Now |
| | Photo Reprint Ludlow, Vt. 1859 From south hill / 1859 | | On Sale Now |
| | Ludlow Vermont VT Vintage Athletic Sports Design Zip Hoodie | $33.99 | On Sale Now |
| | Ludlow Vermont VT Vintage Athletic Navy Sports Design Long Sleeve T-Shirt | $22.99 | On Sale Now |
| | ClassicPix Photo Print 12x15: Ludlow, Vt. 1859 from South Hill /, 1859 | $8.71 | On Sale Now |
| | Vintage Ludlow Vermont VT Mountains Hike Hiking Souvenir Premium T-Shirt | $24.99 | On Sale Now |
| | Ludlow, Vermont VT Map Mug (11 oz) | $18.99 | On Sale Now |
| | Ludlow VT topo map, 1:62500 Scale, 15 X 15 Minute, Historical, 1932, Updated 1938, 19.69 x 16.45 in - Paper | $29.95 | On Sale Now |
| | ClassicPix Print 30x40: Ludlow, Vt. 1859 from South Hill /, 1859 | $46.72 | On Sale Now |
| | Historic Panoramic Map Reprint: Ludlow, Vt. Published & 1885 36 x 24 | | On Sale Now |
| | Ludlow VT topo map, 1:24000 Scale, 7.5 X 7.5 Minute, Historical, 1971, Updated 1988, 26.7 x 22 in - Paper | $29.95 | On Sale Now |
| | Okemo VT Ski Snowboard Hike Okemo Vermont Graphic Throw Pillow, 16x16, Multicolor | $19.99 | On Sale Now |
| | Okemo Mountain Graphic Vintage Ski Hoodie Sweatshirt | $39.99 | On Sale Now |
| | Okemo Ski Illustration / Retro Vintage Okemo, VT Pullover Hoodie | $29.99 | On Sale Now |
| | Okemo Mountain Vermont Vacation Souvenirs Okemo Mountain Vermont VT Vacation Souvenir Throw Pillow, 16x16, Multicolor | $21.95 | On Sale Now |
| | Okemo Vermont Skiing Snowboarding Hikers Gifts for VT Travel T-Shirt | $16.99 | On Sale Now |
| | Okemo Mountain Vermont VT Vacation Souvenir Tote Bag | $19.95 | On Sale Now |
| | Okemo Vermont Skiing Snowboarding Hikers Gifts for VT Travel Raglan Baseball Tee | $19.99 | On Sale Now |
| | Okemo Mountain Vermont VT Vacation Souvenir T-Shirt | $18.95 | On Sale Now |
| | Okemo Mountain Vermont Ski Adventures Souvenir 2 Inch Vinyl Decal Sticker Mountain Design 4-Pack | $14.99 | On Sale Now |
VT Lodging Guide | VT Maps | VT Attractions | VT Realty

Vermont Products | Visit VT Towns | FWM 24/7 Shopping

Country Weddings | New England Recipes
VT Inns | Red Sox Gifts | Travel Destinations
Free World Mall

Country Weddings | New England Recipes
VT Inns | Red Sox Gifts | Travel Destinations