Brandon, Vermont 05733
Brandon VT Inns, Real Estate, History & Living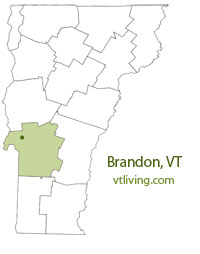 Brandon, Vermont is a town in Rutland County. Brandon, VT is situated on the banks of the Neshobe River, along with on Route 7 about halfway between Middlebury and Rutland, making it a favorite stop for travelers. Brandon village has a traditional town green with many examples of fine architecture along its broad avenues.
Brandon, Vermont was chartered on October 20, 1761, by the Governor of New Hampshire. The original name was Neshobe, after the home of one of the original grantees of the town, Captain Josiah Powers. The name Algonquin meaning, "between water" or "full of water," is somewhat applicable to the town because of the Otter Creek and Neshobe River which flow through the town along with other ponds and streams. Early settlers, however, petitioned the legislature to change the name, and in 1784 the name Brandon was taken.
Stateman Stephen A. Douglas was born in Brandon. Thomas Davenport was living in the Brandon village of Forest Dale when he patented the electric motor he had invented. James Conant manufactured the first stoves made in Vermont here which were cast of iron from Brandon. The "Conant Furnace" is now a stove collector's favorite. The stove was made of iron mined in Brandon and was the first cooking stove made in the state.


Brandon Inn, 20 Park Street, Brandon, VT | 802-747-8300
The historic Brandon Inn in the center of the Vermont Village of Brandon features comfortable accommodations in a historic New England Country Inn. Amenities include a full hot breakfast and free Wi-Fi. A work desk and seating area are found in the individually decorated rooms all with a full bathroom and hairdryer. Common areas and dining rooms are found on the ground floor of the Inn. Meeting facilities and destination weddings are a specialty. Book direct by telephone or online.
Visit The Brandon Inn, Brandon, Vermont
---
Several Vermont industries have factories in Brandon. The town is also home to a variety of lodging and dining possibilities and is a commercial, agricultural, and tourism center surrounded by farmland and ski resort areas. Points of interest are the Stephan A. Douglas House, Art Galleries, Antiques Shops, and a historic downtown shopping area. Brandon is listed in the National Register of Historic Places.
Exploring Brandon, Vermont: A Charming Blend of History and Community
Nestled in the picturesque countryside of Vermont, Brandon is a town that exudes small-town charm and a rich history. From its quaint villages to its historic landmarks, Brandon offers residents and visitors a delightful blend of natural beauty and cultural heritage. In this article, we will delve into the captivating history of Brandon, explore its neighborhoods and real estate options, uncover its historic places and attractions, and highlight the allure of living in this idyllic town.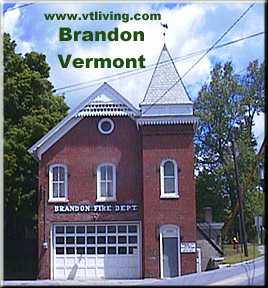 A Glimpse into Brandon's History:
Brandon's roots date back to the late 18th century when it was settled by pioneers seeking fertile land. The town was officially chartered in 1761, and its early growth was driven by agriculture and the emergence of mills along the Neshobe River. The town's strategic location along transportation routes played a significant role in its development, attracting merchants and fostering commerce.
Brandon Villages and Neighborhoods:
Brandon comprises several distinctive villages, each with its own unique character. The main village, Brandon Village, serves as the town center and is home to many historic buildings, charming shops, and local businesses. Nearby villages like Forestdale, Pearl Street, and Park Village contribute to the town's close-knit community and offer a range of residential options.
Brandon Real Estate Values and Options:
The real estate market in Brandon is diverse, offering a mix of historic homes, picturesque farmhouses, and modern residences. The town's housing market has remained relatively stable, with a variety of affordable options available for those seeking to establish roots in this serene and welcoming Vermont community. Whether you prefer a cozy village home or a sprawling rural property, Brandon has something to offer for everyone.
Historic Places and Landmarks:
Brandon is a treasure trove of historic sites, attracting history enthusiasts from far and wide. The Stephen A. Douglas Birthplace, the home of the famous senator and presidential candidate, stands as a testament to the town's connection to notable figures in American history. Visitors can also explore the Brandon Museum at Conant Square, which showcases artifacts and exhibits highlighting the town's past.
Things to Do in Brandon:
Despite its small size, Brandon boasts a vibrant cultural scene and a wide array of recreational activities. Outdoor enthusiasts can indulge in hiking and biking trails, fishing spots, and skiing opportunities in the surrounding Green Mountains. Art lovers can explore local galleries and studios, while food enthusiasts can savor farm-to-table cuisine at the town's charming restaurants.
Brandon Employers:
Brandon is home to a diverse range of employers, contributing to its robust economy. The town has a mix of small businesses, local shops, and service providers that create job opportunities and foster community growth. In addition, nearby Rutland and Middlebury offer additional employment options within commuting distance.
Brandon Attractions: The Brandon Inn:
One of the town's standout attractions is the historic Brandon Inn, a landmark establishment that has been welcoming guests since 1786. With its classic New England charm, the inn offers comfortable accommodations, exquisite dining, and a cozy atmosphere that embodies the essence of Brandon's hospitality.
The Appeal of Living in Brandon, VT:
Living in Brandon offers residents a tranquil and tight-knit community, surrounded by natural beauty and steeped in history. The town's strong sense of community is evident in its numerous local events, including farmers' markets, art festivals, and holiday celebrations. Residents can enjoy a slower pace of life while still benefiting from proximity to larger towns and cities for additional amenities and employment opportunities.
Brandon, Vermont, is a hidden gem that combines a rich historical tapestry with a vibrant community spirit. Its charming villages, affordable real estate options, and wealth of historic landmarks make it an ideal place to live and visit. Whether you are captivated by its history, seeking outdoor adventures, or yearning for a close-knit community, Brandon offers a delightful escape from the hustle and bustle of modern life.
To share your Brandon, VT information, contact us about advertising in Vermont Living.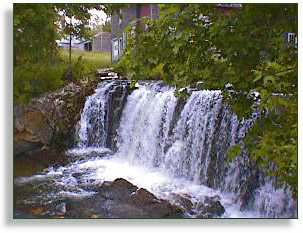 Chartered: 1788
County: Rutland
Brandon, VT Population:
2010: 3,966
GPS Coordinates:
Latitude: 43.798125
Longitude: -73.086379
Brandon, VT Local Information
Brandon Town Offices: 802-247-3635
inns | hotels | resorts | rentals | dining | real estate
SHOP BRANDON VT GIFTS

| Photo | Title | Price | Buy |
| --- | --- | --- | --- |
| | Marvel Ultimate Periodic Table Of Elements Graphic Short Sleeve T-Shirt, Black, Small | $23.50 | On Sale Now |
| | Vermont Wild: Adventures of Vermont Fish and Game Wardens, Vol. 1 | $99.90 | On Sale Now |
| | Vermont Vinyl Waterproof Sticker Decal Car Laptop Wall Window Bumper Sticker 5" | $4.95 | On Sale Now |
| | I Cant I Have Plans In The Garage Fathers Day Car Mechanics Short Sleeve T-Shirt | $21.99 | On Sale Now |
| | Vermont Artwood State Magnet Collectible Souvenir by Classic Magnets | $8.49 | On Sale Now |
| | Trendy Apparel Shop VT Vermont State Acronym Embroidered Cotton Dad Hat- Hunter | $19.99 | On Sale Now |
| | Totally Bamboo Destination Vermont State Shaped Serving and Cutting Board, Includes Hang Tie for Wall Display | $29.99 | On Sale Now |
| | Vermont The Green Mountain State Est. 1791 Vintage Gift T-Shirt | $17.90 | On Sale Now |
| | Vermont The Green Mountain State Est. 1791 Vintage Gift T-Shirt | $17.90 | On Sale Now |
| | Let's Go Brandon Funny T-Shirt | $19.99 | On Sale Now |
| | VERMONT SOAP Body Wash, Natural Body Wash with Shea Butter, Mild Gel Body Wash for Moisturizing and Soothing Skin, Fragrance Free Body Wash for Women & Men (Simply Unscented, 12oz) | $15.89 ($1.32 / Ounce) | On Sale Now |
| | Vermont T-Shirt T-Shirt | $15.95 | On Sale Now |
| | Hand Painted Glass Christmas Ornament - Covered Bridge Vermont | $22.99 | On Sale Now |
| | Retro Vermont T Shirt Vintage VT Sports Tee Design | $16.99 | On Sale Now |
| | Annin Flagmakers Vermont State Flag USA-Made to Official State Design Specifications, 3 x 5 Feet (Model 145460) | $26.09 | On Sale Now |
| | Vintage University-look Vermont White Sports Distressed T-Shirt | $19.95 | On Sale Now |
| | Wooden New England Covered Bridge Ornament - Gift Packaged | $16.00 | On Sale Now |

Vermont Products | Visit VT Towns | FWM 24/7 Shopping

Country Weddings | New England Recipes
VT Inns | Red Sox Gifts | Travel Destinations
New England Living Magazine
Fitness and Sports Products On Sale Now
Free World Mall

Country Weddings | New England Recipes
VT Inns | Red Sox Gifts | Travel Destinations