VT Art Galleries
Vermont Art Studios & Artists Galleries

Vermont is a great state to shop for art. Vermont has some of the nation's most unique and diverse galleries and art centers. We found amazing and talented Vermont artists, art studios, art galleries, artwork, and cultural centers tucked in every region of the state. VT Living would like to thank you for supporting Vermont art and Vermont artists. Contact us to feature your Vermont Art Gallery.
VT Art Galleries – Artists Studios


The Governor's House in Hyde Park, 100 Main Street, Hyde Park, VT 05655 | 802-888-6888 or Toll-Free 866-800-6888
Centerpiece of a quiet village, the completely restored historic mansion offers modern comfort with the gracious elegance of an earlier time. Period furnishings. Bedroom fireplaces. Mountain views. Jane Austen weekends. Afternoon tea. Small private events, and weddings. The perfect elopement package.
Visit Governor's House Inn in Hyde Park, VT

---

Design Toscano Lucina, Goddess of Light Stained Glass Lamp
---

Trademark Fine Art Vermont Map Matted Framed Art by Michael Tompsett in Wood Frame, 11 by 14-Inch
---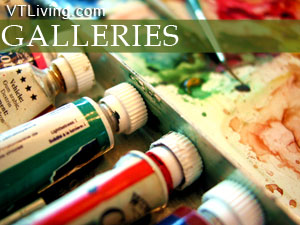 Antiques Collaborative
6931 Woodstock Rd.
QuecheeVT 05059
Ph: 802-296-5858
Find artwork, crafts and original paintings.
Norman Rockwell Exhibition
Sugar Lane,
Arlington, VT
Ph: 802-375-6747
Features the Norman Rockwell exhibition, home of the famous artist from 1939 to 1953, many local residents are subjects of Rockwell paintings. A fascinating and exceptional gallery.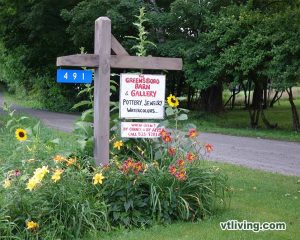 Vermont Folklife Center
Court St.,
Middlebury, VT
Ph: 802-388-4964
Website: folkartcenter.org
Folk art and rural traditions. View photographs, documentaries, and recordings of Vermont history.
Gallery in the Woods
145 Main Street
Brattleboro VT 05301
Ph: 802-257-4777
Stroll downtown Brattleboro and visit this gallery for original gift ideas and artwork.
St. Johnsbury Athenaeum
1171 Main Street
St Johnsbury, VT 05819
Ph: 802-748-8291
Time Magazine once called the St. Johnsbury Athenaeum "the United States' oldest unaltered art gallery still standing." and it still is. An amazing building with sensational artwork from Hudson River school artists like Asher B. Durand, Jasper Cropsey, Sanford Gifford, James and William Hart, Samuel Colman, Worthington Whittredge and others. Worth a special visit to this often overlooked Vermont destination. The historic and interesting Fairbanks Museum is just a few blocks north of the St. Johnsbury Athenaeum.
Chaffee Center for the Visual Arts
Rt. 7, South Main St.,
Rutland, VT
Ph: 802-775-0356.
Original works from Vermont artists in a century-old Victorian mansion on the National Register of Historic Places. Operated by the Rutland Area Arts Association.
The Miller Art Center, Springfield Art & Historical Society
9 Elm Hill
Springfield, VT
Ph: 802-885-2415
The collection includes Richard Lee Pewter, Bennington Pottery, and 19th-century American paintings.
Gallery at the VAULT (Visual Art Using Local Talent)
68 Main St.
Springfield, VT
Ph: 802-885-7111.
VAULT is located in the 1907 Bank Block Building, beautifully restored, featuring a floor-to-ceiling Victorian vault. Currently showcasing local and regional, juried, artists, and artisans in the gallery and gift shop. A nice place to help support Vermont artists.
Tilting at Windmills Gallery
Rts. 11 & 30, PO Box 1275,
Manchester Center, VT 05255
Ph: 802-362-3022
One of New England's largest Fine Art Galleries, features a broad selection of work by national, regional, and international artists. You may easily spend a few hours browsing some sensational artwork.
Frog Hollow Vermont State Craft Center
85 Church Street
Burlington, VT
Ph: 802-863-6458
Features the work of over 230 juried Vermont artisans. Take home a piece of Vermont! You'll find a unique collection of fine traditional and contemporary Vermont crafts.
Burlington City Arts
135 Church St.
Burlington, VT
Ph: 802-865-7166
Website: burlingtoncityarts.org
Constantly changing collections in various media. BCA produces a summer concert series and other Burlington VT events.
Rose St. Gallery
78 Rose St.
Burlington, VT
Ph: 802-888-7279
Constantly changing collections in various media. An artist co-op and meeting place.
Ziemke Glass Blowing Studio Art Gallery
3033 Waterbury-Stowe Rd
Waterbury Center, VT
Ph: 802-224-6126
Glassblowers and art lovers will enjoy the wares found here.
Vermont Center for Photography
49 Flat Street
Brattleboro, VT
Ph: 802-251-6051
The Vermont Center for Photography serves a membership of over two hundred Vermont, New Hampshire, and Western Massachusetts photographers.
FINE ART ORIGINAL PAINTINGS

 VT Attractions | VT Dining | VT Realty
NE Living Magazine | New England Art Galleries

Vermont Products | Visit VT Towns | FWM 24/7 Shopping

Country Weddings | New England Recipes
VT Inns | Red Sox Gifts | Travel Destinations
Free World Mall

Country Weddings | New England Recipes
VT Inns | Red Sox Gifts | Travel Destinations