Derby, Vermont 05829
Derby VT Lodging, Real Estate, Travel & Visitor Information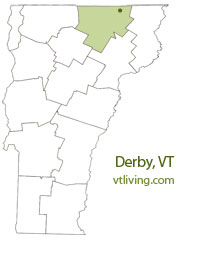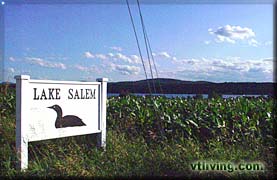 Welcome to Derby, Vermont, a charming town nestled in the heart of the Northeast Kingdom. Derby's scenic beauty, rich history, and close-knit community make it a hidden gem worth exploring.
The border town of Derby, Vermont is a US point of entry with an opera house whose entrance is in the United States and its stage is across the border in Canada. The U.S. Customs office at Derby is open 24 hours, the Eastern Township town of Stanstead, P.Q. borders Derby to the north.
Derby, Vermont: Embracing History, Nature, and Community
History of Derby
Derby has a captivating history that dates back to the late 18th century when the area was settled by European pioneers. The town was officially chartered in 1779 and named after Derby, Connecticut. In the early days, Derby relied on agriculture, logging, and mills for its economy. The arrival of the railroad in the mid-19th century opened up new opportunities for trade and contributed to the town's growth. Today, remnants of Derby's past can still be seen in well-preserved historic sites, buildings, and landmarks.
Derby Villages, Districts, and Neighborhoods
Derby is comprised of several villages, each offering a unique atmosphere and character:
Derby Center: The historic heart of Derby, boasting classic New England architecture and the town's administrative buildings.
Derby Line: An intriguing village straddling the international border with Stanstead, Quebec, Canada, with the famous Haskell Free Library and Opera House built on the borderline.
Derby Village: A picturesque village surrounded by lush landscapes and dotted with charming homes and community spaces.
Beebe Plain: A quaint village that also straddles the U.S.-Canada border, offering a blend of cultural influences from both nations.
West Derby: A rural and serene area characterized by rolling hills and open spaces, perfect for nature lovers.
Lakes, Parks, and Recreation Areas
Derby is a haven for outdoor enthusiasts, with several lakes, parks, and recreational spots to enjoy:
Lake Memphremagog: A stunning freshwater lake extending into Quebec, Canada, offering boating, fishing, and water sports.
Clyde River Recreation Area: A beautiful park along the Clyde River with picnic areas, hiking trails, and opportunities for birdwatching and wildlife observation.
Derby Pond: A small yet serene pond ideal for fishing and paddling.
Seymour Lake: A popular spot for fishing, swimming, and picnicking.
Hikes and Historic Sites
For hikers and history buffs, Derby has plenty to offer:
Mount Pisgah: A rewarding hike with panoramic views of Lake Memphremagog and the surrounding landscape.
Derby Historical Society Museum: Learn about the town's past through exhibits and artifacts.
Old Stone House Museum: Located nearby in Brownington, this museum showcases early Vermont life and architecture.
Area Attractions & Places of Interest
Derby's proximity to nature and its vibrant community also offers various attractions:
Haskell Free Library and Opera House: A unique library and theater straddling the U.S.-Canada border, hosting cultural events and gatherings.
Bread and Puppet Theater: An internationally renowned puppet theater company located nearby in Glover.
Crystal Lake State Park: A scenic Vermont State Park located in Barton offering swimming, boating, and hiking opportunities.
Kingdom Trails: A mountain biking paradise in nearby East Burke, attracting enthusiasts from all over.
Derby Real Estate Options
Derby provides a range of real estate options, from historic homes with New England charm to modern developments. Whether you prefer a waterfront property on Lake Memphremagog or a cozy home in a friendly neighborhood, Derby has something to suit every taste and budget.


Century 21 Farm and Forest Realty, 5043 US Route. 5, Derby Road, Derby, VT 05829 | 802-334-1200
Since 1993 Century 21 Farm & Forest Realty has assembled a diversified team of experts familiar with a broad range of Vermont real estate; residential, commercial, timber tracts, vacation property or building lots. Office is conveniently located off Interstate 91 and open six days a week, Sundays by appointment. Member MLS, Century 21 Real Estate network. View listings online.
Visit Century 21 Farm & Forest Website
---
Employment and Local Businesses
Derby's economy is diverse, with opportunities in healthcare, education, agriculture, tourism, and small businesses. The community values local entrepreneurship, and numerous small businesses and restaurants thrive in the town, contributing to its unique character.
Quality of Life and Derby VT Living
Derby's quality of life is second to none. With its strong sense of community, abundant recreational opportunities, low crime rate, and access to essential amenities, Derby offers a safe and enriching environment for families and individuals alike. The town's schools provide excellent education, and the vibrant cultural scene ensures there's always something to do.
In conclusion, Derby, Vermont, is a captivating town with a rich history, picturesque landscapes, and a warm, welcoming community. Whether you're drawn to its historical sites, natural beauty, outdoor activities, or friendly atmosphere, Derby has something to offer everyone. Consider Derby as your next destination to live, work, or visit, and experience the magic of the Northeast Kingdom in all its glory.
The historic and unique Haskell Free Library and Opera House is located here – this building houses a library and hosts live performances – the building is partially located in Quebec and in the United States. It opened on June 7, 1904, and was built on the border between Canada and the United States. The library collection and the opera stage are located in Stanstead, but the library check-out and the opera seats are located in Derby Line. Because of this, the Haskell is sometimes called "the only library in America with no books" and "the only opera house in America with no stage". A thick black line runs beneath the seats of the opera house and diagonally across the center of the library's reading room to mark the international boundary. The stage and half of the seats are in Canada, the remainder of the opera hall is in the US. The building was created by American sawmill owner Carlos Haskell and his Canadian wife Martha Stewart Haskell for use by the people of both countries; profits from the opera house were originally intended to support the operation of the free library. The Haskell family donated the building to the towns of Derby Line and Rock Island in Mr. Haskell's memory; it is run by a private international board of four American and three Canadian directors. The library has a collection of more than 20,000 books and is open to the public Friday and Saturday from 10 a.m. to 5 p.m. Registered in the National Register of Historic Places since 1976, this landmark also appeared in Ripley's Believe It or Not.
To share your Derby, VT information, contact us about advertising in VTLiving.
Chartered: 1779
County: Orleans
Derby, VT Population:
2010: 4,604
GPS Coordinates:
Latitude: 44.58
Longitude: -72.8
Derby, VT Local Information
Derby Town Offices: 802-766-4906
inns | hotels | resorts | rentals | attractions | dining | real estate
VT Lodging Guide | VT Maps | VT Attractions | VT Realty

Vermont Products | Visit VT Towns | FWM 24/7 Shopping

Country Weddings | New England Recipes
VT Inns | Red Sox Gifts | Travel Destinations
New England Living Magazine
Free World Mall

Country Weddings | New England Recipes
VT Inns | Red Sox Gifts | Travel Destinations