Hardwick, Vermont 05843
Hardwick VT Lodging, Real Estate, Travel & Visitor Information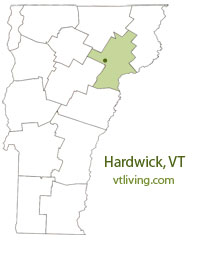 Hardwick, Vermont is "the Gateway to Vermont's magical Northeast Kingdom". The Town of Hardwick was chartered in 1781. Hardwick is a commercial center for the region's farming population. Hardwick is famous for its majestic scenery and is within ten miles of 45 lakes and ponds.


Positive Pie, 87 S. Main Street, Hardwick, VT 05843 | 802-472-7126
Visit Positive Pie in the downtown Hardwick for award-winning pizza, lunch, dinner and dessert specials. Check out the fantastic selection of beer of tap. Find out why Positive Pie has won awards from Seven Days, USA Today, NY Times, and Zagat's.
Visit Positive Pie Hardwick Website
---


The Heart of Vermont Chamber of Commerce, P.O. Box 111, Hardwick, VT 05843 | 802-624-3930
Let The Heart of Vermont Chamber of Commerce introduce you to the towns of Cabot, Craftsbury, Greensboro, Hardwick, Walden, Wolcott, Woodbury, Stannard. Cool summer lakes; miles of winter snow trails; art; agriculture; inspiration and innovation. Simply beautiful, Beautifully Simple.
Visit Heart of Vermont Chamber of Commerce
---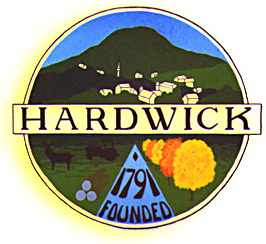 Since the late 19th century, Hardwick has also served as an industrial center. Hardwick was once known as the "Granite Center of the World." Buildings around the country made with Hardwick granite include Pennsylvania State Capitol, Chicago City Hall, US Post Office Building in Washington, DC, and many other city halls in America.
During the American Revolutionary War, General George Washington ordered the construction of "the Bayley Hazen Military Road". The road provided access to the interior of Vermont and aided in the development and settlement of Hardwick and East Hardwick. The Lamoille River runs through Hardwick and offers great fly fishing spots. The Lamoille is also a popular place to launch your kayak or canoe.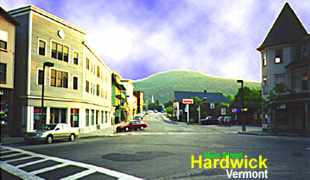 Hardwick boasts Mackville Beach, many parks, excellent hunting, fishing, and a variety of trails for hiking, cross-country skiing, and snowmobiling. The Town of Hardwick retains many of the best characteristics of a small Vermont community while providing the infrastructure, labor force, and variety of businesses to support your needs. The Hardwick Gazette weekly newspaper is published here. Hardwick offers a popular summer Farmer's Market.
To share your Hardwick, VT information, contact us about advertising in VTLiving.

Chartered: 1781
County: Caledonia
Hardwick, VT Population:
2010: 3,010
GPS Coordinates:
Latitude: 44.315
Longitude: -72.2059
Hardwick, VT Local Information
Hardwick Town Offices: 802-472-5971
Exploring Hardwick, Vermont: A Quaint Town with Rich History and Charming Appeal
Nestled amidst the picturesque landscape of Vermont, the town of Hardwick is a hidden gem that offers a delightful blend of natural beauty, historical significance, and a tight-knit community. From its fascinating history to its vibrant neighborhoods and affordable real estate options, Hardwick has much to offer residents and visitors alike. In this article, we will dive into the captivating history of Hardwick, highlight its notable points of interest, explore its diverse villages and neighborhoods, delve into the Hardwick VT real estate market, and shed light on what it's like living in this charming northern Vermont town.
Hardwick History:
Hardwick boasts a rich history dating back to its settlement in the late 18th century. Initially known as "Hardwick Township," the area flourished with the arrival of settlers drawn by the fertile agricultural land. Hardwick became a hub for dairy farming, granite quarrying, and the production of local goods. This legacy can still be seen in the town's architecture and preserved historic buildings, providing a glimpse into its past.
Hardwick Points of Interest:
The Hardwick Historical Society: The society's museum and research center offers a fascinating collection of artifacts, documents, and photographs that showcase the town's history and heritage.
Hazen's Notch Association: Nature enthusiasts can explore the Hazen's Notch trail network, offering scenic hiking, birdwatching, and cross-country skiing opportunities.
Sterling College: This environmentally focused college is renowned for its commitment to sustainable practices and offers various workshops and events open to the public.
Craftsbury Outdoor Center: Located nearby, this renowned facility provides year-round outdoor activities, including cross-country skiing, mountain biking, rowing, and much more.
Villages and Neighborhoods:
Hardwick Village: The town center, also known as Hardwick Village, offers a quaint New England atmosphere with a range of local businesses, eateries, and charming shops.
East Hardwick: Situated on the eastern side of town, East Hardwick is a residential area with a peaceful rural setting, boasting picturesque farms and scenic views.
Hardwick Lake: Nestled on the southern edge of town, the Hardwick Lake area offers a serene lakeside retreat and is popular among outdoor enthusiasts for fishing, boating, and picnicking.
Real Estate Values:
Hardwick provides a diverse range of real estate options, including historic homes, spacious farmhouses, and more modern properties. The median home value in Hardwick is relatively affordable compared to other parts of Vermont, making it an attractive choice for individuals seeking a balance between affordability and small-town living.
Living in Hardwick, Vermont:
Living in Hardwick offers a high quality of life in a close-knit community. The town hosts various events and festivals throughout the year, fostering a strong sense of community spirit. Residents can enjoy the scenic beauty of the surrounding landscape, engage in outdoor activities, and savor locally produced goods from farmers' markets. Hardwick's proximity to larger towns and cities ensures convenient access to amenities, healthcare facilities, and educational institutions.
Hardwick, Vermont, with its rich history, picturesque surroundings, and tight-knit community, presents an appealing option for those seeking a tranquil and affordable small-town lifestyle. From exploring its fascinating past and discovering local points of interest to enjoying the natural beauty of the area, Hardwick offers a welcoming atmosphere that truly captures the essence of Vermont living. Whether you're considering a visit or looking for a new place to call home, Hardwick is definitely worth exploring.
SHOP HARDWICK VT GIFTS

| Photo | Title | Price | Buy |
| --- | --- | --- | --- |
| | Hardwick Vermont Hardwick VT Retro Vintage Text Zip Hoodie | $41.99 | On Sale Now |
| | 1934 Hardwick, VT - Vermont - USGS Historical Topographic Map : 44in x 61in | $249.99 | On Sale Now |
| | (Reprint) 1965 Yearbook: Hardwick Academy, Hardwick, Vermont | $79.95 | On Sale Now |
| | MAPS OF THE PAST - Historical Map of Hardwick Vermont - Norris 1892-23.00 in x 28.23 in - Matte Art Paper | $74.95 | On Sale Now |
| | ArtDirect Hardwick Vermont - Norris 1892 44x36 Huge Gallery Wrapped Canvas Museum Art by Norris | $299.99 | On Sale Now |
| | Historic Pictoric Map : The Geology of The Hardwick Area, Vermont, 1964 Cartography Wall Art : 18in x 24in | $49.99 | On Sale Now |
| | Brotherhood Hardwick Vermont State Flag Cities Towns Door Mat Souvenir Gift Design Rubber Grip Non Skid Backing Rug Indoor Entryway Door Rugs Mats Pack of 2 | $29.95 ($14.98 / Count) | On Sale Now |
| | City of Hardwick Vermont | Cute Novelty Merch Gift - Graphic T-Shirt | $14.99 | On Sale Now |
| | Hardwick Vermont Hardwick VT Retro Vintage Text Tote Bag | $23.99 | On Sale Now |
| | Hardwick, Vermont, Woodland Animals, Geometric (24x36 Gallery Quality Metal Art, Aluminum Decor) | $249.99 | On Sale Now |
inns | hotels | resorts | rentals | attractions | dining | real estate

Vermont Products | Visit VT Towns | FWM 24/7 Shopping

Country Weddings | New England Recipes
VT Inns | Red Sox Gifts | Travel Destinations
New England Living Magazine
Free World Mall

Country Weddings | New England Recipes
VT Inns | Red Sox Gifts | Travel Destinations