Norwich, Vermont 05055
Norwich, Vermont Inn Lodging Dining Realty & Attractions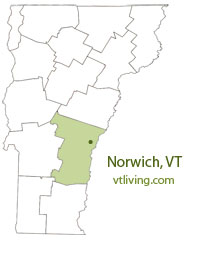 Welcome to Norwich, Vermont. Norwich is a classic Vermont community. Norwich is located just west of Hanover, NH, and is one of Vermont's more desirable towns for relocating due to its charming village, and close proximity to Dartmouth College, DHMC, Downtown Hanover, West Lebanon, NH, and Interstates I-91 and I-89.


The Norwich Inn, 325 Main Street, Norwich, VT 05055 | 802-649-1143
The Norwich Inn is a historic Vermont inn located just across the river from Hanover, New Hampshire. An Inn has been on the site since 1797; the current Victorian Structure since 1890. We offer 38 guestrooms, Pub, Dining Room, and Microbrewery. The Brewery at the Norwich Inn is one of the top VT breweries - all Jasper Murdock Ales and craft beer are brewed on premises.
Visit Norwich Inn - Norwich
---
Norwich was the location of the state's first country grammar school in 1785. The first settlers to winter in Norwich were here in the winter of 1765. The first sawmill on the Blood Brook began operation in 1766. The public school building that currently sits on the Norwich Village Green was built in the late 19th century.
The Norwich Inn, at 325 Main Street was established in 1797. The Norwich Inn is still in operation today and offers lodging and dining 7 days a week. Norwich Academy was originally located here in Norwich. The ALS&M Academy was established in Norwich by Captain Alden Partridge in 1819. The Academy was Chartered by the Vermont Legislature as Norwich University in 1835. After the burning of the South Barracks in 1866, the University moved to Northfield, Vermont. Norwich, Vermont is a growing community. The population has jumped from approximately 1,600 residents in 1960 to more than 3,600 today. Many Norwich residents commute to nearby New Hampshire. Dartmouth College, The Dartmouth-Hitchcock Medical Center, and busy West Lebanon are all within an easy commute.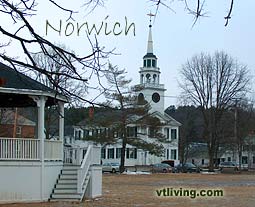 To share any Norwich, VT information with us, contact us.
Chartered: 1761
County: Windsor
Norwich, VT Population:
2010: 3,414
GPS Coordinates:
Latitude: 43.4349
Longitude: -72.1811
Norwich, VT Local Information
Norwich Town Offices: 802-649-1419
inns | hotels | resorts | rentals | dining | real estate
Exploring the Charm of Norwich, Vermont
Nestled in the picturesque Upper Valley region of Vermont, Norwich is a delightful town renowned for its natural beauty, rich history, and vibrant community. With a captivating blend of small-town charm and stunning landscapes, Norwich offers a tranquil escape for residents and visitors alike.
Norwich boasts a captivating history that dates back to its founding in 1761. Originally settled as part of the New Hampshire Grants, the town played a crucial role in the Revolutionary War and witnessed the establishment of Dartmouth College in nearby Hanover, New Hampshire. Visitors can explore the remnants of the past through historical landmarks and preserved architecture, providing a glimpse into the town's fascinating heritage.
One of the most iconic landmarks in Norwich is the historic Norwich Inn. Built in 1797, this charming inn showcases classic New England elegance and offers a comfortable retreat for visitors. The Norwich Inn also features an on-site brewery, Jasper Murdock's Alehouse, where guests can savor handcrafted beers while enjoying the inn's cozy ambiance.
Norwich Points of Interest:
Montshire Museum of Science: Situated on the banks of the Connecticut River, the Montshire Museum offers interactive exhibits, nature trails, and educational programs that engage visitors of all ages.
King Arthur Baking Company: Founded in Norwich, the King Arthur Baking Company is a beloved institution that offers baking classes, a retail store, and a delightful café, making it a must-visit destination for food enthusiasts.
Norwich Farmers Market: Held every Saturday, the Norwich Farmers Market showcases an array of fresh produce, local crafts, and delectable treats, embodying the spirit of the community and supporting local businesses.
Things to Do:
Nature enthusiasts will find themselves in paradise in Norwich. The town is surrounded by lush forests, picturesque hiking trails, and scenic landscapes perfect for outdoor activities such as hiking, biking, fishing, and skiing. The Appalachian Trail passes through Norwich, providing a gateway to unforgettable adventures.
For those considering making Norwich their home, the town offers a variety of real estate options. From charming historic homes to modern properties with panoramic views, Norwich provides a diverse selection to suit different preferences. The town's commitment to preserving its natural beauty ensures that homes are often nestled in serene settings.
Norwich is comprised of several distinctive neighborhoods, each with its own character and charm. From the quaint village center with its historic buildings to the more secluded countryside areas, residents have the opportunity to find their ideal neighborhood that aligns with their lifestyle and preferences.
Norwich fosters a thriving local business community, with an emphasis on supporting independent shops and artisans. From boutique stores offering unique crafts to cozy cafes and restaurants serving farm-to-table cuisine, the town's vibrant business scene adds to its allure.
Norwich benefits from its close proximity to the Dartmouth-Hitchcock Medical Center and Dartmouth College, both major employers in the region. Additionally, the town's commitment to entrepreneurship and small businesses provides ample opportunities for individuals seeking to establish their own ventures.
The town of Norwich hosts a wide range of community events throughout the year, including festivals, concerts, and farmers markets. Residents can also participate in various recreational activities such as sports leagues, art classes, and workshops, fostering a strong sense of community and camaraderie.
Living in Norwich offers a harmonious blend of natural beauty, rich history, and a close-knit community. The town's commitment to preserving its rural character while embracing progress ensures a high quality of life for residents. With excellent schools, a low crime rate, and an abundance of recreational opportunities, Norwich provides an idyllic environment to raise a family or enjoy a peaceful retirement.
Norwich, Vermont, embodies the essence of New England charm, with its rich history, stunning landscapes, and vibrant community. Whether you're seeking a weekend getaway or contemplating a move to this delightful town, Norwich offers a treasure trove of attractions, a strong sense of community, and a captivating way of life that will leave a lasting impression. Explore Norwich and experience the allure of this beautiful Vermont gem for yourself.
SHOP SALE ITEMS – FREE WORLD MALL

| Photo | Title | Price | Buy |
| --- | --- | --- | --- |
| | Norwich Vermont Norwich VT Retro Vintage Text Zip Hoodie | $41.99 | On Sale Now |
| | Norwich Vermont VT vintage State Athletic style T-Shirt | $16.99 | On Sale Now |
| | Norwich Vermont VT vintage State Athletic style Zip Hoodie | $29.99 | On Sale Now |
| | Norwich Vermont Norwich VT Retro Vintage Text Throw Pillow, 16x16, Multicolor | $23.99 | On Sale Now |
| | Old Houses of the Antient Town of Norwich [Conn.] 1660-1800 | $37.95 | On Sale Now |
| | Retro Vermont VT T Shirt Vintage Mountains Tee Design | $16.99 | On Sale Now |
| | King Arthur, All Purpose Unbleached Flour, Non-GMO Project Verified, Certified Kosher, No Preservatives, 2 Pounds (Pack of 12) | $41.76 ($0.11 / Fl Oz) | On Sale Now |
| | King Arthur Flour Special Patent Flour - 50 Pounds | $74.98 ($0.09 / Ounce) | On Sale Now |
| | King Arthur, Unbleached Self Rising Flour, Non-GMO Project Verified, No Preservatives, 5 Pounds (Pack of 8) | $55.60 ($0.09 / Ounce) | On Sale Now |
| | 100% Organic Artisan Bread Flour - 25 lbs - Old World | $79.95 ($0.20 / Ounce) | On Sale Now |

Vermont Products | Visit VT Towns | FWM 24/7 Shopping

Country Weddings | New England Recipes
VT Inns | Red Sox Gifts | Travel Destinations
Free World Mall

Country Weddings | New England Recipes
VT Inns | Red Sox Gifts | Travel Destinations