Peru, Vermont 05152
Peru VT Lodging, Real Estate, Travel & Visitor Information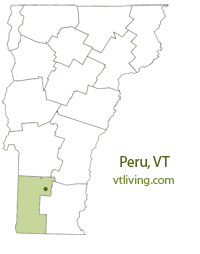 The town of Peru, Vermont was originally granted at Bromley. The Bromley resort and ski area is located here. The Bromley Mountain Slide is, according to the Guinness Book of World Records, the longest alpine slide in the world.
The western portion of Peru is quite mountainous. Mount Tabor and Styles Peak – named for the Styles family are part of Peru. A Monument in Peru marks a camp of John Stark. General Stark stayed in Peru on his way from NH to Bennington. Hapgood Pond Recreation Area, Mud Pond is located in Peru.


Bromley View Inn, 522 Vermont Rte. 30, Bondville, VT 05340 | 802-297-1459
Bromley View Inn is located between Manchester, Bromley Mountain Resort and Stratton Mountain Resort. Our guests will find themselves in an activity haven with six ski areas within an hour, five golf courses within a half hour, superior hiking/snowshoeing, plenty of waterways for kayaking, canoeing, and fishing; and some of Vermont's best shopping and antiquing in the towns of Manchester, Arlington, Londonderry, Weston, Peru, and Dorset.
Visit Bromley View Inn - Bondville, VT
---
Peru, Vermont: A Charming Town Nestled in the Green Mountains
History of Peru
Peru, Vermont is a picturesque town located in the southwestern part of the state. Steeped in history, Peru was chartered in 1761 and named after the country of the same name in South America. The town's early settlers were primarily farmers, drawn to the fertile soil and abundant natural resources. Over the years, Peru has transformed from a rural farming community into a sought-after destination for outdoor enthusiasts and nature lovers.
Bromley Mountain Resort: Outdoor Adventures at Your Doorstep
One of the main attractions in Peru is the Bromley Mountain Resort. Situated in the heart of the Green Mountains, Bromley offers a plethora of outdoor activities for all seasons. During the winter months, visitors flock to the resort to enjoy skiing and snowboarding on its well-groomed slopes. In the summer, Bromley transforms into an adventure playground with activities such as zip-lining, mountain biking, and scenic chairlift rides. With its family-friendly atmosphere and breathtaking views, Bromley Mountain Resort is a must-visit destination for outdoor enthusiasts of all ages.
Peru VT Area Lodging: A Welcoming Retreat
Peru and its surrounding area offer a range of lodging options to suit every traveler's needs. From cozy bed and breakfasts to rustic cabins and vacation rentals, visitors can find the perfect place to stay while exploring the town and its natural surroundings. Many of these accommodations provide easy access to the nearby Bromley Mountain Resort and other outdoor recreational areas, ensuring a convenient and enjoyable stay for guests.
Peru Villages, Districts, and Neighborhoods
Peru is composed of several charming villages, districts, and neighborhoods that each contribute to the town's unique character. The village of Peru, located at the town center, serves as the administrative hub and is home to local businesses and amenities. Other notable areas include Glebe Mountain, East and West Peru, and North and South Hapgood. Each neighborhood offers its own distinct charm and sense of community, making Peru a vibrant and close-knit town.
City Parks, Recreation Areas, and Hikes
Peru boasts an abundance of natural beauty and outdoor recreational opportunities. The town is dotted with city parks and recreation areas where residents and visitors can enjoy leisurely strolls, picnics, and various outdoor activities. Hiking enthusiasts can explore numerous trails that wind through Peru's lush forests and provide breathtaking views of the surrounding mountains. Notable hiking destinations include the Peru Peak Wilderness, Lye Brook Falls, and the Long Trail, which traverses through the Green Mountains.
Historic Sites and Places of Interest
For history buffs, Peru offers a glimpse into its rich past through several historic sites and landmarks. The Peru Church, a beautifully preserved building dating back to the early 19th century, is a prominent feature in the town center. Visitors can also explore the Hapgood Pond Recreation Area, a popular spot for fishing and boating that was once a hub of the logging industry. Additionally, the nearby town of Manchester offers a variety of cultural attractions, boutique shops, and renowned outlets for those seeking a day trip from Peru.
Real Estate Opportunities and Employment
Peru presents real estate opportunities for those looking to settle in this idyllic town. The housing market offers a mix of charming historic homes, cozy cabins, and modern residences nestled in the picturesque landscape. The area's natural beauty and proximity to outdoor recreation make it an attractive destination for residents seeking a peaceful and active lifestyle. Employment opportunities in Peru primarily revolve around tourism, hospitality, and outdoor recreational industries, with Bromley Mountain Resort being a major source of jobs for the local community.
Quality of Life and Peru VT Living
Peru, Vermont offers a high quality of life with its scenic beauty, tight-knit community, and abundant recreational opportunities. Residents and visitors alike can enjoy a peaceful and serene environment surrounded by the breathtaking landscapes of the Green Mountains. The town's commitment to preserving its natural resources and fostering a sense of community contributes to a tranquil and fulfilling way of life. Whether you're seeking outdoor adventures, a tight-knit community, or a tranquil retreat, Peru offers it all.
Peru, Vermont, with its rich history, natural beauty, and recreational opportunities, provides a captivating destination for travelers and an inviting place to call home for residents. From the slopes of Bromley Mountain to the quaint villages and neighborhoods, Peru offers a unique blend of outdoor adventure, small-town charm, and a high quality of life. Whether you're exploring the area's historic sites, enjoying the great outdoors, or simply relaxing in the peaceful surroundings, Peru, Vermont is a hidden gem waiting to be discovered.
To share any Peru, VT information, contact us. Learn more about advertising in VTLiving.
Chartered: 1761
County: Bennington
Peru, VT Population:
2010: 416
GPS Coordinates:
Latitude: 43.1438
Longitude: -72.5354
Peru, VT Local Information
Peru Town Offices: 802-824-3065
inns | hotels | resorts | rentals | attractions | dining | real estate

Vermont Products | Visit VT Towns | FWM 24/7 Shopping

Country Weddings | New England Recipes
VT Inns | Red Sox Gifts | Travel Destinations
Free World Mall

Country Weddings | New England Recipes
VT Inns | Red Sox Gifts | Travel Destinations