Weston, Vermont 05161
Weston VT Lodging, Real Estate, Travel & Visitor Information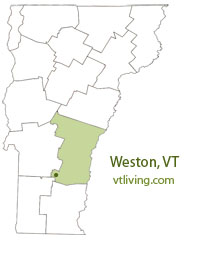 Welcome to Weston, Vermont. What is known today as the town of Weston was originally part of the town of Andover. Separated from the rest of the town by Markham Mountain, it was nearly impossible to get from the east side of town to the west. So, the legislature divided Andover in half creating two towns and naming the new one Weston, as it had been referred to by Andover residents as west town.
Weston, Vermont: A Picturesque New England Retreat
History of Weston:
Nestled in the heart of New England, Weston, Vermont, boasts a rich history dating back to its charter in 1799. The town's early years were defined by agriculture and milling, and its historical charm is still evident in the beautifully preserved buildings that grace its streets. As the years passed, Weston evolved into a thriving community known for its arts, culture, and warm hospitality, attracting visitors from far and wide.
The Weston Playhouse:
A crowning jewel in the town's cultural scene, the Weston Playhouse has been captivating audiences since 1935. As one of Vermont's oldest professional theaters, the playhouse stages an impressive array of performances, including classic plays, musicals, and contemporary productions. With its intimate atmosphere and outstanding talent, the Weston Playhouse is a must-visit for theater enthusiasts.
Villages, Districts, and Neighborhoods:
Weston is divided into several distinctive villages, each with its own allure. Weston Village, the town center, exudes a timeless appeal with its historic architecture and charming streets. South Hill offers a peaceful and scenic escape, while West Hill, known for its artistic community, features unique galleries and studios. East Weston, surrounded by picturesque landscapes, provides a rural and tranquil setting.
Weston Parks, Recreation Areas, and Hikes:
Embraced by the natural beauty of Vermont, Weston offers ample opportunities for outdoor recreation. The Weston Priory, situated atop a hill, serves as a serene retreat for reflection and tranquility. Nature enthusiasts can explore numerous hiking trails, including the renowned Long Trail and the scenic West River Trail, offering breathtaking vistas and encounters with the local wildlife.
Historic Sites and Area Attractions:
Weston proudly preserves its heritage through several historic sites and captivating attractions. The Vermont Country Store, established in 1946, is a beloved landmark offering a nostalgic Vermont shopping experience, with its vast array of traditional goods and timeless products. The Old Mill Museum, housed in a restored 19th-century gristmill, offers insight into Weston's industrial past, while the Farrar-Mansur House beckons history aficionados with its well-preserved colonial-era architecture.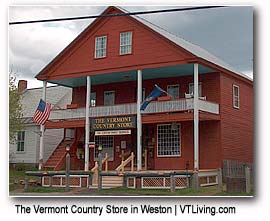 Notable Businesses in Weston:
The Weston Inn: Welcoming visitors with its quintessential New England charm, The Weston Inn offers cozy inn accommodations, warm hospitality, and a relaxing ambiance. Conveniently located near the town's attractions, it serves as an ideal base for exploring Weston and its surrounding wonders.
Vermont Country Store: A true treasure trove of nostalgia, the Vermont Country Store has been delighting visitors since 1946. Step back in time as you browse through its shelves stocked with classic candies, vintage kitchenware, and timeless goods. It's a delightful journey into the past for both young and old.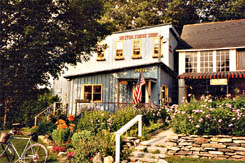 Weston is also home to a variety of unique shops, art galleries, and eateries that contribute to the town's vibrant character. From artisan boutiques to charming cafes, each business adds to the allure of this picturesque town, making it a delightful destination for a day of shopping and exploration.
Weston Real Estate Options:
For those seeking a serene rural lifestyle, Weston offers a diverse selection of real estate options. Historic homes with classic New England architecture blend seamlessly with modern residences, catering to a variety of preferences. Whether you envision a quaint farmhouse or a contemporary escape, Weston has the perfect property to call home.
Employment:
With tourism being a significant aspect of the local economy, employment opportunities in Weston revolve around the arts, hospitality, and service industries. The Weston Playhouse, in particular, provides numerous job openings during its performance seasons, fostering a sense of community engagement and cultural enrichment.
Quality of Life and Weston Vermont Living:
Living in Weston provides a unique and idyllic experience. The town's small size fosters a tight-knit community, with residents often gathering for various events and festivals throughout the year. The natural surroundings encourage an active lifestyle, with outdoor activities like hiking, skiing, and fishing readily accessible. The sense of community, rich cultural scene, and stunning landscapes contribute to a high quality of life for those who call Weston home.
Weston, Vermont, stands as a captivating New England destination, where history meets culture, and natural beauty embraces the soul. From its storied past to its vibrant present, this charming town has something to offer everyone. Whether you come for the arts, outdoor adventures, or the warm community spirit, Weston welcomes you with open arms, promising an unforgettable experience in the heart of Vermont's scenic wonderland.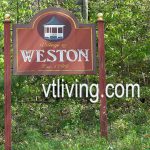 Southern Vermont ski areas are all easily accessible from the town, and snowmobile trails are abundant in the area, making it a favorite stop for visitors of all ages. The Weston Playhouse Theatre Company, Vermont's oldest professional theatre, is located on the Village Green in Weston. The air-conditioned Playhouse brings live theatre to southern Vermont every summer. Another popular attraction is the Vermont Country Store – a unique collection of hard-to-find items, and Vermont products. Located in Windsor County, the Weston was chartered in 1799. A low population spread over 36 square miles gives the town a true rural Vermont feel. Manchester, Rutland, and Springfield are all within a comfortable distance, putting Weston in the heart of southern Vermont. Share Weston, VT information, contact us. Learn more about advertising in VTLiving.[/caption]
Chartered: 1779
County: Windsor
Weston, VT Population:
2010: 566
GPS Coordinates:
Latitude: 43.18
Longitude: -72.47
Weston, VT Local Information
Weston Town Offices: 802-824-6645
inns | hotels | resorts | rentals | dining | real estate
SHOP WESTON VT GIFTS

| Photo | Title | Price | Buy |
| --- | --- | --- | --- |
| | Weston Vermont VT Vintage Sports Established Navy Design Pullover Hoodie | $32.99 | On Sale Now |
| | Weston Vermont VT Vintage Athletic Navy Sports Design T-Shirt | $16.99 | On Sale Now |
| | Weston Vermont VT Vintage Athletic Sports Design Zip Hoodie | $33.99 | On Sale Now |
| | Weston Vermont VT Vintage Athletic Sports Design Pullover Hoodie | $31.99 | On Sale Now |
| | Funny Weston VT Vermont Souvenir Pullover Hoodie | $31.99 | On Sale Now |
| | The Vermont Country Store Cookbook: Recipes, History, and Lore from the Classic American General Store | $39.16 | On Sale Now |
| | HISTORIX Vintage 1814 Vermont Map - 24x30 Inch Vermont State Vintage Map - Vermont Wall Art - Old Vermont Map Poster - Vermont Wall Decor - Map of Vermont from Actual Survey | $54.99 | On Sale Now |
| | Vermont Paddleboarders Giclee Art Print Poster from Travel Artwork by Artist Paul Leighton 12" x 18" | $21.95 | On Sale Now |

Vermont Products | Visit VT Towns | FWM 24/7 Shopping

Country Weddings | New England Recipes
VT Inns | Red Sox Gifts | Travel Destinations
New England Living Magazine
Free World Mall

Country Weddings | New England Recipes
VT Inns | Red Sox Gifts | Travel Destinations