VT Hikes & Trails
Easy Vermont Hiking Trails, Hikes & Lodging Guide

Hiking the Long Trail or Appalachian Trail are just two of hundreds of popular hiking trails in Vermont. If your outdoor interests are piqued by the prospect of hiking a diverse trail system over varied terrain, encountering panoramic vistas, breathing fresh mountain air, splashing in brisk alpine streams, and resting in forests abundant with wildlife, then you have found your outdoor paradise in the mountains and woodlands of Vermont. Yes, Vermont is a wonderful place to hike and explore. Vermont offers miles of woodland walks, hikes, and trails in every region of the state. Visit Vermont, and enjoy Vermont hiking. Please, leave only footprints. To feature your VT business, contact us. Safe and happy hiking from Vermont Living Magazine.
Vermont Hikes & Hiking Trails


West Mountain Inn, River Road, Arlington, VT 05250 | 802-375-6516
Nestled on a mountainside, the century old, seven gabled West Mountain Inn invites guests to discover its many treasures. Distinctively decorated guest rooms, comfortable common areas, 150 woodland acres with wildflowers, a bird sanctuary, and llamas. Miles of wilderness ski or hiking trails and the Battenkill River provide seasonal outdoor activities. Private dining and meeting rooms, A unique space for celebrations of weddings, birthdays, anniversaries, family reunions, or business meetings.
Visit West Mountain Inn Arlington
---


The Wildflower Inn, 2059 Darling Hill Road, Lyndonville, VT 05851 | 802-626-8310
Trailside Lodging in the Northeast Kingdom of Vermont. Your next great adventure awaits at The Wildflower. A four-season destination property for the best in outdoor recreation and Vermont experiences. With our 25-room Inn, full-service restaurant, pub, Village Sport bike shop (with rentals) and KCE guide company right on the property, you will have everything you need to make the most of your Vermont visit.
Visit The Wildflower Inn - Lyndonville, VT
---


The Governor's House in Hyde Park, 100 Main Street, Hyde Park, VT 05655 | 866-800-6888
Centerpiece of a quiet village, the completely restored historic mansion offers modern comfort with the gracious elegance of an earlier time. Period furnishings. Bedroom fireplaces. Mountain views. Jane Austen weekends. Afternoon tea. Small private events and weddings. The perfect elopement package.
Visit Governor's House at Hyde Park
---


Smugglers' Notch Vermont, America's Family Resort, 4323 VT Rt.108, Jeffersonville, VT | 802-332-6854
SMUGGLERS' NOTCH RESORT. At America's Family Resort, experience Mountain Resort Village living, award-winning children's programs, family activities, 3 big mountains of skiing and snowboarding, plus entertainment, dining, shopping, year-round Zipline Canopy Tours & more. Family Fun Guaranteed. Smuggs offers four season Vermont family vacation experiences unlike any other!
Visit Smugglers' Notch Resort - Jeffersonville, VT
---


The Arlington Inn, Historic Route 7A, Arlington, Vermont 05250 | 802-375-6532
A unique and special place that brings you back to a time of Elegance and Style. This Victorian Inn is decorated with beautiful antiques and exudes warmth and friendliness. Close to activities yet far enough away from the hustle and bustle to have a quiet, relaxing, and romantic Vermont visit. This stately Greek Revival mansion was built in 1848, it is among America's landmark historic inns. You will enjoy the Romance and Elegance of the Victorian Era in this faithfully restored estate.
Visit The Arlington Inn Website- Arlington, VT
---
Hiking in Vermont is a must for any outdoor enthusiast. With its stunning natural beauty, picturesque landscapes, and well-maintained trails, Vermont offers a wide variety of hiking experiences for everyone, from novice hikers to experienced mountaineers. In this article, we'll explore some of the popular Vermont hikes, share some VT hiking tips, and highlight some of the trails and points of interest you won't want to miss.
Popular Vermont Hikes
Mount Mansfield: Located in Stowe, Mount Mansfield is the highest peak in Vermont, offering hikers a challenging climb with breathtaking views from the summit. The Long Trail runs along the ridgeline of Mount Mansfield, providing hikers with access to some of the most beautiful alpine scenery in the state.
Camel's Hump: Another popular hike in Vermont, Camel's Hump is a distinctive peak in the Green Mountains that offers stunning views of the surrounding landscape. The trail to the summit is a challenging climb, but the views are well worth the effort.
Sterling Pond: Located in Smugglers' Notch, Sterling Pond is a short, easy hike that is great for families or beginners. The trail winds through a beautiful forest and ends at a picturesque alpine pond that is perfect for swimming or picnicking.
Gile Mountain: Located in Norwich, Gile Mountain is a relatively easy hike that offers spectacular views from the summit. The trail is well-maintained and features a fire tower that provides a panoramic view of the surrounding countryside.
Plan ahead: Before you hit the trail, make sure you know the route, the distance, and the difficulty level of the hike. Bring a map, compass, and plenty of water and snacks.
Dress appropriately: Vermont's weather can be unpredictable, so dress in layers and be prepared for changes in temperature and weather conditions.
Wear sturdy hiking boots with good traction to avoid slipping on wet or rocky terrain.
Leave no trace: When you're hiking in Vermont, it's important to respect the natural environment by leaving no trace of your visit. Pack out all your trash and avoid damaging vegetation or wildlife habitats.
VT Trails and Points of Interest
The Long Trail: The Long Trail is a 273-mile hiking trail that runs the length of Vermont, from the Massachusetts border to the Canadian border. The trail is open year-round and offers hikers access to some of the most scenic vistas in the state.
Quechee Gorge: Located in Quechee, the Quechee Gorge is a natural wonder that is worth a visit. The gorge is 165 feet deep and was carved by the Ottauquechee River over thousands of years. There is a hiking trail that runs along the rim of the gorge, providing visitors with stunning views of the surrounding countryside.
Lake Willoughby: Located in Westmore, Lake Willoughby is a picturesque lake that is surrounded by towering cliffs and mountains. The lake is a popular spot for swimming, fishing, and boating, and there are several hiking trails in the area that provide access to some of the most beautiful scenery in Vermont.
In conclusion, hiking in Vermont is an unforgettable experience that offers something for everyone. Whether you're a novice hiker looking for an easy trail or an experienced mountaineer seeking a challenge, Vermont's natural beauty, and well-maintained trails are sure to impress. So grab your hiking boots, pack your backpack, and hit the trail – Vermont is waiting for you!
Champlain Valley VT Hikes & Trails
Burlington, Middlebury, St. Albans, the Islands of NW Vermont
North Central VT Hikes & Trails
Montpelier, Barre, Randolph, Waterbury, Stowe, Mad River Valley
Northeast Kingdom VT Hikes & Trails
St. Johnsbury, Newport, Barton, Lyndonville, Burke, Jay, Island Pond
South Central VT Hikes & Trails
Rutland, White River Jct., Woodstock, Quechee, Brandon, Killington, Ludlow, Weston, Chester
Southern VT Hikes & Trails
Bennington, Brattleboro, Manchester, Arlington, Newfane, Mt. Snow area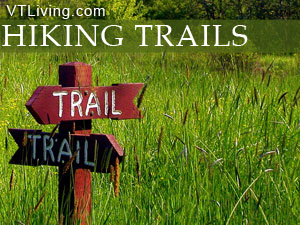 Hiking and backpacking in the Green Mountains of Vermont have always been popular outdoor activities for native Vermonters and Vermont visitors of all ages. Vermont offers a wide variety of trails – from short, relaxing woodland strolls and moderate hikes, to the extensive and challenging mountain trails that extend deep into the sparsely populated Green Mountain National Forest and adjoin the Appalachian National Scenic Trail.
The Long Trail, which follows the Green Mountain Range from the Canadian border to the Massachusetts state line, is world-renowned and offers more than 70 cabins, shelters, and tenting areas along a trail system traversing some of Northern New England's most spectacular wilderness areas.
Hike Vermont Safely


Vermont Products | Visit VT Towns | FWM 24/7 Shopping

Country Weddings | New England Recipes
VT Inns | Red Sox Gifts | Travel Destinations
New England Living Magazine
Fitness and Sports Products On Sale Now
Free World Mall

Country Weddings | New England Recipes
VT Inns | Red Sox Gifts | Travel Destinations