Lipizzaner Stallions
Vermont's Connection to the Horse Breed of Royalty

The breed of horse known as Lipizzans or Lipizzaner is considered by many to be the most unique horse breed in the world. The story of this amazing breed of horse is as fascinating as the Lipizzans themselves. The Hero Islands on Lake Champlain was a summer visiting place for Herrmann's Lipizzaner Stallions and many have fond memories of witnessing this breed in action in North Hero, Vermont. The Lipizzaner Stallions have not been to North Hero, Vermont since 2007. Ask us about Vermont attractions or share comments. To feature your Vermont business, contact us.


Coldwell Banker Islands Realty Inc., Office, US Route 2, South Hero, VT 05486 | 802-372-5777
Coldwell Banker Islands Realty Inc. is the Lake Champlain Islands' Number 1 real estate agency. We have been serving Grand Isle County's real estate needs since 1970 and have built a firm reputation for quality, integrity and service. We specialize in Vermont lakefront, island and inland properties in Grand Isle, Chittenden and Franklin Counties including the towns of South Hero, Grand Isle, North Hero, Isle La Motte, Alburg, Swanton, Highgate, Georgia, Milton, and Colchester.
Visit Coldwell Bankers Islands Realty
---


Shore Acres Inn & Restaurant, 237 Shore Acres Dr., North Hero, VT 05474 | 802-372-8722
Shore Acres is located in the heart of the Champlain islands. Each room offers guests an incomparable panoramic view of the Green Mountains and the glistening waters of Lake Champlain. A visit here provides you with the recharge and relaxation we all truly need. 19 lakeside inns overlooking Lake Champlain on 46 private acres. A special place for your special event or Lake Champlain VT wedding. Event consultation, and Pet-Friendly accommodations available.
Visit Shore Acres Inn & Restaurant, North Hero, VT
---
What's In A Name
The Lipizzaner breed takes its name from the village where the horses were first bred. Near the Kras village of Lipica, in what is now known as Slovenia, is where one of the earliest stud farms was established. The name Lipizza is Italian for Lipcia thus the name for the breed became Lipizzanes or Lipizzaners.
The Lipizzan breed dates back to the 16th century and was nearly wiped out due to World War II. The story of the breeds survival during World War II by American General George Patten was made into an entertaining family movie and was the subject of several books.
Lipizzaner History
Lipizzaner horses were developed exclusively by the Hapsburg monarchy for its use during times of war and peace. From the very beginning, the Lipizzan is the true horse of royalty. With more than four hundred years of selective breeding, the Lipizzan is one of Europe's oldest breeds of horse. This breed is still considered rare – there are fewer than 3,000 purebred Lipizzaners in the world today.
Physical Characteristics
Lipizzans are genetically a type of grey. Lipizzaners are born dark, black-brown, brown, or mouse-grey. Lipizzaners gradually lighten until they become white. It usually takes six or more years for a Lipizanner to fully whiten. Black and Brown Lipizzaners are rare and are considered by many to bring good luck. The Lipizzaner is a handsome and sturdy horse, known for its strong body, large eyes, and small ears. Not an unusually tall horse – Lipizzaners average between 14.2 to 15.2 hands with powerful shoulders and muscular legs.
Lipizzaner Stallion Traits
The owners and breeders of these amazing animals are captivated by this breed's rare beauty and intelligence. The horses respond visibly to appreciation, music and emotion. A visit to view Lipizzaner Stallions should not be missed. Lipizzaner Stallions are called "the dancing horse" and will move in unison to classical music during their performances.
Lipizzaner Stallions Culture
The Lipizzaners have been featured in several books, children's shows, and movies. The 1940 film Florian featured two Lipizzan stallions. In the early '60s, Walt Disney released Miracle of the White Stallions – a film about the breed's experiences during World War II.
Lipizzaner Information
More information about Lipizzaners can be found by contacting the oldest American Lipizzan registry, the Lipizzan Association of America. Another source of Lipizzaner information is the Lipizzan Society of North America (LANA). The Lipizzan International Federation is the worldwide association of Lipizzan owners and breeders.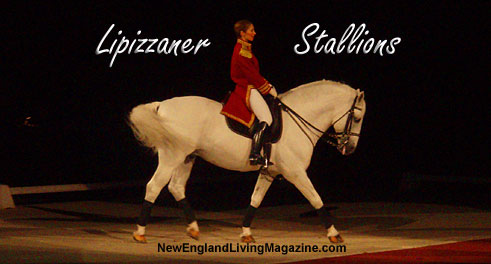 Free Photo Sharing | Morgan Horses | Vermont Horses
SHOP 24/7 VIRTUALLY AT FREE WORLD MALL

| Photo | Title | Price | Buy |
| --- | --- | --- | --- |
| | rouihot Set of 8 Placemats Beautiful Black and White of Lipizzaner Stallion Grazing Non-Slip Doily Place Mat for Dining Kitchen Table | $29.99 ($3.75 / Count) | On Sale Now |
| | The World Famous Lipizzaner Stallions World Tour | | On Sale Now |
| | CANVAS Lipizzaner Stallions White Black Horses Equestrian Sport 12" X 16" Inches Image Size Poster Reproduction on Canvas. | $34.50 | On Sale Now |
| | Miracle of the White Stallions | $69.98 | On Sale Now |
| | Lipizzaner Horse Breed Horseback Riding Sweatshirt | $31.99 | On Sale Now |
| | Ebros 8.5" High Rustic Western Lipizzan Stallion Horse Bronze Electroplated Resin Figurine with Museum Display Base Lipizzaner Horses Racing Fans Cowboys Home Decorative Centerpiece | $69.99 | On Sale Now |
| | Canvas Wall Art for Living Room Large Size Grey lipizzaner stallion posing against red lights Golden Framed Wall Art Modern Giclee Canvas Prints Painting Picture Artworks | $99.99 | On Sale Now |
| | Canvas Wall Art for Living Room Large Size Lipizzaner stallion head shot closeup Golden Framed Wall Art Modern Giclee Canvas Prints Painting Picture Artworks | $99.99 | On Sale Now |
| | 12x24 inches x 4 Panel Wall Art Painting Lipizzaner Stallion Canvas High-Definition Print Pictures Framed Poster Home Wall Space Decoration Gift | $59.99 | On Sale Now |
| | BSPWIRFNZPL Two Lipizzaner Stallions in Their Stable Wall Decor Print on Canvas Modern Home Office Artwork Living Room Bedroom Painting Art Wall | $79.98 | On Sale Now |
| | CCArtist Lipizzaner Horse Stallion neighing in Outdoor Paddock with Autumn Wall Decor Print on Canvas Modern Artwork Living Room Bedroom Painting Art Wall | $79.98 | On Sale Now |

Vermont Products | Visit VT Towns | FWM 24/7 Shopping

Country Weddings | New England Recipes
VT Inns | Red Sox Gifts | Travel Destinations
Free World Mall

Country Weddings | New England Recipes
VT Inns | Red Sox Gifts | Travel Destinations