Corinth, Vermont 05039
Corinth VT Lodging, Real Estate, History & Visitor Information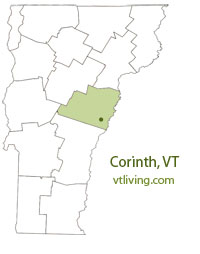 Corinth, Vermont is a town located in Orange County, Vermont. Corinth comprises seven small villages – East Corinth, West Corinth, South Corinth, Corinth Center, Corinth Corners, Cookeville, and Goose Green. Corinth has two Zip codes: 05039 (Post Office in Cookeville) and 05040 at the Post Office in East Corinth.
Corinth is the location of the former copper mines on Pike Hill. The town has been in the movies. Tim Burton's hit film "Beetlejuice" (1968) was filmed in East Corinth.
Tania Aebi, the first American woman to fail solo around the world lives in Corinth. America's first African-American to serve in the state legislature, Alexander Twilight, was born in Corinth on September 26, 1795. He died in Brownington, Vermont on June 19, 1857, at the age of 61.
To share any Corinth, VT information, contact us. Learn more about advertising in VTLiving.
Exploring Corinth, Vermont: A Charming Town Rich in History and Natural Beauty
Nestled in the picturesque landscape of Vermont, Corinth is a quaint town that offers residents and visitors a glimpse into the state's rich history and stunning natural surroundings. From its various villages and hamlets to its vibrant community life, Corinth has much to offer those seeking a peaceful retreat.
Corinth History: Corinth, established in 1764, was named after the city of Corinth in Greece. Originally settled as part of the New Hampshire Grants, the area became part of Vermont after the state's founding in 1791. The town's historical roots are reflected in its well-preserved architecture, which includes beautiful colonial-era homes and buildings.
East Corinth, Corinth Villages, Hamlets, and Neighborhoods: Corinth comprises several distinct areas, each with its own charm. East Corinth, situated along the banks of the Wait River, is a scenic village known for its historic covered bridge, which dates back to 1840. The village exudes a peaceful atmosphere and is surrounded by lush greenery.
Corinth boasts several other villages and hamlets, including West Corinth, South Corinth, and North Corinth, each with its own unique character and natural beauty. Residents and visitors alike appreciate the close-knit communities and serene countryside that these areas offer.
Real Estate Options: Corinth presents a range of real estate options that cater to various preferences. From historic homes with classic New England architecture to modern dwellings with contemporary designs, the town offers something for everyone. The real estate market consists of single-family homes, charming cottages, and spacious properties with ample land. With its serene ambiance and beautiful landscapes, Corinth is an attractive place to settle down and call home.
Parks and Recreation: Nature enthusiasts will find an abundance of outdoor activities in Corinth. The town is home to numerous parks and natural areas that provide opportunities for hiking, picnicking, and wildlife observation. One of the notable spots is the Corinth Town Forest, which encompasses over 500 acres of pristine woodlands, trails, and streams. Additionally, nearby Groton State Forest offers a wealth of recreational activities, including camping, fishing, and boating.
Points of Interest: Corinth and its surroundings boast several points of interest that highlight the town's historical and cultural significance. The East Corinth Congregational Church, a stunning example of Greek Revival architecture, has stood as a centerpiece of the community since its construction in 1838. The Wait's River General Store, established in 1810, is another cherished landmark where locals and visitors can experience a piece of history while enjoying local goods and produce.
Corinth in the Movies (Beetlejuice): Corinth gained a touch of Hollywood fame with its appearance in the iconic film "Beetlejuice" (1988). The picturesque East Corinth Village, with its charming covered bridge and idyllic setting, provided the backdrop for several scenes in the movie. Today, fans of the film can visit Corinth to experience the magic of this cult classic firsthand. Beetlejuice II – the Beetlejuice sequel is being filmed in Cornith in 2023.
Corinth Life and Living: Life in Corinth is characterized by a strong sense of community and a connection to nature. The town hosts various events throughout the year, including local fairs, farmers markets, and cultural festivals, fostering a vibrant social atmosphere. The residents take pride in preserving the town's rich heritage, and their warmth and welcoming nature make Corinth a delightful place to live or visit.
Corinth, Vermont, offers a unique blend of history, natural beauty, and community spirit. With its picturesque villages, diverse real estate options, and abundance of outdoor activities, Corinth provides an ideal setting for those seeking a tranquil lifestyle. Whether exploring its historic landmarks, enjoying the great outdoors, or immersing oneself in the magic of film history, Corinth is a town that captivates the hearts of residents and visitors alike.
Chartered: 1764
County: Orange
Corinth, VT Population:
2010: 1,461
GPS Coordinates:
Latitude: 44.140
Longitude: -72.1637
Corinth, VT Local Information
Corinth Town Offices: 802-439-5850
inns | hotels | resorts | rentals | attractions | dining | real estate
VT Lodging Guide | VT Maps | VT Attractions | VT Realty

Vermont Products | Visit VT Towns | FWM 24/7 Shopping

Country Weddings | New England Recipes
VT Inns | Red Sox Gifts | Travel Destinations
Free World Mall

Country Weddings | New England Recipes
VT Inns | Red Sox Gifts | Travel Destinations