Killington, Vermont 05751
Killington VT Inn Resort Lodging Dining & Real Estate Information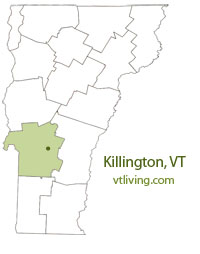 Welcome to Killington, Vermont. Killington in Rutland County, Vermont is surrounded by the six peaks of Killington Mountain in the Green Mountain Range of Central Vermont.
Killington was originally chartered as Medway, then changed to Parkerstown, only to become known as Mendon in 1827, and later renamed Sherburne. In 1999, the residents petitioned the legislature to change the town name to Killington, reflecting the importance of Killington Mountain to the town.


Best Western Inn & Suites, US Rt. 4, Rutland, VT 05701 | 800-780-7234
For spacious comfort in the heart of Vermont's picturesque Green Mountains, visit the Best Western Inn & Suites located in the Rutland/Killington area. Situated near charming antique shops, famous covered bridges, historic museums, and Killington - Pico skiing and golfing. The Best Western Inn & Suites is the area's only suite hotel.
Visit Best Western Inn & Suites Rutland Website
---

The Vermont Inn, 69 Rt. 4, Mendon, VT 05701 | 800-541-7795
This 1840 farmhouse on six acres surrounded by the Green Mountains was featured in Recommended Country Inns of New England and VERMONT Magazine, and offers fine dining with an extensive wine list. Golf and ski packages are available.
Visit The Vermont Inn - Mendon, VT
---
Killington is the site of Killington Mountain Resort and is a four-season destination recreation and tourism center surrounded by farmland and forests. Many of Vermont's best inns, hotels, resorts, vacation rental centers, and restaurants are located in or near Killington. Major manufacturers include specialty foods, high-tech products, and professional services. Vermont's largest ski area, Killington Mountain Resort, attracts more skiers to the state than any other Vermont ski area. The Killington Mountain Road is home to several restaurants and nightclubs that make Killington a popular ski and winter fun destination.
Exploring Killington, Vermont: A Comprehensive Guide
Welcome to the charming town of Killington, nestled in the heart of Vermont's Green Mountains. Known for its stunning landscapes, outdoor recreational opportunities, and vibrant community, Killington offers a unique blend of history, natural beauty, and modern amenities. Whether you're an outdoor enthusiast, a history buff, or simply looking for a peaceful getaway, Killington has something to offer for everyone.
History of Killington
Killington's history dates back to the 18th century when it was settled as a rural farming community. The town was officially incorporated in 1761 and was named after the English colonial governor, Henry Killigrew. Throughout its history, Killington transitioned from an agricultural economy to a popular tourist destination, primarily due to the development of its world-renowned ski resort.
Local Businesses
Killington boasts a diverse array of local businesses that cater to both residents and visitors. From quaint cafes and boutique shops to inns, resorts, outdoor equipment rentals and adventure outfitters, the town's entrepreneurial spirit is evident. The local business community is known for its warm hospitality and commitment to providing unique products and services.
Villages, Districts, and Neighborhoods
The town of Killington comprises several distinct villages, each with its own character and charm. Notable villages include:
Killington Village: The heart of the town, this village is home to various shops, restaurants, and accommodations. It's also the base area for the Killington Mountain Resort.
Pico Village: Situated near Pico Mountain, this village offers a more relaxed atmosphere and access to outdoor activities.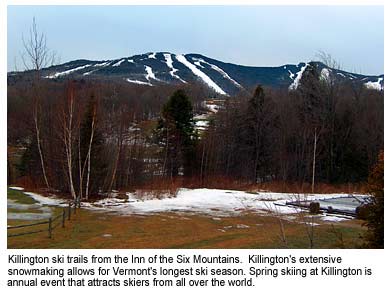 Parks, Beaches, and Recreation Areas
Killington offers an abundance of outdoor recreation opportunities for all seasons:
Killington Mountain Resort: Renowned as the "Beast of the East," this ski resort features diverse terrain for skiers and snowboarders of all levels. In the summer, it transforms into a hub for mountain biking, hiking, and scenic gondola rides.
Gifford Woods State Park: A haven for nature lovers, this park offers hiking trails that lead to breathtaking vistas and access to the Appalachian Trail.
Hikes and Historic Sites
For those who love to explore on foot, Killington's hiking trails and historic sites are a treasure trove:
Thundering Falls Trail: This easy hike takes you to Thundering Falls, a spectacular waterfall surrounded by lush greenery.
Sherburne Pass Trail: Rich in history, this trail features remnants of the historic Long Trail Lodge and breathtaking views from Deer Leap overlook.
Killington Places of Interest
Immerse yourself in Killington's culture and heritage by visiting these notable places:
Killington Arts Guild Gallery: Showcasing the works of local artists, this gallery provides insight into the region's creative community.
Billings Farm & Museum: Just a short drive away in Woodstock, this living history museum offers a glimpse into Vermont's rural past.
Killington Real Estate Values and Options
Killington offers a range of real estate options, from charming mountain cabins to modern condominiums. The Killington real estate market can vary based on location, amenities, and property size.
To share your Killington, VT business information, contact us. Learn more about advertising in VTLiving.
Chartered: 1761
County: Rutland
Killington, VT Population:
2010: 811
GPS Coordinates:
Latitude: 43.3953
Longitude: -72.4736
Killington, VT Local Information
Killington Town Offices: 802-422-3243
Quality of Life and Living in Killington
Living in Killington provides a high quality of life with access to stunning natural landscapes and a strong sense of community. Residents enjoy a variety of recreational activities, cultural events, and a relaxed pace of life that embraces both the tranquility of nature and the excitement of outdoor adventure.
Whether you're visiting for a weekend getaway or considering making Killington your home, the town's rich history, local businesses, recreational opportunities, and welcoming atmosphere make it a destination worth exploring.
Plan your visit to Killington today and experience the magic of this charming Vermont town.
inns | hotels | resorts | rentals | dining | real estate
SHOP KILLINGTON VT GIFTS

| Photo | Title | Price | Buy |
| --- | --- | --- | --- |
| | Killington Vermont Vintage Snowboarding Long Sleeve T Shirt | $26.99 | On Sale Now |
| | Killington Vermont VT Vintage Athletic Sports Design Pullover Hoodie | $31.99 | On Sale Now |
| | Killington Vermont Vintage Skiing Hoodie Sweatshirt | $39.99 | On Sale Now |
| | CafePress Killington Ski Resort Vermont Hoodie Pullover Hoodie, Classic & Comfortable Hooded Sweatshirt White | $42.99 | On Sale Now |
| | Killington, Vermont, Destination Signpost (16x24 Giclee Gallery Art Print, Vivid Textured Wall Decor) | $29.99 | On Sale Now |
| | Vintage Killington, Vermont Illustration / Retro Killington Long Sleeve T-Shirt | $20.99 | On Sale Now |
| | Killington Ski Mountain Gondola - Killington Premium T-Shirt | $19.99 | On Sale Now |
| | Lantern Press 12x18 Inch Premium Wood Sign, Ready to Hang Wall Decor, Killington, Vermont, Elevation, Skier and Tram | $39.99 | On Sale Now |
| | Killington Ski Vintage Skiing Vermont Cool Skier VT Gear Pullover Hoodie | $27.95 | On Sale Now |
| | Killington, Vermont Moose graphic Pullover Hoodie | $31.99 | On Sale Now |
| | Framed Topo Map: Killington (Pico Peak), VT - Standard Size. Handmade in USA | $159.99 | On Sale Now |
| | Ski Killington Vermont Skiing Vacation T-Shirt | $16.99 | On Sale Now |
| | Vintage Killington Vermont Scenic Mountain Landscape Novelty T-Shirt | $18.99 | On Sale Now |
| | Killington Vermont Vanity Metal License Plate Frame | $19.99 | On Sale Now |
| | Killington Vermont VT Sasquatch Souvenir Graphic Tank Top | $21.99 | On Sale Now |
| | Killington Vermont Graphic Distressed Vintage Ski Long Sleeve T-Shirt | $26.99 | On Sale Now |
| | Killington VT Vermont Gym Style Black w Distress Black Print T-Shirt | $21.99 | On Sale Now |
| | R and R Imports Killington Vermont Ski Adventures White Tin Camper Coffee Mug 2-Pack (White). | $16.99 | On Sale Now |
| | Killington Vintage Mountains Hiking Camping Vermont Retro Pullover Hoodie | $34.99 | On Sale Now |
| | Killington VT Vermont Gym Style Distressed White Print Pullover Hoodie | $39.99 | On Sale Now |

Vermont Products | Visit VT Towns | FWM 24/7 Shopping

Country Weddings | New England Recipes
VT Inns | Red Sox Gifts | Travel Destinations
Free World Mall

Country Weddings | New England Recipes
VT Inns | Red Sox Gifts | Travel Destinations