Waltham, Vermont 05491
Waltham VT Lodging, Real Estate, Travel & Visitor Information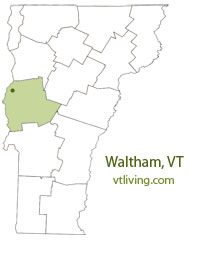 Welcome to scenic Waltham, Vermont.
Waltham borders Vergennes to the south and was named for Waltham, Massachusetts.
To share Waltham, VT information, contact us. Learn more about advertising in VTLiving.
History of Waltham, VT
Waltham, Vermont, a picturesque town nestled in Franklin County, boasts a rich history that dates back to its founding in 1789. The town was named after the village of Waltham in England and has a deep connection to the early settlement of the region. Originally a part of the New Hampshire Grants, Waltham's fertile lands attracted pioneers seeking agricultural opportunities. The town's history is preserved in its well-preserved 19th-century architecture and historic sites, which serve as a testament to its enduring legacy.
Villages, Districts, and Neighborhoods
Waltham is a town of charming villages, each with its distinct character and history. Some of the prominent villages and neighborhoods within Waltham include:
Waltham Village: The heart of the town, Waltham Village is known for its historic architecture, community events, and a strong sense of community.
Bartlett Hollow: Nestled in the hills, this peaceful neighborhood offers a serene countryside atmosphere and beautiful natural landscapes.
Goose Pond: Located near the picturesque Goose Pond, this area is known for its stunning lakefront properties and recreational opportunities.
Parks, Recreation Areas, Hikes
Waltham is a paradise for outdoor enthusiasts. The town boasts numerous parks, recreation areas, and hiking trails, including:
Waltham Town Forest: A lush forested area with scenic trails for hiking, mountain biking, and wildlife observation.
Goose Pond: A pristine lake perfect for swimming, kayaking, fishing, and picnicking.
Bartlett Falls: A hidden gem with cascading waterfalls and swimming holes, perfect for cooling off in the summer.
Historic Sites and Places of Interest
Exploring Waltham's history is a fascinating journey, with several historic sites and places of interest, including:
Waltham Historical Society Museum: A repository of artifacts and documents showcasing the town's history.
Ethan Allen Homestead: Nearby, you can visit the preserved home of the famous Revolutionary War hero, Ethan Allen.
Old Covered Bridges: Waltham is known for its picturesque covered bridges, offering scenic spots for photography and leisurely walks.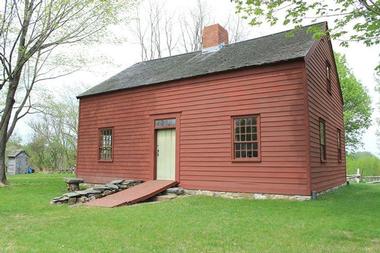 Real Estate Values and Options
Waltham offers a wide range of real estate options, from historic homes with classic New England charm to modern residences. The real estate market is known for its stability, and property values have been on a steady rise in recent years. Whether you're looking for a cozy cottage or a spacious family home, Waltham has something to offer.
Town Office Waltham, VT
Local Information
Waltham Town Offices: 802-877-3641
Chartered: 1796
County: Addison
Waltham, VT Population:
2010: 479
GPS Coordinates:
Latitude: 44.839
Longitude: -73.146
Quality of Life
Waltham, Vermont, offers a high quality of life characterized by a strong sense of community, beautiful natural surroundings, and a rich cultural heritage. Residents enjoy a peaceful, rural lifestyle with easy access to outdoor activities and cultural events. The town's commitment to preserving its history and natural beauty makes it a unique and welcoming place to call home.
Waltham VT Living
Living in Waltham, Vermont, means experiencing the best of rural New England life. From its historical charm to its natural beauty and welcoming community, Waltham offers a tranquil and fulfilling way of life. Whether you're seeking adventure in the great outdoors or a peaceful retreat, Waltham Vermont has it all.
Come and experience the allure of Waltham, Vermont, where history, community, and natural beauty come together to create an exceptional place to live, work, and explore.
inns | hotels | resorts | rentals | attractions | dining | real estate
SHOP WALTHAM VT GIFTS

| Photo | Title | Price | Buy |
| --- | --- | --- | --- |
| | Waltham Vermont VT Vintage Athletic Sports Design Long Sleeve T-Shirt | $22.99 | On Sale Now |
| | Waltham Vermont VT Vintage Athletic Sports Design Sweatshirt | $31.99 | On Sale Now |
| | Waltham Vermont VT Vintage Athletic Sports Design Premium T-Shirt | $19.99 | On Sale Now |
| | Christmas Tree Ornaments 2023 - Waltham Vermont Ornament Hometown Custom City State - Keepsake Gift Ideas Waltham VT Ornament 3" for Friend and Housewarming | $14.50 | On Sale Now |
| | Our First Christmas in Our New Home Ornament 2023 Waltham Vermont Ornament for Christmas Tree Decoration 3 inches Plastic | $14.50 | On Sale Now |
| | Waltham, Vermont Pine Tree Tank Top | $19.99 | On Sale Now |
| | Waltham, Vermont Pine Tree Long Sleeve T-Shirt | $22.99 | On Sale Now |
| | American Flag Mug Waltham Vermont Coffee Cup It's Where My Story Begins 4th of July Coffee Mug Patriotic Gift Independence Day Memorial Day Tea Cup 11oz Black | $17.99 | On Sale Now |
| | Waltham Vermont VT Vintage Athletic Black Sports Design Sweatshirt | $31.99 | On Sale Now |
| | City of Waltham Vermont | Cute Novelty Merch Gift - Graphic Pullover Hoodie | $32.99 | On Sale Now |
VT Lodging Guide | VT Maps | VT Attractions | VT Realty

Vermont Products | Visit VT Towns | FWM 24/7 Shopping

Country Weddings | New England Recipes
VT Inns | Red Sox Gifts | Travel Destinations
Fitness and Sports Products On Sale Now
Free World Mall

Country Weddings | New England Recipes
VT Inns | Red Sox Gifts | Travel Destinations