Waterbury, Vermont 05671
Waterbury VT Lodging, Real Estate, Travel & Visitor Information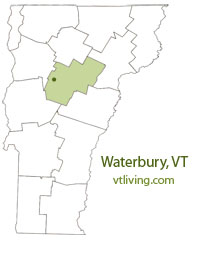 Welcome to Waterbury Vermont. The Village of Waterbury and neighboring Waterbury Center in Washington County are located on the shores of the Winooski River, in the Green Mountains, in North Central Vermont.
One of the most scenic roads in Vermont, Route 100, runs through Waterbury and Stowe village, Vermont then to points north. The town of Waterbury holds an annual Waterbury Community Fair.


Lisa Meyer, Licensed Real Estate Broker, Berkshire Hathaway Home Services, 98 South Main Street, Waterbury, VT 05676 | 802-793-2299
Offering Buyer representation and assistance in purchasing Primary or Vacation homes. Specializing in the sale of Vermont homes. Serving the Waterbury, Stowe, Montpelier, Barre, Mad River Valley, and Chittenden county Vermont. I also specialize in investment properties and land in the central Vermont Area. I am the Managing Broker for the Waterbury branch of Berkshire Hathaway HomeServices Vermont Realty Group and am surrounded by an extremely capable and experienced team.
Visit Lisa Meyer Berkshire Hathaway Vermont Realty Group - Waterbury, VT
---
Waterbury, Vermont: A Charming New England Gem
History of Waterbury: Waterbury, Vermont, located in Washington County, is a picturesque town with a rich history dating back to the late 18th century. The area was initially settled in the late 1700s, and it quickly became a hub for trade and transportation due to its strategic location along the Winooski River. The town was officially chartered in 1763. Over the years, Waterbury's economy thrived on industries such as timber, farming, and milling.
One significant historical event that shaped Waterbury's identity was the devastating flood of 1927. The Great Vermont Flood caused extensive damage to the town, but the resilient community rebuilt, leaving behind a legacy of strength and unity.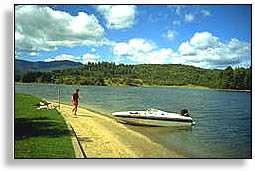 Waterbury Area Attractions: Waterbury offers an abundance of attractions and activities for residents and visitors alike. Some of the must-visit attractions include:
Ben & Jerry's Factory Tour: Waterbury is home to the famous Ben & Jerry's ice cream company. Visitors can take a tour of the factory, learn about the ice cream production process, and, of course, indulge in a variety of delicious ice cream flavors.
Cold Hollow Cider Mill: This historic cider mill offers an opportunity to see how apple cider is made and taste freshly pressed cider and other apple products.
Green Mountain Club Visitor Center: For outdoor enthusiasts, the Green Mountain Club Visitor Center is an excellent starting point for exploring the nearby hiking trails and natural beauty of the area.
Waterbury Reservoir: A popular spot for boating, fishing, and picnicking, the Waterbury Reservoir offers a serene escape into nature.
Resort and Area Lodging: Waterbury is renowned for its warm hospitality and offers various lodging options for visitors. From cozy bed and breakfasts to charming inns, visitors can experience the authentic charm of Vermont. Additionally, there are several upscale resorts in the area, providing luxurious amenities and stunning views of the Green Mountains.
Villages, Districts, and Neighborhoods: Waterbury comprises several charming villages and neighborhoods, each with its unique character and appeal.
Waterbury Center: Located in the heart of town, Waterbury Center offers a mix of historic architecture, local shops, and dining options.
Downtown Waterbury: The downtown area is bustling with vibrant boutiques, galleries, and restaurants, making it a popular destination for both locals and tourists.
The Blush Hill Neighborhood: Situated on Blush Hill, this area boasts breathtaking views and a tranquil atmosphere, making it an ideal place for a peaceful retreat.
City Parks and Recreation Areas: Waterbury takes pride in its well-maintained parks and recreation areas that cater to people of all ages. Some notable parks include:
Recreation Fields: A hub for sports enthusiasts, this area features soccer fields, baseball diamonds, and a playground.
Thatcher Brook Primary School Park: With a splash pad and picnic areas, this park is a hit among families.
Hikes and Historic Sites: Waterbury is a paradise for hikers, offering a plethora of scenic trails and historic sites to explore.
Little River State Park: Besides hiking, this park also provides camping facilities and water-based activities at Waterbury Reservoir.
Mount Hunger Trail: A challenging but rewarding hike that offers stunning panoramic views of the surrounding landscape.
Waterbury Historical Society: History buffs will enjoy visiting this society, where they can learn about the town's past through exhibits and artifacts.
Places of Interest: Apart from the historical sites, Waterbury boasts several other points of interest, including art galleries, craft breweries, and local artisans' studios.
Real Estate Opportunities: Waterbury offers a range of real estate options, from historic homes to modern constructions. The town's idyllic setting and community-oriented atmosphere make it an attractive destination for homebuyers.
Employment and Quality of Life: The town's diverse economy provides employment opportunities in various sectors, including tourism, manufacturing, and healthcare. With a high quality of life, excellent schools, and a strong sense of community, Waterbury is a sought-after place to live and work.
Waterbury VT Living: Living in Waterbury means experiencing the best of Vermont's natural beauty, small-town charm, and community spirit. Residents can enjoy outdoor activities year-round, from skiing in the winter to hiking and swimming in the summer. The town's rich history, friendly locals, and vibrant cultural scene make it a delightful place to call home.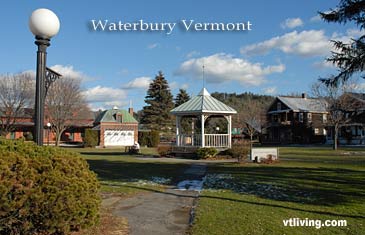 In conclusion, Waterbury, Vermont, is a captivating destination that seamlessly blends its historical roots with modern attractions and recreational opportunities. Whether you're a nature lover, a history enthusiast, or someone seeking a tight-knit community to call home, Waterbury has something special to offer for everyone.
Share Waterbury, VT information. To feature your Waterbury VT business, contact us.
Chartered: 1763
County: Washington
Waterbury, VT Population:
2010: 5,064
GPS Coordinates:
Latitude: 44.2015
Longitude: -72.4520
Waterbury, VT Local Information
Waterbury Town Offices: 802-244-8447
inns | hotels | resorts | rentals | attractions | dining | real estate
SHOP WATERBURY VT GIFTS

| Photo | Title | Price | Buy |
| --- | --- | --- | --- |
| | Waterbury Center State Park VT Vacation Souvenirs Waterbury Center State Park Vermont VT Forest Tree Badge Throw Pillow, 18x18, Multicolor | $23.95 | On Sale Now |
| | ZIP Code Wall Map of Waterbury, VT ZIP Code Map Not Laminated | | On Sale Now |
| | (Custom Reprint) Yearbook: 1947 Waterbury High School - Longhorn Yearbook (Waterbury, VT) | $89.99 | On Sale Now |
| | (Custom Reprint) Yearbook: 1959 Waterbury High School - Longhorn Yearbook (Waterbury, VT) | $89.99 | On Sale Now |
| | A Brief History of Waterbury | $12.99 | On Sale Now |
| | Large Street & Road Map of Waterbury, Vermont VT - Printed poster size wall atlas of your home town | $44.99 | On Sale Now |
| | Waterbury Vermont VT Vintage Athletic Navy Sports Design Long Sleeve T-Shirt | $22.99 | On Sale Now |
| | Waterbury Vermont VT Vintage Athletic Sports Design Long Sleeve T-Shirt | $22.99 | On Sale Now |
| | Camels Hump Waterbury VT Poster Print by Panoramic Images (37 x 12) | $41.74 | On Sale Now |
| | Vermont Shirts VT - American Cities Waterbury VT Retro American Flag USA City Name Throw Pillow, 18x18, Multicolor | $23.99 | On Sale Now |
| | Womens Waterbury Vermont VT vintage State Athletic style V-Neck T-Shirt | $15.99 | On Sale Now |
| | 7 x 10 METAL SIGN - Vermont Postcard - Camels Hump, from golf course, Waterbury, Vt. - Vintage Rusty Look | $19.95 | On Sale Now |
| | Womens Waterbury Vermont VT Total Solar Eclipse 2024 : 5 : V-Neck T-Shirt | $21.99 | On Sale Now |
| | Waterbury Vermont VT Total Solar Eclipse 2024 : 2 :: Sweatshirt | $34.99 | On Sale Now |
VT Lodging Guide | VT Maps | VT Attractions | VT Realty

Vermont Products | Visit VT Towns | FWM 24/7 Shopping

Country Weddings | New England Recipes
VT Inns | Red Sox Gifts | Travel Destinations
New England Living Magazine
Fitness and Sports Products On Sale Now
Free World Mall

Country Weddings | New England Recipes
VT Inns | Red Sox Gifts | Travel Destinations