VT Distillers
Made in Vermont Crafted Liquors Whiskey Liqueurs Gin & Vodka

The spirits industry is booming in Vermont. The state is home to many outstanding VT IPA and Beer Makers, and several Spirt Distillers and more are coming. Vermont hard cider, gin, vodka, whiskey, and other high alcohol content beverages are now being produced locally.
A visit to a Vermont Distillery is an interesting way to sample Vermont-made products. Most VT Distillers offer tastings and allow you to witness their distilling operation.  Plan your Vermont Distillery Tour by browsing the information below, but be sure to telephone the Vermont Distilleries of choice in advance of your visit to confirm hours of operation. To feature your VT business, contact us.
Smugglers' Notch Distillery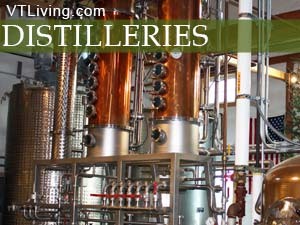 276 VT Rte 108
Jeffersonville, VT 05464
Ph: 802-309-3077
Tasting Room Hours: At the distillery: 11:30-5 Daily
Caledonia Spirits Inc.
116 Gin Lane
Montpelier, VT 05602
Ph: 802-472-8000
Northern honey sweetens Barr Hill Gin, Barr Hill Vodka, and Tom Cat Gin.
Vermont Spirits Distilling Company
5573 Woodstock Rd
Quechee, VT 05059
Ph: 866-281-6398
Web: www.vtspirits.com
Tasting Room Hours: 10-5 Daily
Shacksbury Cider
11 Main Street
Vergennes, VT 05491
Ph: 802-458-0530
Web: www.shacksbury.com
Vermont Distillers
7755 VT Rte 9 East
West Marlboro, VT 05363
Ph: 802-464-2003
Web: vtdistillers.com
The distillery is the maker of Metcalfe's Vermont Maple Cream Liqueur and Metcalfe's Raspberry Liqueur. The distillery is not currently open to visitors.
Shelburne Orchards
216 Orchard Rd
Shelburne, VT 05482
Ph: 802-985-2753
Apple brandy and Pommeau
Saxton's River Distillery
155 Chickering Drive
Brattleboro, VT 05301
Ph: 802-246-1128
Small batch hand-crafted Vermont-made spirits
Mad River Distillers
156 Cold Springs Farm Rd.
Warren, Vermont 05401
Ph: 802-496-6973
Web: www.madriverdistillers.com
Green Mountain Distillers
171 Whiskey Run
Morrisville, VT 05672
Ph: 802-253-0064 fax
Makers of 100% organic vodka
Woodchuck Hard Cider
1321 Exchange Street
Middlebury, VT 05753
Ph: 802-388-0700
Web: www.woodchuck.com
A top-selling hard cider in the USA
GoAmericaGo Beverages (makers of WhistlePig Whiskey)
2139 Quiet Valley Road
Shoreham, VT 05770
Ph: 802-897-7700
Bhakta Spirits
One Brennan Circle
Putney, VT 05764
Ph: 772-261-6160
Appalachian Gap Distillery
88 Mainelli Road
Middlebury, VT 05753
Ph: 802-989-7362
SILO Distillery
3 Artisans Way
Windsor, VT 05489
Ph: 802-674-4220
Web: silodistillery.com
Stonecutter Spirits
White River Junction, VT
Ph: 802-222-0917
Web: stonecutterspirits.com
Single barrel Gin
St. Johnsbury Distillery
74 Eastern Ave.
St. Johnsbury, VT 05819
Ph: 802-424-1146
Web:stjohnsburydistillery.com
Craft spirits from scratch and some nice live music on occasion.
The Distilled Spirits of Council of Vermont was established in 2011 to promote the Vermont Artisanal Distilleries. Vermont Distillers produce small-batch spirits. Many are using Vermont products. The funding for the Distilled Spirits Council of Vermont is provided by the Vermont Agricultural Innovation Center.
SHOP 24/7 – FREE WORLD MALL
Cocktail Glassware Sale

| Photo | Title | Price | Buy |
| --- | --- | --- | --- |
| | KANARS Old Fashioned Whiskey Glasses with Luxury Box - 10 Oz Rocks Barware for Scotch, Bourbon, Liquor and Cocktail Drinks - Set of 4 - Men Gift | $35.99 ($9.00 / Count) | On Sale Now |
| | Vintage Art Deco 1920s Highball Cocktail Glasses | Set of 4 | 14 oz Tall Crystal Tumblers for Drinking Mojito, Whiskey Highball, Gin Rickey, Classic Long Bar Drinks | Large Hiball Glassware | $44.99 ($3.21 / Fl Oz) | On Sale Now |
| | GLASSIQUE CADEAU Vintage Art Deco Ribbed Lowball Cocktail Glasses | Set of 4 | 12 oz Crystal Double Old Fashioned Tumblers for Drinking Classic Whiskey, Gin, Vodka Bar Drinks | Round Glassware | $39.99 ($3.33 / Fl Oz) | On Sale Now |
| | VENERO Crystal Whiskey Glasses, Set of 4 Rocks Glasses in Satin-Lined Gift Box - 10 oz Old Fashioned Lowball Bar Tumblers for Drinking Bourbon, Scotch Whisky, Cocktails, Cognac | $32.97 ($8.24 / Count) | On Sale Now |
| | JoyJolt Faye 13oz Highball Glasses, 6pc Tall Glass Sets. Lead-Free Crystal Glass Drinking Glasses. Water Glasses, Mojito Glass Cups, Tom Collins Bar Glassware, and Mixed Drink Cocktail Glass Set | $22.95 ($3.82 / Count) | On Sale Now |
| | Chouggo Martini Glasses Set of 6, 8Oz Coupe Cocktail Glasses, Hand Blown Premium Crystal Cocktail Glass for Bar, Martini, Cosmopolitan, Manhattan | $39.99 ($5.00 / Fl Oz) | On Sale Now |
| | DeeCoo Whiskey Glasses-Premium 10, 11 OZ Scotch Glasses Set of 6 /Old Fashioned Whiskey Glasses/Style Glassware for Bourbon/Rum glasses/Bar Tumbler Whiskey Glasses(Mixed) | $16.99 | On Sale Now |
| | Combler Cocktail Glasses, Rocks Whiskey Glasses, 9oz Drinking Glasses Set of 4, Ribbed Glassware Sets, Small Cute Glass Coffee Cups for Coffee Bar Accessories, Birthday Gifts for Men Women | $19.99 ($0.56 / Fl Oz) | On Sale Now |
| | Wine Glass,Old Fashioned Cocktail Glass 10oz,Drinking Glass Cups For Beverages,Beer Glass Whisky Glass Vodka Cups Juice Cups Water Cups Liqueur Spirits Glasses Tequila Cups 8 pack | $19.99 ($2.50 / Count) | On Sale Now |
| | True Coupe Glasses Martini Daiquiri Manhattan Cocktail Barware Glass, Clear ,4 Count (Pack of 1) | $22.99 ($5.75 / Count) | On Sale Now |
| | JoyJolt Faye 13oz Highball Glasses, 6pc Tall Glass Sets. Lead-Free Crystal Glass Drinking Glasses. Water Glasses, Mojito Glass Cups, Tom Collins Bar Glassware, and Mixed Drink Cocktail Glass Set | $22.95 ($3.82 / Count) | On Sale Now |
| | Aoeoe Whiskey Glasses Set of 4, 11 OZ Old Fashioned Glasses, Bourbon Glasses, Premium Scotch Glasses, Rocks Glasses, Cocktail Glasses, Clear Rum Glasses, Bar Glasses, Whiskey Glasses for Men | $14.99 ($3.75 / Count) | On Sale Now |
| | JoyJolt Martini Glasses Set of 4 - Cocktail 8oz Stemless Margarita Liquor Drinking Bar glass Glass Dessert Cups | $19.95 ($4.99 / Count) | On Sale Now |
| | Gracenal Ribbed Glass Cups with Straws 12oz, Drinking Glasses Set of 4, Cocktail Glasses, Vintage Glassware, Whiskey Glasses, Coffee Bar Accessories, Iced Coffee Cups for Cute Gifts | | On Sale Now |
| | OPAYLY Whiskey Glasses Old Fashioned Glasses Set of 4 12oz Rocks Glasses Gift for Men Women Drinking Bourbon Scotch Cocktails Rum Cognac Vodka at Bar Home | $29.99 ($7.50 / Count) | On Sale Now |
Whiskey Sets On Sale

| Photo | Title | Price | Buy |
| --- | --- | --- | --- |
| | Mixology Whiskey Decanter and Glass Set for Men, Crystal Bourbon Decanter Set with 10oz Whiskey Glasses in a Classy Gift Box, Perfect for Scotch, Bourbon and Cognac - Gifts for Men | $77.99 | On Sale Now |
| | Whiskey Decanter Set With Glasses and Bar Accessories - Birthday Gifts For Men And Women, Groomsmen Gifts, Wedding Gifts For Couple, Bar Decor, Or Man Cave Decor, Whisky Decanter | | On Sale Now |
| | Fortuning's JDS Whiskey Glass Set for Father's Day, 2 Rotatable Whisky Glasses as Retirement Gifts with 10 Oz Old Fashioned Scotch Liquor Glasses, Ideal Whiskey Gift for Men, Husband | $29.99 | On Sale Now |
| | Cool Stones Whiskey Glass Gift Set - 2 Whiskey Glasses and Whiskey Stones with Tongs in Velvet Bag All Presented in an Elegant Wooden Box for Men(Gift Set) | $29.99 | On Sale Now |
| | Whiskey Decanter Set With Glasses, Birthday Gifts For Men And Women, Groomsmen Gifts, Wedding Gifts For Couple, Whiskey Decanter with Ornate Stopper, Scotch Bourbon Decanter Elegant Bar Glasses Set | | On Sale Now |
| | Whiskey Decanter Set,Globe Decanter,Whiskey Gifts for Men Husband Him Boyfriend Dad Women,with 2 Glasses,Beads,4 Ice Cubes,Tong & Funnel,Beverage Drink Dispenser,for Whisky,Liquor,Wine,Brandy,Cognac | $49.99 | On Sale Now |
| | Denkee Whiskey Decanter Set and Glasses, 750ml Square Liquor Decanter with 4 Scotch Glasses for Bourbon, Rum, Scotch, Liquor Decanter Gift Set for Men Dad Boyfriend Birthday Anniversary | $37.99 | On Sale Now |
| | Whiskey Decanter Gift Set by Royal Reserve | Husband Birthday Gifts Artisan Crafted Chilling Rocks Stones Scotch Bourbon Holder – Gift for Men Dad Boyfriend Anniversary | $54.97 | On Sale Now |
| | ELIDOMC 5PC Italian Crafted Glass Whiskey Decanter & Whiskey Glasses Set, Crystal Decanter Set With 4 Double Old Fashioned Glasses, 100% Lead Free Whiskey Glassware | $36.99 | On Sale Now |
| | Jillmo Decanter, 1250ml Whiskey Decanter Set with 2 Whiskey Glasses, Great Bourbon Whiskey Gifts for Men | $79.99 | On Sale Now |
| | Gifts for Dad, Men Whiskey & Wine Decanter Globe World Set with Globe Glasses Anniversary Birthday House Warming for Liquor Scotch Bourbon Vodka, Gift for Him Husband, Gifts For Men Globe - 850ml | $49.95 | On Sale Now |
| | Paksh Novelty Whiskey Decanter Set - 7-Piece Italian Crafted Glass Decanter & Whiskey Glasses Set - Holiday Whiskey Gifts for Men and Women w/ Ornate Stopper and 6 Cocktail Glasses, Red | | On Sale Now |
| | Whisky Stones and Glasses Set Gift for Men, Pack of 2 Whiskey Glasses 10 oz, 8 Granite Chilling Rocks, 2 Slate Coasters, Cocktail Cards in Wooden Crate Special present for Husband Father Boyfriend Him | $19.99 | On Sale Now |
| | Whiskey Decanter Set Whiskey Stones Gift Set for Men Whisky Glasses in Gifts Box 2 Reusable Stainless Steel Whisky Ball 2 Crystal Whisky Glass 1 Whiskey Decanter for Men Lovers Boyfriend Dads | $49.99 | On Sale Now |
| | Engraved Liquor Whiskey Decanter Set with Scotch Glasses for Men - 9 Design Options - Personalized Gift Set for Him, Dad - Premium Set Includes Whiskey Stones - by Froolu | $89.99 | On Sale Now |
| | VVM Whiskey Decanter Set, Crystal Decanter Set with 4 Whiskey Glasses, Whiskey Glass and Decanter Set Whiskey Birthday Gifts for Men Dad Fathers Day | | On Sale Now |
| | Personalized Whiskey Decanter Set - 5 Design Options - Custom Liquor 25 oz, 750ml Liquor Decanter w/Whiskey Glass Set Options, Birthday & Retirement Gifts for Men | $39.95 | On Sale Now |
| | Mixology & Craft Whiskey Decanter Set with Glasses, Stones & Wood Stand | $46.66 | On Sale Now |
| | Whiskey Decanter Set with Rotating Wooden Tray, Whiskey Glasses Set of 4 and Decanter with Stopper, Whiskey Decanter Gift for Him Men Father Brother, Gift Packaging | $59.99 | On Sale Now |
| | Bullet Whiskey Stones Gift Set by Royal Reserve | Artisan Crafted Chilling Rocks Scotch Bourbon Glasses and Coasters – Gift for Ranger Police Hunter Guy Men Dad Boyfriend Anniversary or Retirement | $44.97 | On Sale Now |

Vermont Products | Visit VT Towns | FWM 24/7 Shopping

Country Weddings | New England Recipes
VT Inns | Red Sox Gifts | Travel Destinations
Free World Mall

Country Weddings | New England Recipes
VT Inns | Red Sox Gifts | Travel Destinations