VT Distilleries
Made in Vermont Liquors Whiskey Liqueurs Gin & Vodka

The spirits industry is booming in Vermont. The state is home to many outstanding VT IPA and Beer Makers, and several Spirt Distillers and more are coming. Vermont hard cider, gin, vodka, whiskey, and other high alcohol content beverages are now being produced locally. A visit to a Vermont Distillery is an interesting way to sample Vermont-made products. Most VT Distillers offer tastings and allow you to witness their distilling operation. Please share your Vermont distillery comments. Call in advance for hours of operation. To feature your business, contact us.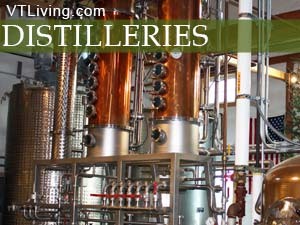 Vermont Spirits
5573 Woodstock Rd
Quechee, VT 05059
Ph: 866-998-6352)
Tasting Room Hours: 10-5 Daily
Vermont Distillers
7755 VT Rte 9 East
West Marlboro, VT 05363
Ph: 802-464-2003
The distillery is the maker of Metcalfe's Vermont Maple Cream Liqueur and Metcalfe's Raspberry Liqueur. The distillery is not currently open to visitors.
Stonecutter Spirits
1197 Exchange St., Unit A
Middlebury, VT 05753
Ph: 802-388-3000
Smugglers' Notch Distillery
276 VT Rte 108
Jeffersonville, VT 05464
Ph: 802-309-3077
Tasting Room Hours: At the distillery: 11:30-5 Daily
Shelburne Orchards
216 Orchard Rd
Shelburne, VT 05482
Ph: 802-985-2753
Saxton's River Distillery
485 West River Rd.
Saxton River, VT 05301
Ph: 802-246-1128
Mad River Distillers
156 Cold Springs Farm Rd.
Warren, Vermont 05674
Ph: 802-496-6973
Green Mountain Distillers
192 Thomas Lane
Stowe, VT 05672
Ph: 802-253-0064
GoAmericaGo Beverages (makers of WhistlePig Whiskey)
2139 Quiet Valley Road
Shoreham, VT 05770
Ph: 802-897-7700
Elm Brook Distillery
250 Elm Brook Road
East Fairfield, VT 05448
Ph: 802-782-5999
Appalachian Gap Distillery
88 Mainelli Road
Middlebury, VT 05753
Ph: 802-989-7362
The Distilled Spirits of Council of Vermont was established in 2011 to promote the Vermont Artisanal Distilleries. Vermont Distillers produce small-batch spirits. Many are using Vermont products. The funding for the Distilled Spirits Council of Vermont is provided by the Vermont Agricultural Innovation Center.

Vermont Products | Visit VT Towns | FWM 24/7 Shopping

Country Weddings | New England Recipes
VT Inns | Red Sox Gifts | Travel Destinations
Free World Mall

Country Weddings | New England Recipes
VT Inns | Red Sox Gifts | Travel Destinations