Autumn Apple Recipes
Apple Recipes from New England Recipes

Visit Vermont and go apple picking at one of this state's many established PYO apple orchards. Browse the Vermont Apple Orchards Guide and contact the orchards direct for the optimum times and PYO fruit picking policies. Every Autumn a wonderful Vermont vacation idea is to go apple picking. Most Vermont apple orchards offer pick-your-own apples. There are dozens of Apple Recipes – we've included some of our favorites from New England Recipes. Share Vermont Apple Orchard comments, or feature your VT orchard, contact us.
VT Apple Recipes & PYO Fruit Farms
There's nothing more quintessentially New England than picking your own apples at one of the many quaint regional orchards. With the season upon us once again, it's the perfect excuse to discover new and interesting dishes to make with your apples.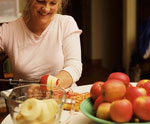 It's almost a given you'll make Applesauce, cobblers, and pies with your new bounty, but what if you're looking for something new? Well, we have some recipes that take a new angle on apples and will knock your socks off with their wonderful flavor pairings!
For those looking for an international slant, we recommend the Curried Apple Soup. With a warm and slightly spiced taste, this treat is sure to warm the chill right out of those crisp October days.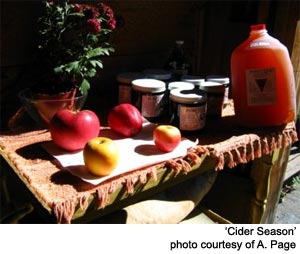 And finally, it's very difficult to think of New England without also thinking of maple syrup and cranberries. The next time you have out-of-town guests, try serving Maple Apple Crisp, to give them that unique New England taste.


Allen Brothers Farms, 6023 US Route 5, Westminster, VT 05158 | 802-722-3395
We are a uniquely Vermont combination of practical and beautiful. We have an inhouse bakery featuring cider donuts, pie, cakes and cookies , a deli with signature Mac & Cheese, pizza and other warm options as well as made to order sandwiches, a country store filled with local Vermont products, locally grown seasonal produce with our own apples, corn, strawberries, and squash and pumpkins, a gas station, a nursery and garden center. Come and see what we have for you at exit 5 off I-91, easy off and on
Visit Allen Bros. Farms Website
---


Yates Family Orchard, 1074 Davis Road, Hinesburg, VT 05461 | 802-373-7437
Come pick 23+ different apple varieties, pears and plums! Visit the orchard stand for delicious, hot, out of the fryer, cider donuts, and baked goods. Try all-natural Vermont made creemee ice cream, raw pressed cider, and other yummy orchard treats. Shop for Vermont local raw honey, maple syrup, orchard made jams, Mt Mansfield Creamery cheeses, Eden Specialty ciders, locally grown mums, pumpkins, and veggies. Discover other Vermont products and artwork for sale. Bring a picnic, stay the afternoon and relax in the scenic beauty of the orchard. Open September through November everyday.
Visit Yates Family Orchard - Hinesburg
---


The Dutton Berry Farmstands and Greenhouse, Route 30, Newfane, VT, Routes 11 & 30 in Manchester, VT, and Route 9 in West Brattleboro, VT | 802-365-4168
Dutton Berry Farmstands are well known for their Vermont grown produce and other unique local products. Fresh picked apples straight from our orchard are available throughout apple season. Stop in and pick up a jug of Dutton Berry Farm's fresh made apple cider, made from our home grown apples. Whether it is fresh farmer-grown fruits and vegetables, cider, Vermont maple syrup or plants, you'll enjoy visiting a true Vermont farm experience.
Visit Dutton Berry Farmstands- VT
---
SHOP BAKEWARE SALE

| Photo | Title | Price | Buy |
| --- | --- | --- | --- |
| | PRODUCE Organic Honeycrisp Apples, 48 Ounce | | On Sale Now |
| | Kauffman Orchards Fresh-Picked Red Delicious Apples (Box of 16) | $39.00 ($2.44 / Count) | On Sale Now |
| | PrepWorks by Progressive Dishwasher Safe 16-Slice Thin Apple Slicer and Corer with Attached Safety Cover | $12.99 | On Sale Now |
| | Apple Peeler Corer, Long lasting Chrome Cast Magnesium Alloy Apple Peeler Slicer Corer with Stainless Steel Blades and Powerful Suction Base for Apples and Potato(Red) | $19.99 | On Sale Now |
| | LE TAUCI Ceramic Pie Pans for Baking, 11 Inches Deep Dish Pie Plate for Apple Pie, Pot Pie, 48 Ounce Baking Dish with Ruffled Edge, Set of 2, Red | $39.99 ($20.00 / Count) | On Sale Now |
| | Sweejar Ceramic Pie Pan for Baking, 10 Inches Round Baking Dish for Dinner, Non-Stick Pie Plate with Soft Wave Edge for Apple Pie, Pumpkin Pie, Pot Pies (Green) | $25.99 ($0.47 / Fl Oz) | On Sale Now |
| | KOOV Ceramic Pie Dish, 9 Inches Pie Pan, Pie Plate for Dessert Kitchen, Round Baking Dish Pan for Dinner (Aegean) | | On Sale Now |
| | Lareina Pie Pans for Baking, Ceramic 9 Inch Deep Pie Dish with Rippled Edge for Apple Pie, Pecan Pie, Chicken Pot Pie, Colorful and Durable Pie Plate, Set of 2, Red | $36.99 ($18.50 / Count) | On Sale Now |
| | Wisenvoy Pie Pan Ceramic Pie Dish Blue Pie Plate Porcelain Deep Dish Pie Pan Non-Stick Pie Pans | $19.99 | On Sale Now |
| | Emile Henry 9" Pie Dish - Modern Classics Collection | Rouge | $37.44 | On Sale Now |
| | Apple: Recipes from the Orchard | $35.00 | On Sale Now |
| | The Apple Lover's Cookbook: Revised and Updated | $21.84 | On Sale Now |
| | Apples: 50 Tried & True Recipes (Nature's Favorite Foods Cookbooks) | $14.99 | On Sale Now |
Champlain Valley VT Apple Orchards
Burlington, Middlebury, St. Albans, the Islands of NW Vermont
North Central VT Apple Orchards
Montpelier, Barre, Randolph, Waterbury, Stowe, Mad River Valley
Northeast Kingdom VT Apple Orchards
St. Johnsbury, Newport, Barton, Lyndonville, Burke, Jay, Island Pond
South Central VT Apple Orchards
Rutland, White River Jct., Woodstock, Quechee, Brandon, Killington, Ludlow, Weston, Chester
Southern VT Apple Orchards
Bennington, Brattleboro, Manchester, Arlington, Newfane, Mt. Snow area
Vermont Activities | Vermont Attractions
 Vermont Fairs | Vermont Events

Vermont Products | Visit VT Towns | FWM 24/7 Shopping

Country Weddings | New England Recipes
VT Inns | Red Sox Gifts | Travel Destinations
VT Attractions | VT Dining | VT Realty
Free World Mall

Country Weddings | New England Recipes
VT Inns | Red Sox Gifts | Travel Destinations