Connecticut River Byway
Visit the scenic Connecticut River By-way of Vermont. The mighty Connecticut River – rich in history and splendid scenery. This is New England's longest and most powerful river. From the rivers humble beginning in the north of Pittsburg, NH to Long Island Sound in Connecticut – more than 400 miles from just south of the Canadian border to the Atlantic Ocean. The river tells a story and whispers of the past. Follow I-91 north, the Connecticut River Byway offers wonderful opportunities to explore all New England has to offer. Find Connecticut River inns, hotels, resorts and vacation rentals. Ask us about Vermont. To feature your business, contact us.
Vermont's Connecticut River By-Way
The Connecticut River Valley includes an area known as "The Upper Valley". The Upper Valley includes Hanover, New Hampshire, White River Junction, Norwich and Thetford, Vermont. The Connecticut River is a popular fishing destination. You can legally fish the Connecticut River in Vermont or New Hampshire with either a Vermont Fishing License or a New Hampshire Fishing license. The Connecticut River fish species include; smallmouth bass, crappies, brown trout, brook trout, rainbow trout, catfish, eels, suckers and other species. Find more details in our fishing section.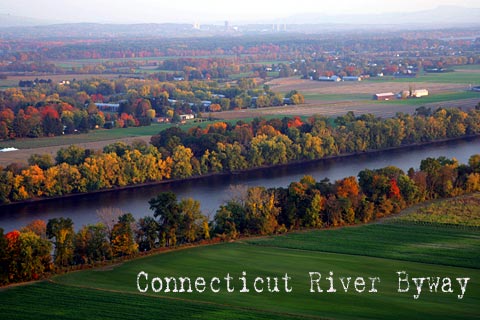 Vermont Attractions | Vermont Events | Real Estate | Classified
Connecticut River Boating
The Connecticut River is a popular water recreation river. The Dartmouth College rowing team may be seen north of the Norwich – Hanover bridge. Boat tours and rentals businesses are nearby in Fairlee and Brattleboro. The Connecticut river is popular with kayakers, canoe tours and motor boats. There are several dams along the river. of hiking trails.
Special thanks to the Federal Highway Administration for photos and videos

Vermont Products | Visit VT Towns | FWM 24/7 Shopping

Country Weddings | New England Recipes
VT Inns | Red Sox Gifts | Travel Destinations
Free World Mall

Country Weddings | New England Recipes
VT Inns | Red Sox Gifts | Travel Destinations