Fall Fishing in Vermont
Autumn Trout Fishing Tips

Welcome to Vermont Living's easy-to-use guide to some of the best fishing holes in Vermont. Discover Vermont fishing for trout, bass, salmon, pickerel, pike, sunfish, eels, and more. Ask us about VT fishing or share comments. To feature your business in VTLiving, contact us.
Vermont Autumn Fishing for Trout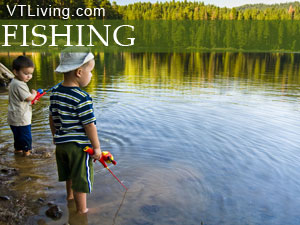 If trout can be called voracious in spring, they might best be described as meddlesome in fall. Whether it's the spawning urge or the drive to put on some extra winter insulation, these fish are operating under new compulsions, and none of them is polite. The successful fisherman's methods need to change as well.

The fish aren't going to be found in the summer evening tail waters: they're going to be back in the obvious places, pocket water with good cover nearby, fast-running currents close to beds of pea-size spawning gravel. The shorter daylight hours and the lower water temperatures mean that you can legitimately abandon mid-day obligations and find action with trout that aren't experiencing much angling pressure.
If you're fly fishing, grasshopper imitations and easily managed attractor dry flies will get noticed; if you're carrying a spinning rod, cast very small spinners upstream, letting them tumble back down while controlling the slack – retrieve the lure just a tad faster than the current.
If the dry weather continues, the low water conditions will call for more stealth; a few days of rain will make things a whole lot easier.

Excellent opportunities can be found in all the Vermont brooks and rivers that held fish in the spring. Some of the best bets: Forget the Battenkill near Manchester in the south-west – the nearby Mettowee holds less difficult fish that are just as large. In northwest Vermont, the Lamoille and the Mad rivers are worth checking out. Central and north-central, the White River and its tributaries; in the Northeast Kingdom, the Clyde, Moose and Passumpsic rivers hold good populations of eager brookies and browns.
The Vermont fishing season ends October 26.
Don't neglect your shotgun – earlier in the day, while waiting for the water to warm, cruise the swampy alder thickets and abandoned apple orchards for ruffed grouse and woodcock. Why not make a day of it? Tape the football games!
– Chris Dunlap
for Vermont Living Magazine
Champlain Valley VT Fishing
Burlington, Middlebury, St. Albans, the Islands of NW Vermont
North Central VT Fishing
Montpelier, Barre, Randolph, Waterbury, Stowe, Mad River Valley
Northeast Kingdom VT Fishing
St. Johnsbury, Newport, Barton, Lyndonville, Burke, Jay, Island Pond
South Central VT Fishing
Rutland, White River Jct., Woodstock, Quechee, Brandon, Killington, Ludlow, Weston, Chester
Southern VT Fishing
Bennington, Brattleboro, Manchester, Arlington, Newfane, Mt. Snow area
Fishing Gear Deals

Vermont Products | Visit VT Towns | FWM 24/7 Shopping

Country Weddings | New England Recipes
VT Inns | Red Sox Gifts | Travel Destinations
Free World Mall

Country Weddings | New England Recipes
VT Inns | Red Sox Gifts | Travel Destinations