Vermont Native Fish Species
Find Great Fresh Water Fishing for Trout Salmon Bass in Vermont

Vermont is a great place to go freshwater fishing. While ocean fishing is not available we do offer sensational fishing opportunities in our clean freshwater lakes, mountain streams, and rivers. Discover Vermont fishing for trout, bass, salmon, pickerel, pike, sunfish, eels, and more. Ask us about VT Fishing or share your VT     Guide Service or Vermont sporting goods business, contact us.
VERMONT BROOK TROUT – AVG. LENGTH 6″-12″

Also known as "Square tails" or "Brookies", these species of trout are found in every area of Vermont. A native of North America, the brook trout enjoys cold, clear waters and can be taken on artificial flies, spinning lures, and live bait where permitted. Brook trout eat aquatic insects, worms, leeches, other fish, frogs, and crustaceans.
---
BROWN TROUT – AVG. LENGTH 8″-18″

This trout species was brought to Vermont in 1892 from their native home in Europe. Brown trout are found in the upper regions of the Connecticut River. A great game fish known for strength.
---
LAKE TROUT – AVG. LENGTH 15″-24″

Meet the mighty Lake Trout, AKA "Togue" or "Lakers". Actually a char, lake trout, or "lakers" are native to Vermont and found near the bottom of Vermont's deep, cold lakes. These big trout can reach 30 or more inches and can weigh more than 20 pounds!
---
LARGEMOUTH BASS – AVG. LENGTH 8″-15
The largest member of the sunfish family in Vermont, they have a large round mouth and are commonly found in lakes and ponds. Largemouth Bass like rocky bottoms and feed on crawlers, insects, and other fish.
---
NORTHERN PIKE – AVG. LENGTH 15″-21″

This long, slender fish has a large mouth and sharp teeth. Pike have scales on the upper half of their gill covers, and their tail, dorsal and anal fins have dark spots or blotches.
---
PICKEREL – AVG. LENGTH 15″-20″

Chain pickerel are members of the same family that includes northern pike. Pickerel have fully scaled gill covers, and sharp, needle-like teeth.
---
PUMPKINSEED (Sunfish) – AVG. LENGTH 7″-9″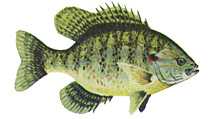 This small, brightly colored sunfish is representative of a group of fish called "panfish", which in Vermont includes bluegill, redbreast sunfish, rock bass, sunnies, and black crappie. These fish rarely exceed 10 inches but are plentiful, fun to catch, and excellent eating. They feed on worms, other fish, insects and are also taken on artificial flies and lures.
---
RAINBOW TROUT – AVG. LENGTH 8″-12″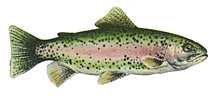 The Rainbow Trout is native to the American West and was introduced to Vermont in the early 1800s. A beautiful fish. The tail and flanks are heavily spotted with small, well-defined black spots. Migratory lake-run rainbow trout, also known as steelheads, is silver-ish in color.
---
LANDLOCKED SALMON – AVG. LENGTH 12″-20″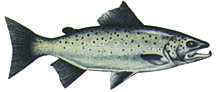 Landlocked salmon are identical to sea-going Atlantic salmon. They have a forked tail, silvery flanks, and black spots on the upper half of their body. A great game fish, they prefer the cold waters of Vermont's deepest lakes.
---
RAINBOW SMELT – AVG. LENGTH 6″-8″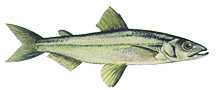 This small, slender, schooling fish is found in Vermont's deeper and colder lakes. They are a favorite food of lake trout, rainbow trout, and salmon. Often caught ice fishing, rainbow smelts are quite tasty when batter-dipped and fried.
---
SMALLMOUTH BASS – AVG. LENGTH 8″-14″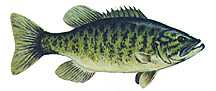 Smallmouths are closely related to largemouth bass, except they prefer cooler, clearer waters, and have a slightly smaller mouth. A warm-water species found in every region of Vermont.
---
YELLOW PERCH – AVG. LENGTH 4″-10″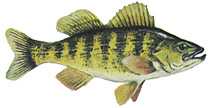 A favorite food-fish in Vermont and common throughout the state, these schooling fish are easily recognized by their bright yellow color and dark vertical bars.
---
WALLEYE – AVG. LENGTH 13″-21″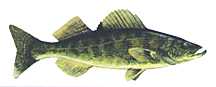 The largest member of the perch family.  notice the spotless first dorsal fin – an easy way to distinguish walleye from perch or sauger.
---
BROWN BULLHEAD OR CATFISH – AVG. LENGTH 10″-14″

Locals call them "horned pout," the most common member of the catfish family found in Vermont waters. A hearty "bottom-feeder."  Use live worms to catch these feisty fish. Find great Vermont fishing in every region of Vermont.


Good Luck Fishing in Vermont!
The Vermont Fish and Wildlife Department publishes an informative Guide to Vermont Fishing that includes a map of Vermont and suggested lakes and streams, as well as designated charts of species found in each body of water. This guide is free and may be obtained wherever Vermont fishing licenses are sold, or by writing to:
The Vermont Fish & Wildlife Department
103 South Main Street, Waterbury, VT 05671-0501
Phone: 802-241-3700
Champlain Valley VT Fishing
Burlington, Middlebury, St. Albans, the Islands of NW Vermont
North Central VT Fishing
Montpelier, Barre, Randolph, Waterbury, Stowe, Mad River Valley
Northeast Kingdom VT Fishing
St. Johnsbury, Newport, Barton, Lyndonville, Burke, Jay, Island Pond
South Central VT Fishing
Rutland, White River Jct., Woodstock, Quechee, Brandon, Killington, Ludlow, Weston, Chester
Southern VT Fishing
Bennington, Brattleboro, Manchester, Arlington, Newfane, Mt. Snow area

Vermont Products | Visit VT Towns | FWM 24/7 Shopping

Country Weddings | New England Recipes
VT Inns | Red Sox Gifts | Travel Destinations
Free World Mall

Country Weddings | New England Recipes
VT Inns | Red Sox Gifts | Travel Destinations