Immortal Chaplains
Chaplains Remembered for Acts of Bravery During World War II

Vermont is a State as rich in heritage as it is in natural beauty. The Immortal Chaplains church in the little hamlet of East Concord, Vermont was the parish of the Reverend George Fox, remembered now as one of the four Dorchester Chaplains who gave his life so that others might live. Ask us about VT Chaplains or share comments. To feature your business, contact us.
Vermont Immortal Chaplains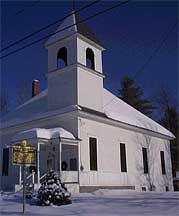 It was during World War II, in February of 1943, a German U-boat fired on a convoy of six ships headed to Greenland. One of them, the USS Dorchester, was hit mid section and quickly started to sink. The ships four chaplains – one a Catholic Priest, one a Rabbi, and two Protestant ministers; were among the first on deck and began handing out life vests to sailors. When the jackets ran out, the four chaplains removed their own life jackets, and gave them to the sailors.
Within 18 minutes the USS Dorchester sank. Witnesses tell of seeing the four chaplains arm in arm on the ships hull, praying. Nearly seven hundred sailors died that day, but the memory of the four chaplains lives on as an example of how people of different faiths can live, and die; together.
In 1960 the United States Congress created a special medal of valor which it awarded to the chaplains next of kin. A foundation has been formed to honor their memory, tell their story, and present an award called the Immortal Chaplains Prize for Humanity to those who have "risked all to protect those of another faith or race". An interesting book, Sea of Glory: A Novel Based on the true story of the four chaplains, makes for interesting reading. The State of Vermont is home to houses of worship in nearly every denomination of religious faith. Come to Vermont to worship, attain a new level of faith, or renew your existing faith in a Vermont house of worship!

Vermont Products | Visit VT Towns | FWM 24/7 Shopping

Country Weddings | New England Recipes
VT Inns | Red Sox Gifts | Travel Destinations
Free World Mall

Country Weddings | New England Recipes
VT Inns | Red Sox Gifts | Travel Destinations