Vermont Green Lodging Specials
VT Green Hotels, Green Inns, Vermont Green Eco-Friendly Initiative Program

Welcome to Vermont Living Magazine's Vermont Green Lodging Guide. We are proud of the efforts that many Vermont lodging properties are making to help save and protect the environment. This section will be updated regularly to present current news about Vermont Green Business Practices including; Vermont Green Hotels, Green Inns and other Vermont eco-friendly and enviromentally conscious businesses. To share your Vermont business with us, please contact us. Learn more about advertising in VTLiving.
Vermont Green Inn Lodging Guide


The Norwich Inn, 325 Main Street, Norwich, VT 05055 | 802-649-1143
The Norwich Inn is a historic Vermont inn located just across the river from Hanover, New Hampshire. An Inn has been on the site since 1797; the current Victorian Structure since 1890. We offer 38 guestrooms, Pub, Dining Room, and Microbrewery. The Brewery at the Norwich Inn is one of the top VT breweries - all Jasper Murdock Ales and craft beer are brewed on premises.
Visit Norwich Inn - Norwich
---


The Green Mountain Inn, 18 Main St., P.O. Box 60, Stowe, VT 05672 | 800-253-7302
Experience warm hospitality in an historic landmark in the heart of Stowe Village. Beautifully restored, the Inn offers the perfect blend of modern luxury and country elegance in over 100 rooms, fireplace suites, luxury rooms, exquisite village apartments and townhouses. Two superb restaurants, afternoon tea, year-round outdoor heated swimming pool, outdoor Jacuzzi, children's pool, two firepits and fully equipped health club. Classic setting for weddings, conferences and events.
Visit Green Mountain Inn, Stowe, VT
---


West Mountain Inn, River Road, Arlington, VT 05250 | 802-375-6516
Nestled on a mountainside, the century old, seven gabled West Mountain Inn invites guests to discover its many treasures. Distinctively decorated guest rooms, comfortable common areas, 150 woodland acres with wildflowers, a bird sanctuary, and llamas. Miles of wilderness ski or hiking trails and the Battenkill River provide seasonal outdoor activities. Private dining and meeting rooms, A unique space for celebrations of weddings, birthdays, anniversaries, family reunions, or business meetings.
Visit West Mountain Inn Arlington
---


The Wildflower Inn, 2059 Darling Hill Road, Lyndonville, VT 05851 | 802-626-8310
Trailside Lodging in the Northeast Kingdom of Vermont. Your next great adventure awaits at The Wildflower. A four-season destination property for the best in outdoor recreation and Vermont experiences. With our 25-room Inn, full-service restaurant, pub, Village Sport bike shop (with rentals) and KCE guide company right on the property, you will have everything you need to make the most of your Vermont visit.
Visit The Wildflower Inn - Lyndonville, VT
---
 Going Green in the Green Mountain State
Green is more than the color of money. The new green is earth-friendly , eco-conscious and signifies that you care about the environment. Green businesses care about the planet (Mother Earth) and are taking pro-active measures. You – as a Vermonter or a visitor to Vermont – can do your part by seeking out eco-friendly businesses and Vermont green lodging accommodations.
 What is Vermont Green Lodging?
The basic premise is that Green Hotels and Green Inns are taking action to help save energy and minimize their carbon footprint on Mother Earth. Not all Green Hotel and Green Inns practice green living equally. Some lodging properties are more committed than others. Many are part of a green state or national organization but many businesses that follow green lodging practice simply do it out of respect for the environment and as a responsible way to help trim costs and contribute to a worthwhile cause.
 Eco Friendly Practices / Making Your Lodging Property Green
Some of the more common green lodging practices include;
Using all LED lighting
Allowing guests to use their towels and/or sheets for more than one day before being laundered
Using the same towels and sheets for a three-night stay can save more than 50% of a hotel's laundry emissions
Using Eco-friendly cleaning products that are healthier for the environment
Using recycled products when available
Using refillable toiletry dispensers
Using timed thermostats
Keeping the temperature cooler in hallways
Turning down heating / air conditioning in non-occupied rooms
Using energy-efficient heating and cooling systems
Installing solar or wind-powered energy sources
Recycling waste
 Vermont Green Hotels Vermont Green Inns
If you have a suggestion on how a lodging property can save energy, please share it. If your lodging property would like to be included on this page about Vermont Green Friendly Lodging, please contact us.
Vermont Living thanks you for supporting Vermont's Green Hotels, Inns, and other Green Businesses. If you have questions about an individual property's Green Lodging programs, contact the inn or hotel directly and inquire in advance of your stay. Many hoteliers and innkeepers are proud of their efforts to help save the environment and are happy to discuss their efforts with you.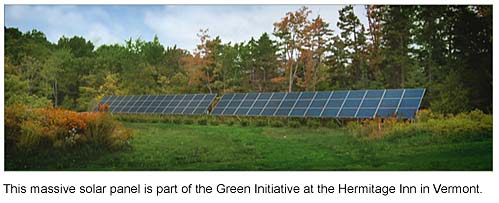 Vermont Products | Visit VT Towns | FWM 24/7 Shopping

Country Weddings | New England Recipes
VT Inns | Red Sox Gifts | Travel Destinations
New England Living | New England Lodging Guide
Fitness and Sports Products On Sale Now
Free World Mall

Country Weddings | New England Recipes
VT Inns | Red Sox Gifts | Travel Destinations