Vermont Museums
Vermont History Art & Children Museums

Visit an amazing Vermont Museum! Vermont is fortunate to have some of the most interesting museums in the US. Rich in history and full of surprises is how we can best describe the amazing selection of Vermont Museums.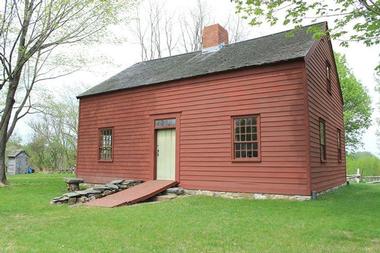 Some of the special people that have lived here (Alexander Webb) and live here today have the foresight to share ideas and creations for generations to enjoy. Visit several museums and attractions during your next Vermont vacation. Vermont's extraordinary museums – another wonderful reason to explore all the New England states. Share your Vermont business in Vermont Living, contact us.
Vermont is home to a variety of museums that showcase the state's rich history, culture, and natural beauty. Here are some museums in Vermont worth checking out:
Shelburne Museum: Located in Shelburne, this museum features over 150,000 works of art and artifacts, including folk art, quilts, furniture, and more. The museum also has a beautiful garden and several historic buildings.
Orvis Fly Fishing Museum is located in Manchester, Vermont, and is dedicated to the history and art of fly fishing. The museum is part of the Orvis Company, a Vermont-based company that specializes in fly fishing gear and apparel. The Orvis Fly Fishing Museum is a great destination for anyone interested in the history and art of fly fishing and provides a fascinating look at this timeless sport and its place in Vermont's cultural heritage.
Vermont History Museum: This museum in Montpelier explores the state's history from its Native American roots to the present day. Exhibits include artifacts, photographs, and interactive displays.
Bennington Museum: The Bennington Museum showcases the art, history, and culture of southern Vermont. It has a large collection of paintings by Grandma Moses, as well as exhibits on pottery, furniture, and more.
Montshire Museum of Science: Located in Norwich, this museum has interactive exhibits and educational programs that teach visitors about science, nature, and technology. It also has outdoor exhibits and nature trails.
Brattleboro Museum and Art Center: This museum in Brattleboro has exhibits that showcase contemporary art, as well as art and artifacts from the region's history. It also has a sculpture garden and hosts a variety of events and programs.
Vermont Museum of Mining and Minerals: This museum in Grafton, near Brattleboro, has exhibits on the history of mining in Vermont, including displays of minerals and mining equipment. It also has outdoor exhibits and nature trails.
The American Museum of Fly Fishing: Located in Manchester, this museum has exhibits that showcase the history of fly fishing in America. It also has a library and hosts events and programs related to the sport.
Hildene: The Lincoln Family Home: Located in Manchester, this museum is the former home of Robert Todd Lincoln, the son of Abraham Lincoln. It has exhibits that showcase the family's history and life at the estate. It also has beautiful gardens and trails.
At VINS, visitors can see a variety of live birds of prey, including eagles, owls, hawks, and falcons. The museum also has interactive exhibits and educational programs that teach visitors about bird behavior, ecology, and conservation. In addition to the indoor exhibits, VINS has a network of trails and outdoor exhibits that allow visitors to explore the surrounding forests and fields. The trails include a treehouse, a boardwalk through a marsh, and a viewing platform overlooking the Ottauquechee River.
ECHO Leahy Center for Lake Champlain: This science and nature museum in Burlington is dedicated to the ecology and culture of Lake Champlain. Exhibits include live animal habitats, interactive displays, and a 3D theater.
American Precision Museum: Located in Windsor, this museum celebrates the history of precision manufacturing in the United States. It has exhibits on machine tools, firearms, and more.
Norman Rockwell Museum of Vermont: This museum in Rutland features the work of the famous American artist Norman Rockwell, as well as other contemporary artists. It also has a collection of antique toys and dolls.
Fairbanks Museum and Planetarium: This museum in scenic St. Johnsbury has collections of natural history specimens, including birds, mammals, and insects, as well as a planetarium and observatory.
Billings Farm Museum: A working dairy farm and museum located in Woodstock, Vermont. The museum is dedicated to preserving Vermont's rural heritage and educating visitors about the state's agricultural history.
The Bread and Puppet Theater Museum is located in Glover, Vermont, and showcases the history and work of the theater company. The museum features a collection of puppets, masks, and other objects used in the company's performances, as well as posters, photos, and other memorabilia. In addition to the exhibits, the museum also hosts performances, workshops, and other events throughout the year. Visitors can also explore the surrounding gardens and fields, which feature large-scale sculptures and other outdoor art installations. The Bread and Puppet Theater Museum is a unique and unconventional museum that offers a glimpse into the creative and political vision of one of Vermont's most iconic cultural institutions.
These Vermont museums offer a variety of experiences, from science and nature exhibits to art and history collections. They provide a great way to learn more about Vermont's unique culture and heritage. View Vermont Museums by region below.
Champlain Valley VT Museums
Burlington, Middlebury, St. Albans, the Islands of NW Vermont
North Central VT Museums
Montpelier, Barre, Randolph, Waterbury, Stowe, Mad River Valley
Northeast Kingdom VT Museums
St. Johnsbury, Newport, Barton, Lyndonville, Burke, Jay, Island Pond
South Central VT Museums
Rutland, White River Jct., Woodstock, Quechee, Brandon, Killington, Ludlow, Weston, Chester
Southern VT Museums
Bennington, Brattleboro, Manchester, Arlington, Newfane, Mt. Snow area
| Photo | Title | Price | Buy |
| --- | --- | --- | --- |
| | German Paintings in The Metropolitan Museum of Art, 1350-1600 | $10.47 | On Sale Now |
| | STAS Cliprail Pro Picture Hanging System Set White - Covers 29.53 ft of Wall Space - Heavy Duty Picture Rail & Art Hanging Gallery Kit Without Nails - for Home or Museum (Includes 12 Hooks & Cords) | $331.52 | On Sale Now |
| | JELRINR Original Abstract Art Oil Painting On Canvas Texture Blue and green Tree paintings Canvas Wall Art Hand painted Acrylic paintings Modern Home living Room Office Decor picture 24x60inch | $126.88 | On Sale Now |
| | Handmade Textured Abstract Wall Art Blue Modern Oil Paintings on Canvas for Living Room Home Decoration | $89.98 | On Sale Now |
| | GREATBIGCANVAS Flourish of Spring Canvas Wall Art Print, Floral Home Decor Artwork, 48"x32"x1.5" | | On Sale Now |
| | Large Traditional Chinese Painting Hand Painted Plum Blossom Canvas Wall Art Modern Black and White Landscape Oil Painting for Living Room 60 x 30 inch | | On Sale Now |
| | Ardemy Abstract Wall Art Geometric Blue Teal Painting Modern Artwork Gold Textured Picture for Living Room Bedroom Dinning Room Bathroom Home Office Wall Decor, Extra Large Size Framed 60"x30" | $149.80 | On Sale Now |

Vermont Products | Visit VT Towns | FWM 24/7 Shopping

Country Weddings | New England Recipes
VT Inns | Red Sox Gifts | Travel Destinations
Free World Mall

Country Weddings | New England Recipes
VT Inns | Red Sox Gifts | Travel Destinations