Piecasso
VT Dining Reviews – Best Restaurants in VT


Piecasso Pizzeria & Lounge, 1899 Mountain Road, in Stowe, VT | 802-4411
Piecasso opened in Stowe on February 8, 2006. Piecasso is a fun place filled with modern style, eclectic music, and great vibes. Come visit, enjoy traditional New York style pizza, authentic Sicilian pastas, fresh seafood, fine wines, fun martinis, and Vermont micro brews.
Visit Website
---

We found sensational pizza and Italian specialties in Stowe at Piecasso. This is a fun place for lunch, dinner or an afternoon app and cocktails. Comfortable for the entire family. Ask us about Stowe restaurants or share your comments. To feature your restaurant, contact us.
Piecasso Pizzeria & Lounge Stowe VT
Some of the many reasons to visit Stowe Vermont – to visit Maria Von Trapp's house, to ski Stowe, to enjoy a Stowe Oktoberfest, to hike the Mount Mansfield, to see spectacular fall colors, to bike the famous Stowe Path. I however, have found another really fabulous reason to visit Stowe. Piecasso – an upscale pizzeria restaurant with excellent food and reasonable prices.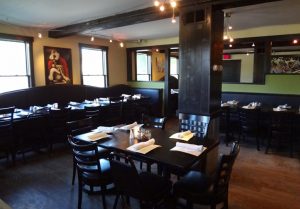 Piecasso is not new to Stowe, however they changed locations years ago. I am sure that many of you have already sampled the 17 specialty pizza pies or have created your own combos. If so then you will agree that Piecasso's pizza is not just good it is GREAT!
Piecasso's is now even better. They have just added a huge new section to their restaurant and nearly doubled their size. The new bar area is fantastic, with a game room and also an adult sitting area that features a fireplace. You can sit on the large rock wall with your slice or at a table or the bar.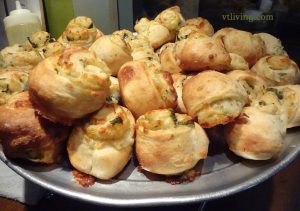 This moderately priced Stowe restaurant does not have the feel or the look of a pizza parlor. It has been designed to feel similar to an Italian bistro on one side with a bright sunny dining room in the new addition. The pizza slices are sold individually or in specials like two slices and a soda or with a beer – both are a meal in themselves. Every lunch time, there are usually between 12 and 20 different fresh pizza flavors to choose from like pepperoni & cheese, BBQ chicken, pesto eggplant and even the Tree Hugger Pizza, a white pizza with spinach, basil, tomato, garlic, red onion and Mozzarella.
Piecasso pizzas are made from a 20 year old Sicilian recipe, and may I say, with pride. This wonderful Italian pizzeria was rated top 11 slices in the country by Travel and Leisure Magazine quite recently. I need at this point to mention that this is not just a pizza joint. Piecasso's has a very nice atmosphere that is family friendly and adult welcoming.

The Italian pasta specialty dishes like the Fettuccine Alfredo and the Pasta Rovetto are outstanding. The delightful garlic knots, calamari, and steel head trout that can be added to many dishes take this Stowe dining establishment up several notches.
Piecasso is part of the Vermont Fresh Network, and uses local products whenever possible. Nightly specials, gluten-free pizza and pasta dishes are available. My experience was relaxing and enjoyable. The full bar, with a nice selection of beer and wine, was thumbs up. The wait staff and bartenders Sam and James really enjoy working here – I know why. Let's see, great food, relaxed homey environment and a wait staff that deserves an extra 5% tip…….are we there yet? Tell them Vermont Living Magazine sent you.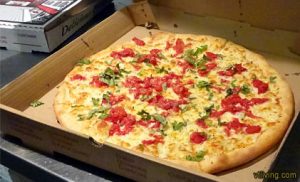 Piecasso
Mountain Road
Stowe, Vermont
www.piecasso.com
inns | hotels | resorts | rentals | attractions | dining | real estate
Champlain Valley VT Dining
Burlington, Middlebury, St. Albans, the Islands of NW Vermont
North Central VT Dining
Montpelier, Barre, Randolph, Waterbury, Stowe, Mad River Valley
Northeast Kingdom VT Dining
St. Johnsbury, Newport, Barton, Lyndonville, Burke, Jay, Island Pond
South Central VT Dining
Rutland, White River Jct., Woodstock, Quechee, Brandon, Killington, Ludlow, Weston, Chester
Southern VT Dining
Bennington, Brattleboro, Manchester, Arlington, Newfane, Mt. Snow area

Vermont Products | Visit VT Towns | FWM 24/7 Shopping

Country Weddings | New England Recipes
VT Inns | Red Sox Gifts | Travel Destinations
Fitness and Sports Products On Sale Now
Free World Mall

Country Weddings | New England Recipes
VT Inns | Red Sox Gifts | Travel Destinations