What Not To Give
Valentine's Day Gift No-No's

Vermont is for lovers! A romantic interlude in this beautiful northern New England state will enhance your romance. The spectacular four season Vermont vistas combine with an exquisite selection of romantic country inns and restaurants making Vermont the perfect place for hungry lovers. Many Vermont restaurants and inns are chef-owned and operated, adding a personal touch to your romantic dining experience. Here are a few romantic dining suggestions you are sure to enjoy. Please contact the property directly for advance reservations. Ask us about Vermont Gifts share comments. To feature your Vermont business, contact us.
Valentine's Day & Not So Good Gift Ideas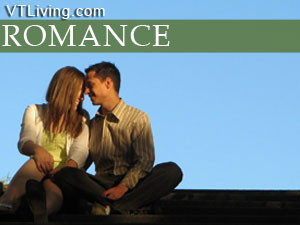 It can at times be very easy to go very wrong with gift giving. This is especially true when it comes to valentine gifts. This is because what would be considered a very nice and fitting gift to one person may not necessarily be the case for someone else. So here are some things to keep in mind when choosing a gift for Valentine's Day.
Naturally, to every rule there is an exception. In the case of the following list this is especially true. In most relationships some things come to have a special meaning for the two of you. If something on one of the lists below would actually be extremely romantic coming from you then by all means go ahead. If you are unsure about a gift then try running the idea by one of his or her friends that can keep a secret.

What not to get men
Flowers, teddy bears or anything else cutsie delivered to him at work
A speedo or silk bikini underwear – avoid the "man thong"
Anything lacy or fru fru

What not to get women
Power tools
Anything involved in cleaning
Some kitchen stuff is ok but be careful (only get if she actually enjoys cooking)
Anything that you would have gotten anyways (it'll say you forgot or don't care)
A scale or anything else related to weight loss

Vermont Products | Visit VT Towns | FWM 24/7 Shopping

Country Weddings | New England Recipes
VT Inns | Red Sox Gifts | Travel Destinations
Free World Mall

Country Weddings | New England Recipes
VT Inns | Red Sox Gifts | Travel Destinations