Southern VT Theaters
Live Theater & Playhouses in Southern Vermont

See Southern Vermont Live Theater. Dorset Playhouse, Weston Playhouse and Vermont Theatre Company are three of the more frequently visited live theater venues in the region. There are also some outstanding community theatre productions in southern Vermont. Share your VT Playhouse reviews or updates. Thank you for supporting the arts in Vermont. To feature your Vermont business, contact us.
Southern Vermont Theaters & Playhouses
Include Me shortcode: file not found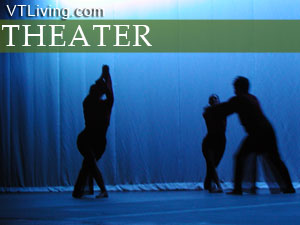 Weston Playhouse
Main Street
Weston, VT
Ph: 802-824-5288
Vermont's oldest professional theatre company.
Vermont Theatre Company
PO Box 11
Brattleboro, VT 05302
Ph: 802-258-1344
The Vermont Theatre Company present performances throughout southern Vermont.
Whetstone Theatre Co.
Brattleboro, VT
Ph:  802-257-2600
Sandglass Theatre
Putney, VT
Ph: 802-387-4051
Hooker Durham Theatre
Brattleboro, VT
Saxtons River Playhouse
PO Box 501
Saxtons River, VT
Ph:  802-869-2030
One of the few remaining barn playhouses in Vermont.
Actors Theatre Playhouse
81 Buck Hill Drive
Guilford, VT  05301
Ph:  802-254-4714
Dorset Playhouse
American Theatre Works Inc.
PO Box 510
Dorset, VT O5251
Ph: 802-867-5777
Year-round theatre entertainment in a fabulous country setting. Dorset Players offer four community productions over eight weekends, fall thru spring. The Dorset Theatre Festival offers five  professional productions six days a week, mid June through mid September.
Oldcastle Theatre Company
331 Main Street
Bennington, VT
Ph: 802-447-0564
inns | hotels | resorts | rentals | attractions | dining | real estate
Champlain Valley VT Theaters & Playhouses
Burlington, Middlebury, St. Albans, the Islands of NW Vermont
North Central VT Theaters & Playhouses
Montpelier, Barre, Randolph, Waterbury, Stowe, Mad River Valley
Northeast Kingdom Theaters & Playhouses
St. Johnsbury, Newport, Barton, Lyndonville, Burke, Jay, Island Pond
South Central VT Theaters & Playhouses
Rutland, White River Jct., Woodstock, Quechee, Brandon, Killington, Ludlow, Weston, Chester
Southern VT Theaters & Playhouses
Bennington, Brattleboro, Manchester, Arlington, Newfane, Mt. Snow area

Vermont Products | Visit VT Towns | FWM 24/7 Shopping

Country Weddings | New England Recipes
VT Inns | Red Sox Gifts | Travel Destinations
Fitness and Sports Products On Sale Now
Free World Mall

Country Weddings | New England Recipes
VT Inns | Red Sox Gifts | Travel Destinations

Vermont Products | Visit VT Towns | FWM 24/7 Shopping

Country Weddings | New England Recipes
VT Inns | Red Sox Gifts | Travel Destinations
Fitness and Sports Products On Sale Now
Free World Mall

Country Weddings | New England Recipes
VT Inns | Red Sox Gifts | Travel Destinations