Marshfield, Vermont 05658
Marshfield VT Lodging, Real Estate, Travel & Visitor Information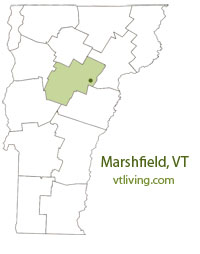 Marshfield, Vermont was originally granted to two Native Americans in 1782. The town was named for Isaac Marsh, one year before Vermont became the 14th state to join the United States of America. Marshfield is separated by the fertile valley of the Winooski River.
The original inhabitants were the Abenaki. They fished, hunted, and gathered wild fruits and berries.
Today, visitors enjoy the rural beauty of Marshfield. The Marshfield Inn and Motel is popular with travelers. Marshfield is located a short drive from Montpelier and central Vermont attractions.


Marshfield Inn and Motel, 5630 US Route 2, Marshfield, VT 05658 | 802-426-3383
We offer quiet country accommodations on 37 acres convenient to both Montpelier and St. Johnsbury. It's the perfect relaxing stop-over after a busy day of travel, or a comfortable place to settle for a few days while exploring Montpelier, Central Vermont or the Northeast Kingdom. Experience the cozy charm and beautiful surroundings of a B&B, with the privacy, convenience and reasonable price of a motel. We are pet friendly.
Visit Marshfield Inn & Motel
---
Exploring the Charm of Marshfield, Vermont: A Guide to Visiting Central Vermont
Nestled in the heart of Vermont, Marshfield is a picturesque town that offers a unique blend of natural beauty, rich history, and a thriving community. From its fascinating history and charming Marshfield Inn to the abundance of attractions and activities, Marshfield has something to offer everyone.
History of Marshfield:
With a history dating back to its founding in 1788, Marshfield boasts a rich heritage. Originally settled by farmers, the town grew steadily as industries such as logging and farming flourished. The construction of the Montpelier and Wells River Railroad in the late 19th century further facilitated the town's development.
Marshfield Inn:
A prominent landmark in Marshfield is the historic Marshfield Inn. This charming inn offers a glimpse into the town's past and provides a cozy retreat for visitors. The inn features comfortable inn room and motel accommodations, warm hospitality, and a delightful Vermont experience.
Marshfield VT Points of Interest:
Twinfield Union School: The pride of Marshfield, Twinfield Union School is renowned for its commitment to education and community. The school offers excellent educational programs and has a strong emphasis on community involvement.
Groton State Forest: Situated near Marshfield, Groton State Forest encompasses over 26,000 acres of pristine wilderness. It offers an array of recreational activities, including hiking, fishing, camping, and cross-country skiing.
Peacham Pond: A serene and picturesque spot, Peacham Pond provides opportunities for swimming, boating, and picnicking, making it a favorite destination for outdoor enthusiasts.
Things To Do:
Explore Nature: Marshfield is surrounded by stunning natural landscapes, providing ample opportunities for outdoor activities such as hiking, biking, and birdwatching.
Visit Local Farms: Discover the town's agricultural roots by visiting the numerous farms in the area. Enjoy farm tours, pick-your-own activities, and savor fresh produce and local delicacies.
Attend Community Events: Marshfield hosts various community events throughout the year, including festivals, concerts, and farmers' markets, offering a chance to engage with the vibrant local community.
Real Estate Options and Neighborhoods:
Marshfield offers diverse real estate options, including historic homes, quaint cottages, and spacious rural properties. The town comprises several charming neighborhoods, each with its own unique character and close-knit community atmosphere.
Local Businesses and Employers:
Marshfield boasts a thriving local business scene, with an array of shops, restaurants, and service providers. From artisanal crafts to farm-to-table dining experiences, the town supports a range of businesses that contribute to its economic vitality. Additionally, Marshfield is home to various employers in sectors such as education, healthcare, and agriculture, providing ample job opportunities for residents.
Activities and Recreation:
Beyond its natural beauty, Marshfield offers a variety of recreational activities for residents and visitors alike. Whether it's exploring the extensive trail systems, participating in community sports leagues, or enjoying cultural events, there's never a shortage of things to do in Marshfield.
Marshfield, VT Living:
Living in Marshfield offers a peaceful and close-knit community atmosphere. The town's commitment to preserving its natural surroundings, strong community engagement, and access to essential amenities make it an attractive place to call home. The low crime rate, excellent educational opportunities, and the overall quality of life further enhance the appeal of residing in Marshfield.
Marshfield, Vermont, is a hidden gem that captures the essence of small-town charm while offering a range of amenities and attractions. From its fascinating history and iconic Marshfield Inn to its abundance of outdoor activities, cultural events, and thriving local businesses, the town has much to offer both residents and visitors. Whether you're seeking a peaceful place to live, a weekend getaway, or a destination filled with history and natural beauty, Marshfield is sure to leave a lasting impression.
To share Marshfield, VT information, contact us. Learn more about advertising in VTLiving.
Chartered: 1782
County: Washington
Marshfield, VT Population:
2010: 1,569
GPS Coordinates:
Latitude: 44.1845
Longitude: -72.2203
Marshfield, VT Local Information
Marshfield Town Offices: 802-426-3305
inns | hotels | resorts | rentals | attractions | dining | real estate

Vermont Products | Visit VT Towns | FWM 24/7 Shopping

Country Weddings | New England Recipes
VT Inns | Red Sox Gifts | Travel Destinations
Fitness and Sports Products On Sale Now
Free World Mall

Country Weddings | New England Recipes
VT Inns | Red Sox Gifts | Travel Destinations