VT Irish Pubs
Vermont Irish Pubs ~ Cafes ~ Entertainment & Restaurants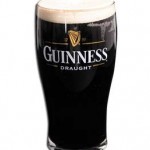 Visit Vermont and discover some sensational Irish Pubs, Deli's & Restaurants. Vermont has been welcoming Irish immigrants for more than 200 years. Today, you'll find some traditional Irish pub food served with a Vermont twist. The Bangers & Boxty served at McGrath's Irish Pub and Rosemary's Restaurant is an in-house interpretation of Irish Bangers – served with a traditional potato poor bread and Guinness onions. Not to be missed. You will thank us. You'll also hear authentic Irish Folk Music at McGrath's on weekends. Share your Vermont Irish pub restaurant reviews and comments. To feature your VT restaurant contact us.
Vermont Irish Pubs & Restaurants


McGrath's Irish Pub at the Inn At Long Trail, Route 4, P.O. Box 267, Killington, VT | 802-775-7181
Killington's first and foremost Irish Pub, serving a truly fine pint of Guinness and a delicious pub menu daily, with live Irish Music on the weekends.  Sample the Chef's award-winning cuisine in the main dining room Thursday - Sunday and Holidays.
Visit Website
---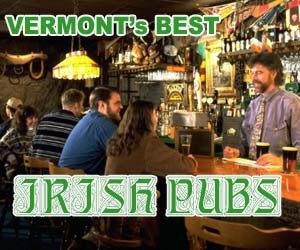 McGrath's Irish Pub
Route 4
Killington, VT
Ph: 802-775-7181
Try the Guinness Beef Stew, a hearty dish in which the beef is braised in Guinness Stout! Among other menu items featured are Hand Cut Filets, Semi-boneless Duck Roasted and Truffled Wild Mushroom Risotto.
The Killarney- An Irish Pub
44 Pond St.
Ludlow, VT 05149 (at the base of Okemo Mountain)
Ph: 802-228-7797
RÍ RÁ BURLINGTON
123 Church St.
Burlington, VT 05401
Ph: 802 860 9401
McGillicuddy's Irish Pub
14 Langdon St.
Montpelier, VT 05862
Ph: 802-223-2721
Irish Pub Food is Comfort Food. Pub menus consist of a hearty assortment of traditional Irish dishes. Some of the most popular Irish foods include:
Irish stew (mutton with mashed potatoes, onions, carrots, and herbs)
Soups and chowders
Coddle (bacon, pork sausages, potatoes, and onions stewed)
Fish & Chips
Collar and cabbage (boiled bacon coated in bread crumbs and brown sugar, then baked and served with cabbage)
Boxty (potato pancake filled with fish, meat, or vegetables
Champ (potato mashed with milk and onions)Irish Immigration in Vermont increased in the early 1800's. Irish communities sprang up in Burlington, Middlebury, Underhill, Moretown and Castleton. And by 1860, the Irish were Vermont's largest ethnic group. UVM History Professor, Vincent Feeney from Marshfield, Vermont has published a book called Finnigans, Slaters, and Stonepeggers: A History of the Irish in Vermont.


Champlain Valley VT Casual Dining
Burlington, Middlebury, St. Albans, the Islands of NW Vermont
North Central VT Casual Dining
Montpelier, Barre, Randolph, Waterbury, Stowe, Mad River Valley
Northeast Kingdom VT Casual Dining
St. Johnsbury, Newport, Barton, Lyndonville, Burke, Jay, Island Pond
South Central VT Casual Dining
Rutland, White River Jct., Woodstock, Quechee, Brandon, Killington, Ludlow, Weston, Chester
Southern VT Casual Dining
Bennington, Brattleboro, Manchester, Arlington, Newfane, Mt. Snow area


Vermont Products | Visit VT Towns | FWM 24/7 Shopping

Country Weddings | New England Recipes
VT Inns | Red Sox Gifts | Travel Destinations








Free World Mall

Country Weddings | New England Recipes
VT Inns | Red Sox Gifts | Travel Destinations